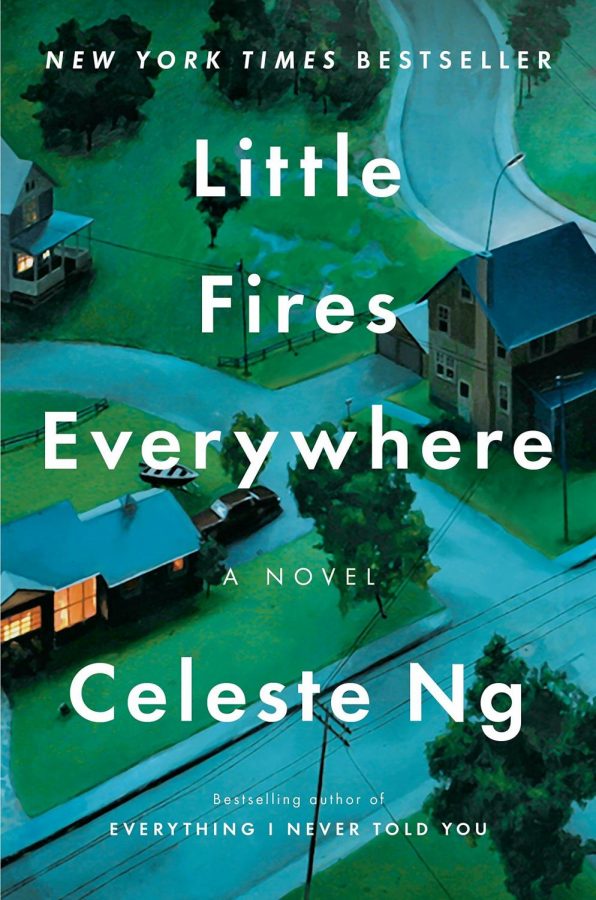 When Celeste Ng's novel, Little Fires Everywhere, released in 2017, some might comment that it set the fiction world ablaze. The iconically minimalist, turquoise cover became a familiar sight at everyone's local bookstore and Barnes and Noble. And its reputation keeps that fire going. A New York Times bestseller, the work has garnered accolades from both readers and critics alike. Not only has the book won "Best Book of the Year" nominations from sellers and reviewers such as Amazon, NPR, Barnes & Noble, and the Washington Post, Little Fires Everywhere was also winner of the Goodreads Readers' Choice Award in 2017 for Fiction. 
The novel sets high expectations for itself. And though the story does begin (and end) in fire, the true glory of Ng's masterpiece lies in the slow burn as she examines the tensions that underlie the "perfection" of the idyllic suburb of Shaker Heights, Ohio. Having grown up in the neighborhood herself, Ng's writing rings with both strong emotion and technical delicacy.
The complex plot of Little Fires Everywhere centers around two families in the 1990's: the Richardsons, affluent Shaker Heights residents, and the Warrens, a mysterious mother and daughter pair who live on their property. Contrarily, the story, a flashback of sorts, both starts and ends with the same event: the Richardson's magnificent home burning down, presumably by their troubled youngest daughter, Izzy. As the history is recounted, Ng introduces Mrs. Elena Richardson, whose strict, calculated planning and apparent perfection clash with another protagonist, Mia Warren, an artist frequently on the move with her daughter, Pearl.
In the broader context of the novel, though, the main conflict revolves around wealthy friends of the Richardsons who are locked in a battle over a Chinese baby they want to adopt, at the behest of the girl's biological mother, who is poor, and is an immigrant who cannot speak English. On a macro level, the debate divides the community on issues of race, status, and motherhood. Yet as the battle gets more heated, on the micro level, the lives of both Elena and Mia and their families are complicated as their discoveries of each other's secrets further entwine their stories.
The themes of motherhood and the nature of family are explored in Little Fires Everywhere through the relationships between characters of Mia and Izzy, May Ling Chow/Mirabelle McCullough, Bebe Chow, and Mrs. McCullough.  Izzy, a non-conforming teenager who does not connect strongly with her mother, finds a mother figure in Mia. Although this connection holds great meaning for Izzy, she eventually loses Mia as she and Pearl move away.  While Izzy still has a mother in Elena, she chooses to be parentless and runs away. This begs the question: does Izzy's running away mean that she does not have any parents, since she rejects her birth mother and her chosen mother leaves, or does Elena always stay her mother because motherhood is a given right?   
In the broader context of the town, the nature of motherhood is examined through the Chow family and the McCullough family.  Bebe is criticized for leaving her child, yet others say that she is the only fit mother because she gave birth to May Ling/Mirabelle.  However, others in the town maintain that the McCullough family, since they possess the means and resources to raise the child in luxury and because they legally adopted the child, deserve to raise May Ling/Mirabelle.  This sets up another critical question: is motherhood something you earn or something you gain purely through giving birth? If motherhood is earned, did Bebe fail to be worthy of raising her child by leaving May Ling/Mirabelle and not being in a position to give the child as much material luxury as  the McCulloughs, or does she have an inherent right to May Ling/Mirabelle's custody since she gave birth and she is her biological mother? This question and its place in society is further scrutinized as the rest of the Shaker Heights community responds to the custody battle over May Ling/Mirabelle.  
Ng's novel is a profound one that questions the nature of motherhood and if it is something you must earn or something you get through birth.  She carefully frames these questions with quirky yet compelling characters and a gripping plot that unwinds through several perspectives. While we enjoyed this book and the insights it has to offer, we award this book four stars because we found a couple of plot points rather implausible.  That said, we recommend that you read this book–even better, find a friend to read it with, because this will surely be a book you want to unpack with someone else!