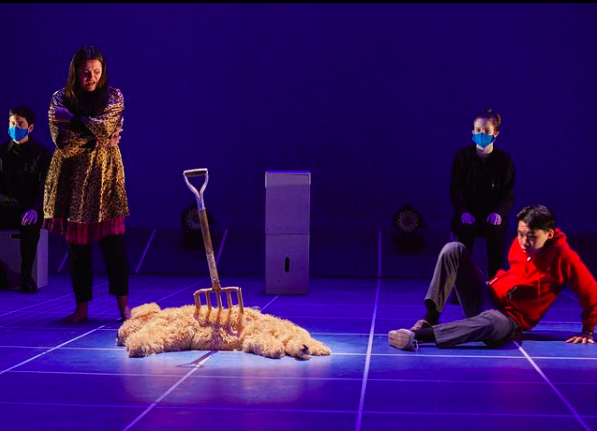 Despite the difficulties which COVID-19 has provided for almost all aspects of life, this year's VISTA Fall Show, The Curious Incident of the Dog in the Night-Time, shows beyond doubt that the talent and hard work of the VISTA Theater Department cannot be suppressed. The show, based around Mark Haddon's novel, follows 15-year old Christopher John Francis Boone who investigates the mysterious death of his neighbor's dog, and in doing so, uncovers a secret that alters his relationships with his parents and mentor teacher. The play was selected due to its naturally-distanced structure and small cast which allowed for COVID regulations to be followed and for students to participate without putting their health, and the health of others, at risk. However, the show could not be performed in front of a live audience, which allowed a unique opportunity for students to gain more experience in film-making. The show was filmed from several different camera angles, which provided a professional-feel for the recording and incorporated several impressive lighting and design elements.
The Spotlight Theater Program which assesses theater productions awarded the show with "Outstanding" ranks in all aspects including, Overall Production, Overall Performance, Ensemble Performance, Acting Performance, Run Crew, Overall Technical Team, Light & Sound Crew, and Achievement in Theater. This is the highest rank which a show can be given, and with so many aspects of the show given this prestigious honor, the talent is undeniable. In addition to the group awards, individual honors were also given to a total of 12 VISTA students with 5 given the rank of "Outstanding".  Senior Laura Breyen spoke on some of the difficulties associated with creating a show during COVID-19 stating, "I thought the process of making a show this fall was definitely challenging, but it made the final product even more rewarding." Laura, one of the recipients of the individual "Outstanding" award for the show spoke highly of her fellow cast and crew acknowledging, "I was so impressed with the work that everyone put into the show, and I'm so grateful I got to be a part of something so unique!"
The production was phenomenal in all aspects and showcased the remarkable abilities of all students involved, both on stage and off. Technical details such as lighting, sound, costumery, and scenic design were, in essence, flawless and combined with the authenticity which each character portrayal contained, VISTA's production of The Curious Incident of the Dog in the Night-Time left its virtual audience in awe.