Robette's Northern Lights Regional Competition Recap
The Robettes have returned! It's been nearly two years since an in-person robotics competition, but now we're back with gracious professionalism, coopertition, and more than just a hint of moxie spirit. After an exciting kickoff to find out the game, and six weeks of build season, our team was off to the Northern Lights Regional Competition in Duluth. 
This year's game is called Rapid React. Like all years past, there are two alliances, Red and Blue, with three robots on each. Each match is three minutes and thirty seconds long and the first fifteen seconds are autonomous, which means that the robot is moving solely on code with no one driving it. After this period, the game shifts into teleoperated play, so the drive team steps up and takes control of the robot. Rapid React has two main objectives: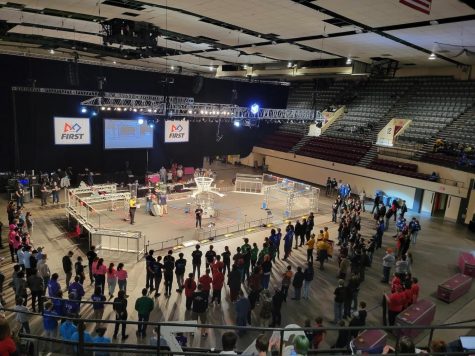 to pick up "cargo" (light, oversized tennis balls) and shoot them into the high and/or low hub, and then to climb on four bars of various heights. Our robot (named Lynn after Lynn Conway, a famous engineer) is able to shoot to both hubs as well as climb to the second rung (6 feet high). Though it might sound simple in theory, it takes a lot of practice to do well and our drive team did not let us down.
With Rory Jones-White and Megan Overell as Drivers, Mikayla O'Connell as Drive Coach, Jana Christensen as our Human Player (HP), and Madeline Byrne as Technician, we hit the ground running (or should I say…rolling? Get it? Robots roll?) with our eight practice matches on Thursday after inspection. For those of us not on the drive team, we took shifts either doing media, staying in the pit (the area where our team has our tools/supplies, carts, and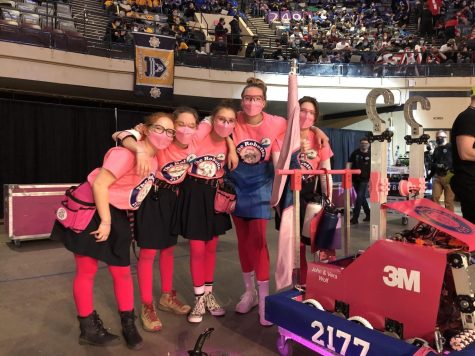 displays) to talk to other teams, or learning how to scout.  
Scouting means going up in the stands, watching the matches, and filling out a spreadsheet to keep track of how the other teams are doing and what their strategies are. Our scouting lead and team captain, Mairin O'Shaughnessy, spent all of Thursday teaching the rookies how to do this. After a day filled with new experiences and lots of work, we went back to the hotel to recharge for the next day.
On Friday, qualification matches began. Our climber worked fantastically, taking only around four seconds to climb, and we discovered that our shots to the high hub had a tendency to bounce out. This led our team to start aiming for the low hub instead, which worked quite well. By the end of the day, we were ranked 16th out of over fifty teams. 
Saturday brought the final rounds. Unfortunately, due to slight difficulty with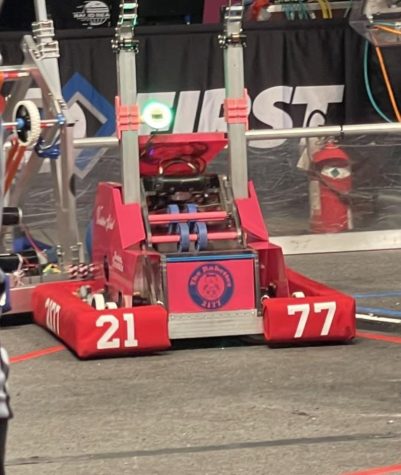 the climber, we ended up placing 25th. That's not to say our robot was unsuccessful; our shooter worked well, and Jana even shot in the high hub during autonomous and made it three times! Though we didn't make a final alliance, The Robettes did win the Industrial Design Award, which is the first robot-related award that the team has won since 2014 (which was also the year we went on to the World Championship). 
Overall, The Robettes had a great time in Duluth. We got to experience in-person competition, make new friends with other teams, learn how to adapt strategy and play on our strengths, as well as getting team bonding time and many chances to carry out our mission statement which is: To inspire girls of all ages to incorporate STEM into their lives and to revolutionize the perception of women in STEM.
To watch our matches and see upcoming competition information, click here.
Go Robettes!