A VISit in Time: Winter Week 2022 Recap
As we close in on the end of the year, let's take a quick moment to reflect on one of the most exciting and energy-filled times of the year: Winter Week. Take a trip back in time with me and reflect on the fabulous theme, fun-filled activities, and the always amazing dress-up days. Allowing us to try out different decades or centuries, the theme A VISit Through Time was a great way to break up the winter months, which as every student will agree, move in slow motion.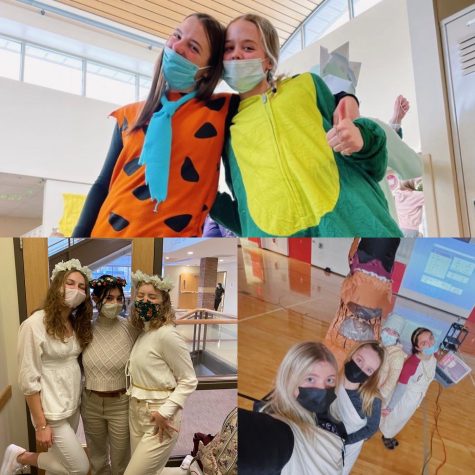 On Monday, the students dressed up in all things pre-20th century! There was everything from inflatable dinosaurs, cavewomen, medieval attire, and even the classic Minnesota icon, Laura Ingles Wilder.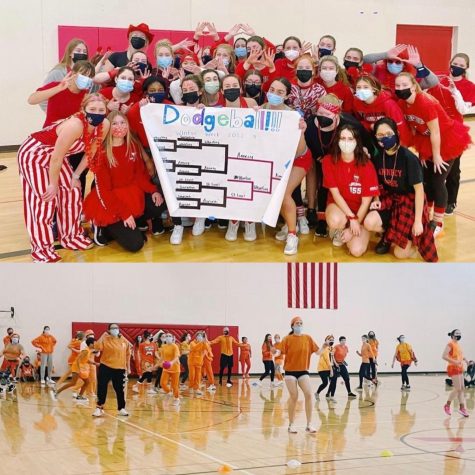 Tuesday rolled around and there was a major shift in the school energy. It was dodgeball day. Every house was decked out in their amazing house colors. Each house fought hard, but in the end, Annecy came out on top. CongratsAces, you played well! An even bigger shout out to Wheeling for making it to the big court! I think it is safe to say that every house is so proud of your fight and always amazing sportsmanship. The fun was not over though, as the senior class took on the faculty in a students vs. teachers game in which the senior class demolished their beloved teachers. Shout out to Mr. Volpe for being the last teacher standing against the very competitive class of '22!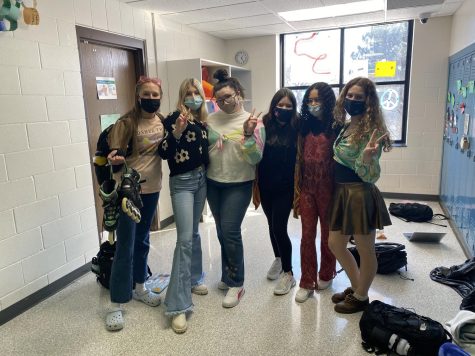 With Tuesday in the books, Wednesday was by far my favorite day with grade-level themes. The freshman busted out their best disco or hippie attire to represent the 70s and looked extra groovy. The sophomores looked picture perfect for a sock hop in their 50s poodle skirts and greaser fashion. The juniors took notes from John Hughes' 80s classics and could have easily been mistaken for cast members of The Breakfast Club, Ferris Bueller's Day Off, or 10 Things I Hate About You. And the seniors did not disappoint with their Y2K/2000's looks, making sure to channel their inner Lizzy McGuire, Hannah Montana, and Britney Spears! The highlight of the day was by far when Ms. Kranz took a different spin on 2000's fashion by showing up to school in her old Vis uniform which she would have worn during the early 2000s years! Way to be original and have fun with the theme Ms. Kranz!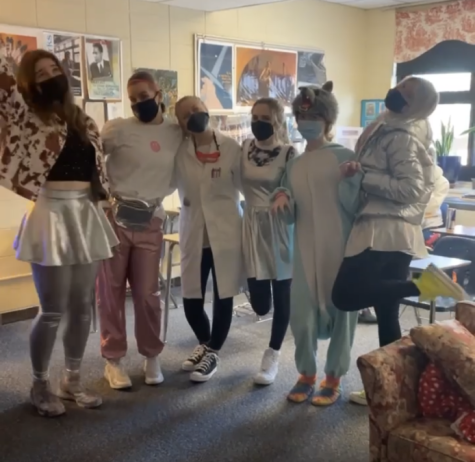 On to Thursday where the theme for the student body was the future! The halls were filled with metallic skirts and pants, alien antennas, and bright colored shirts! Some people even had the brilliant idea of dressing as their favorite time traveler, including a picture-perfect Marty McFly and Rick and Morty!
Friday rolled around and the entire school was greeted by the decorations that the senior class had worked so hard to put up the night before! Formal uniform was the theme for Friday as we honored our beloved Winter Week court. Princess Alina, Princess Ashley, Princess Bridget, Princess Elena, and Queen Erin were escorted by different men in their lives to the stage where they were able to knight friends and family most important to them. Our Prime Minister, Caroline Schlehuber did a fantastic job of speaking eloquently about each person knighted and was able to help the senior class honor members of faculty that are very important to them including Mrs. Sutton, better known as Mama Sutton, and Mr. McLaughlin, better known as Glock.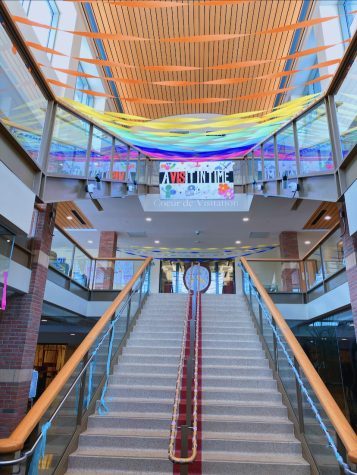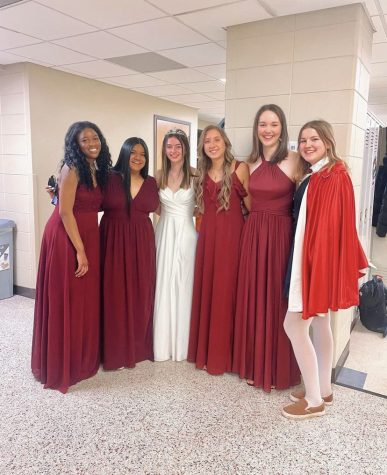 With the dance being postponed for a couple of weeks for the safety of students and teachers, the excitement of Winter Week carried throughout the rest of February. When it was safer to gather in a larger group, the 10th-12th grades danced the night away at a fabulously orchestrated event at the Eagan Community Center. This year's Winter Week was definitely one to remember!