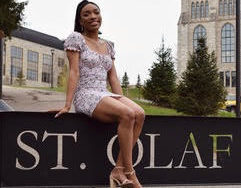 Kiara Jones '17
What are you doing currently?

I graduated in the class of 2017 for Vis. I'm a senior American Studies major with a concentration in Management at St. Olaf College, and I work as a student writer for the school's marketing department. I'm also a dance instructor at a small studio down here. In addition to that, I'm a musician and hope to expand my career. After graduation, I plan to move to DC for a sales position for a healthcare company.

How has your experience at Visitation shaped your life?

My greatest lesson learned at Vis is that there's always a silver lining and try to have a positive outlook. "Joyful optimism" has really stuck with me over the years when facing challenges.

What would your advice be to current students at Vis?

One word of advice is to keep going/don't give up. Resilience and strength are key in life!