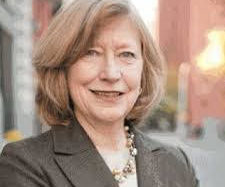 Mary Brabeck '63
What are you doing currently?

I graduated from Vis in 1963. Currently, I am retired from work as a psychology professor and dean. I was at Boston College for 23 years (1980-2003). I was the Dean of the Lynch School for the last nine years of my time there. I was Dean of New York University's Steinhardt School from 2003 to 2014. I ended my teaching and research career in 2019 and retired as Dean Emerita and Professor Emerita. In retirement, I continue to work on projects I care about and am Vice-Chair and Chair-Elect of the American Psychological Association Ethics Committee. I have five grandchildren and am happy to spend time with them.

How has your experience at Visitation shaped your life?

I try to live my life by asking, "Does it help?" I believe that my education at Vis helped me learn to love learning and to be responsible to my community and our global society.

What would your advice be to current students at Vis?

Learn to love learning and be as curious as you can about people and the world around you. Remember to laugh a lot.