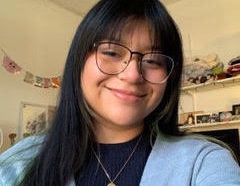 Samantha Plante '17
What are you doing currently?

My name is Samantha Plante, and I am a part of the Visitation Class of 2017. Currently, I am a fourth-year undergraduate at the University of Chicago, studying Global Studies with a concentration on Human Rights. Next year I will be working for a non-profit in Washington D.C. dedicated to the reproductive healthcare of incarcerated women with plans to attend law school after (though that is dependent on my LSAT scores haha).

How has your experience at Visitation shaped your life?

My experience as a member of a close-knit community like Visitation inspired me to pursue organizations in college that also commit to a community-centered focus such as the UChicago Community Service Center which works among the neighborhood Hyde Park. Additionally, I valued the all-girl experience and the encouragement and support I felt from my classmates and teachers as a woman. Likewise, I am a member of the organization Women and Youth Supporting Each Other (WYSE), where I along with other female students mentor middle school girls every Friday, discussing topics like body positivity, healthy relationships, and more. For my own personal comfort, I am a Hermana of Latinas Promoviendo Comunidad/Lambda Pi Chi Sorority, Latina cultural sorority, where I have met INCREDIBLE women who have served as great role models. Without my years at Visitation, I do not know if I would find the same value in all-girl groups.

What would your advice be to current students at Vis?

My advice to current students would be that everything will be ok! While I certainly understand the stress of schoolwork and the future, I know that members of the community like Vis won't let us fail and that ultimately, we'll be alright!