Apple Release 2019
"These are the most powerful and advanced iPhones we have ever built," said Tim Cook as crowds cheered and applauded. On September 10, Apple developers, creators, and representatives announced a new generation of smartphones. Tim Cook, Apple's CEO, revealed these sleek models in front of a large audience. The iPhone 11 generation, he announced, improves battery life, speed, sound system, security, display, and the quality of pictures with the addition of several new features including another camera. The introduction of the new Ultra Wide camera features, Night Mode, and improved focus take the camera to the next level. The addition of Dolby Atmos in the latest models provides "moving sound" for Apple users. This "moving sound" is created by upward-firing drivers to disperse sound towards the user. Battery life remains unequivocally important for most users as a result, Apple built in four more hours of life since the last generation. 
Apple's September Event, however, released more than a new generation of iPhones. In addition to the new hardware, Apple announced its involvement in groundbreaking health studies and Apple Arcade. 
Apple Arcade, one of the new additions released at the event, boasts a variety of puzzles, adventure games, and card games. Apple hopes to enhance the gaming experience for Apple users everywhere through this addition. One puzzle game added to the selection, "Patterned," was created by fifteen artists from all over the world. In the game, players work to color and place detailed puzzle pieces to form a complete canvas. Another game, "The Enchanted World," is a roleplaying game in which players complete puzzles to restore their collapsing world. The creators, Ivan Ramadan and Amar Zubcevic, based the game around personal experiences. As young children, creativity became an unprecedented escape from the violence of war around them. Ramadan and Zubcevic grew up in the Balkans, a region which suffered from violence and warfare during the 1990s. Apple's new games not only offer a new gaming experience but shared experiences from people all over the world.
Additionally, Apple announced its involvement in several medical studies. While this announcement remains unexpected as Apple has traditionally exclusively manufactured everyday devices such as smartphones and computers, the corporation hopes to expand its niche and assist its consumers. These studies, accessible through the Research app, will be available soon. Such research will encompass different areas of health including women's health, movement, the heart, and hearing. More specifically, women's studies will place emphasis on menstruation, fertility, and analyzing the risk of serious medical conditions. Apple's heart and movement study strives to connect heart rate and movement to emergencies and hospitalization. Meanwhile, Apple will work with the University of Michigan to examine how modern exposure to sound correlates with hearing ability. 
Not only do Apple's evolving creations enable us to connect with others easily, but they allow Apple to expand its global influence. Through its international connections with game developers and involvement in medical studies, Apple continues to connect technology to varying industries, as illustrated through their September release.
Sources
About the Writer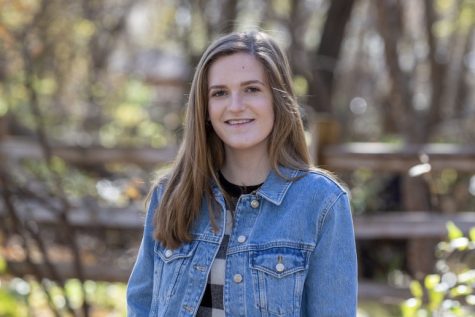 Grace Richardson, News Editor
Grace Richardson is a junior and the News Editor of the Visitation Voice. In her free time, Grace enjoys reading books of many different genres (including...