From Stage to Page: An Interview with The Guthrie's Costume Designer
The Guthrie Theater in Minneapolis, Minnesota, is one of the most highly regarded theaters in the country. The theater was founded by Sir Tyrone Guthrie and has continued to thrive since it opened on May 7th, 1963 when the play Hamlet was performed. The Guthrie Theater continues to share its astonishing shows with the world, where it proves its excellence and raises the bar even higher each year. The Guthrie is filled with talented actors, actresses, directors, staff, and costume designers, which is why I interviewed the Guthrie's very own Costume Director, Amy Schmidt.
Ms. Schmidt has worked at the Guthrie for about twenty years and has loved each and every one. It is there that Ms. Schmidt is in charge of budgeting and scheduling shows, along with managing the costume shop, designers, and resources that will be needed for the shows.
She usually starts her day by checking her emails, since communication is key in a bustling industry and because rehearsals often happen at night. She believes that the Guthrie has certain excellence that she has always strived for in her life whether it be through productions or her personal life, and felt that the Guthrie could offer her the excellence that she was seeking.
Before working at the Guthrie Theater, Ms. Schmidt earned a bachelor of arts degree in performance for her undergraduate degree, and then discovered her passion for costumes, which led her to go to graduate school and attain a master's degree in costume design. Ms. Schmidt has always loved sewing and creating with her hands from a young age, and so she was delighted when she found her passion for theater and costume design.
On average she can spend "as little" as a few weeks to around eighty or even one hundred and twenty hours on a costume. She says it depends on the project, and how much work is involved. She works closely with the hair department and manages the wig department as well. She chooses the color for the wig and then researches a style for the hair. She works with the makeup artist and department, but not as closely, since the makeup is usually naturalistic. However, in the event that the makeup is not naturalistic, she works more closely with them, especially if they are applying faux tattoos.
Ms. Schmidt keeps a very busy schedule and her typical workday is around eight hours. Her work is ever-changing and always allows room for growth. She says that every show has different characters, staff, designers (who are usually freelancers), and actors, which presents the chance to learn something new each time. When she sees her costumes on stage she says, "I feel spectacular!"
The Guthrie is known for its excellence, especially in their costume department, and with each show comes a beautiful array of show-stopping costumes. It is evident that they are crafted with care and a lot of talent.
It is easy to find inspiration anywhere you go, but for Ms. Schmidt, it can be found in nature.  She enjoys taking walks in the woods and nature is always there to help her craft her ideas. When she can't be outside, she is able to find inspiration through the people that she works with or the world around her. Ms. Schmidt is also a very creative person when it comes to her daily life and how she dresses as well! She considers her personal style to be defined as bohemian, and she doesn't like to follow the "typical rules" of fashion.
When it comes to both her personal and professional life, she wants to be remembered for modeling wisdom. She says that her job entails negotiating with people and that it is very important to develop excellent people skills but to also make people feel valued and appreciated. With that in mind, the best advice that she has ever received is, "Don't take it personally." I especially like this answer because with life being so busy we can take things very personally without thinking about things in-depth, and we should always try to give people the benefit of the doubt.
One thing that Ms. Schmidt is still trying to improve on is her computer skills. Technology is becoming more a part of our world, especially in the theater industry, so it is an important skill to have mastered. I can only imagine how difficult it is to understand how to design costumes on a computer when Zoom is challenging enough for me! She prefers to sketch designs, but most people in her industry use computers, as it is becoming more common and efficient.
Ms. Schmidt was also gracious enough to share the typical process of how a costume is made, specifically for a show at the Guthrie. She first receives the design from the designer who usually tends to work out of state, generally in New York. If she is building the costume, she has a meeting with the designer and the draper who is the technician that creates the pattern and oversees the design.
Then, the pattern gets cut in a fabric called muslin, which is a cheaper fabric, where it is then made for the first hooding. The first hooding is where the designer checks the seams, length, waist, and hem. Next, there is a fitting where the actor/actress tries on the costume. They observe how the costume fits the body and if the actor can move around in it. She explained that there is always one draper who asks the actor/actress, "Can you do a cartwheel?" Then all of the alterations are made and the draper takes it back and applies it to the real fabric.
The real fabric is the fabric that is used in the final product and is found by the designer who usually lives in New York. She said that it is very important that they use muslin for the first draft because if they mess up on the real fabric, it can be very costly. Then after the fabric is cut out, the garment is created, and there is the final fitting. The final fitting is essentially the final test that ensures that the costume is ready for the show and that it is comfortable for the actor/actress to wear. Shoes and various undergarments are also added, and it is ready for the dress rehearsal.
Ms. Schmidt has made many costumes in her life, but she doesn't have a favorite. She always enjoys the ones that she is in the process of making because she gets to use her imagination. She described shows as being a collaboration and to her, the costumes mean something when they are being worn, or being used on stage.
Lastly, the piece of advice that she gave is, "Believe in yourself." This couldn't be more true. It is so easy to get busy with life or get down on ourselves about mistakes we've made, but you can always find a way to succeed if you believe in yourself. As you can hopefully tell from this article, Ms. Schmidt is a successful, wise, talented woman whom I personally admire and look up to.
This article couldn't have been possible without her, so many thanks to Ms. Schmidt. If you are a fan of The Guthrie or are starting to become one, check out the Guthrie Theater's website (https://www.guthrietheater.org/) for more information. I also personally encourage you to visit their stunning facility and to view their shows, especially to see more of Ms. Schmidt's costumes.
About the Contributor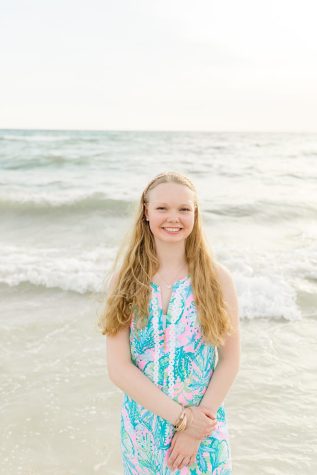 Astrid Kieser Kisting, Co-Executive Editor
Astrid Kieser Kisting is currently a Senior at Visitation. She has been at Vis since Montessori, making this her fifteenth year. This is her third year...