Minnesota Historical Hotspots: Glensheen Mansion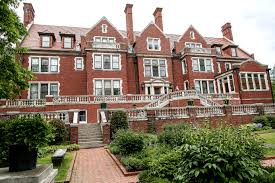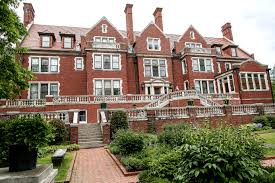 The famous Duluth mansion, Glensheen, is finally back on its feet and officially open full time after shutting down during the spring and early summer of 2020. After being completely closed for over two months, the mansion announced that they would have a staggered reopening. Starting with a phase of digital tours, Glensheen has opened its doors to self-guided tours and their many weekly events. 
Glensheen is a manor on the edge of Lake Superior built over a century ago in 1905. It was commissioned for $854,000 by Clara and Chester Congdons, a wealthy couple who owned a successful iron mine on the North Shore. While living in the 39-room home, they had six children who inherited the sprawling estate and their vast fortune. The mansion itself is 27,000 square feet of living space while the grounds contain the largest private pier on Lake Superior and 22 acres of forested shore property. 
Today, the Congdon Mansion is owned and operated by the University of Minnesota; however, they acquired it under very dramatic circumstances. In June of 1977, Clara and Chester's last living child, Elizabeth,  and her private nurse were discovered murdered; Elizabeth was smothered by a satin pillow, and the nurse was hit over the head with a candelabra. Elizabeth Congdon was 83 years old, and she had willed Glensheen to the U of M and 8 million dollars to her adopted daughter, Marjorie Caldwell, and her son-in-law, Robert. The murder garnered national attention, and much of the scrutiny fell onto her children. They were both struggling financially and were suspected of killing Elizabeth for the inevitable pay-out. After investigation, they were arrested and charged for first-degree murder; however, the story does not end there. Much to the surprise of the public, Marjorie Caldwell was acquitted. Though Roger was found guilty, after spending two years in prison, new evidence was released leading to uncertainty regarding his guilt. Trying to avoid another trial, Roger accepted a plea deal, confessed to the murder and served only five more years. 
During these trials, Glensheen officially became the University of Minnesota's property and was opened to the public. Though the murder is rarely discussed in tours, it still contributes a unique feature to the famous manor. Because it was the scene of Ms.Congdon's murder, the family chose to avoid the mansion and the tragic memories that accompanied it. This meant that every room in the manor was left exactly as it was before the homicide. True to their mission statement, "celebrate preservation," they have left the mansion almost precisely how they inherited it. All of the items: clothing, possessions, furniture, and even the letters on the desks, belonged to the Congdon family. Other than slight restoration, they have not been replaced. 
Glensheen offers two tours, and, due to Corona, they are both self-guided. General-admissions are routed through the lower-level and the first and second floor, which includes the grounds. You can tour the library, filled with Clark Congdon's original plans and documents, the servants quarters, some bedrooms, and the beloved breakfast room: a greenhouse dining room. This incredible space is filled with vibrant green tiles, a stained glass oak tree, lush plants, and even a small fountain- installed so Clara could hear running water while she ate. If you're willing to dedicate the extra hour, when you arrive at the mansion you can decide to do the full mansion tour. Tickets are limited, but if you're able to snag one, you can see all five floors. This includes the boy's original bedrooms, recently restored drawing and guest rooms, and the attic which gives a unique view of the massive structure's steel and concrete skeleton. 
Though Glensheen is a classic landmark for history lovers, its staff has been working hard to bring it into the 21st century as well. It is known across Duluth for its many creative events, that bring locals and tourists back again and again. This October, for example, is "The Great Glensheen Pumpkin Hunt." Throughout this month, visitors can search for pumpkins hidden across the grounds and in the mansion, and those who find all of them can earn a free full-mansion tour. They also have fun traditions "Cider Saturdays" and sunrise photoshoots. Personally, my favorite nights to visit are Wednesdays: they have free admission, live music, ice-cream, and bonfires. 
The mansion may have some dark history, however, the enthusiastic staff and incredible history do this landmark justice. It is an incredibly beautiful and fascinating visit, and I would recommend it to anyone visiting Duluth. To learn more about the mansion, you can visit their website at https://glensheen.org/ or visit their Instagram @glensheenmansion.