What is Hygge and Why Should We Embrace It?
2020 was an eventful year, to say the least. COVID has turned our world upside down, but it has also reminded us what is most important in life. I first learned about Hygge a couple of years ago, between 2016 and 2018, when it was most popular. Though it has lost some of its initial popularity, I still think it's very relevant to the world we are living in right now.
Scandinavian countries are regularly ranked highly for countries with the happiest people, and I think that Hygge is a large contributor to that cause. Since 2020 has been a rough year, it's worth considering. So, what exactly is Hygge?
Hygge is a Danish and Norwegian word that loosely translates to comfort, being comfortable, cozy, and feeling content. It's derived from the Norwegian word Hugga, which in English means to comfort and/or to hug. It is also important to note how this obscure looking word is pronounced! It's actually quite simple, so don't worry. The phonetic spelling is "hoo-ga." So, you've learned what the word means and how it's pronounced, but you should also know how to practice and embrace it.
Scandinavia and various countries across the world embrace the Hygge lifestyle by cuddling with family members and pets by the blazing fireside, reading a book and drinking hot chocolate under a nice cozy blanket, lighting candles and listening to relaxing music, eating yummy treats, wearing comfy socks and pants, lounging in your pajamas all day, going for a bike ride and enjoying the scenery around you, baking a new or old favorite dish, or even journaling/creating a scrapbook.
As you can see, the Hygge lifestyle is pretty open-ended, but there are some things that don't constitute being apart of Hygge, such as buying a lot of on-trend items to "live the Hygge life," cleaning your house to find joy (something I don't think people will mind sacrificing), staring at your screen all day and ignoring the wondrous world around you, or doing anything that doesn't bring you joy.
I come from a Norwegian family, and Hygge is something that I'm personally trying to embrace. Every year during the holidays, my parents and I make traditional Norwegian cookies called Krumkake and Sandbakelse. After we make them together, we eat them while watching Hallmark Christmas Movies. This is our Hygge tradition.
Hygge places an emphasis on using what you have and being grateful for it. I think it's important to take time to find joy in the small things and find comfort during both the cold season and year-round. There are also many books that have been written about Hygge, so if you're interested in the Hygge lifestyle, then you can visit Amazon, Barnes and Noble, or even your local library.
Hygge was invented for people to take time to reflect and find joy in even the most disheartening and troublesome times. In the Scandinavian countries, the winter brings less daylight and freezing cold weather, so Hygge is a source of joy to make the winter more bearable, but it can also be used year-round. It's more important than ever to find gratitude for what is most important in our lives, especially since it can be so easy to forget about.
Though 2020 was a long, tiresome year, we can find the time to give thanks and be cozy while we are at home. So, I'll leave you with some words of advice in Norwegian that are meant to encourage you to embrace Hygge, Lykke er ikke noe som allerede eksisterer. Den skapes av dine egne handlinger. This directly means happiness is not something that already exists. It is created by your own actions.
About the Contributor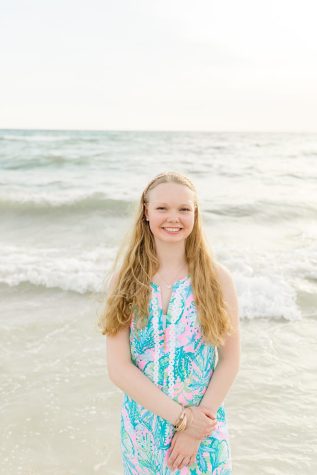 Astrid Kieser Kisting, Co-Executive Editor
Astrid Kieser Kisting is currently a Senior at Visitation. She has been at Vis since Montessori, making this her fifteenth year. This is her third year...