Friendships at a Distance: Creative Ways Vis Girls are Staying Connected and Safe!
The COVID-19 pandemic has obviously put a damper on all of our social plans for this year and made it difficult to have the "normal" year in high school. Looking back on the year so far, Vis girls have adapted to a new normal and found safe, unique ways to socialize and have fun, even amidst the Corona Virus.
Each grade of Visitation students has found different ways to safely have fun during the first half of the school year. These creative activities vary between grades but can all be adapted to safely have a fun time in the new year. Looking to our peers, we can see their favorite ways to easily and safely see their friends during the pandemic, hopefully, inspiring you to rethink the ways that you can socialize with your friends and to find new solutions to stay connected. 
Freshman Class:
As a freshman, I have found it to be difficult to not be able to socialize in the way that I was able to before, especially when it comes to meeting new classmates. In the past years, it was always just easiest to have a new friend over to hang out or get a group of people together, but obviously, this year that is not really a possibility.  With new restrictions, it can be easy to stop your social life altogether, but I have found the challenge as an opportunity to find new activities and ways to get to know one another.
For example, an activity that my friends and I decided to do virtually to get to know one another even better was sending out a "Who's Most Likely to" Google Form, a trend you have most likely seen on Tik-Tok. Each person filled out the form voting on who in our friend group is the most likely to 'Host Saturday Night Live', 'survive the zombie apocalypse' or even 'be on the cover of Vogue', and so on. After the results for the poll came in, we created a slideshow with funny photoshopped pictures to present the results. This activity was a fun way to get to know new friends better and also get to see what my friend groups think of me!
Another activity that I have found fun and safe to do with friends is having bonfires outside. With a small number of people socially distanced and wearing masks, bonfires can be very covid-friendly and are a great way to get to know others better or just chat with friends. As it gets colder, bonfires can still be a great way to have fun with friends when many outdoor activities are not weather permitting.
Additionally, when in full distance learning my friends and I have been FaceTiming during our lunch period. Because lunch is the time during the school day that we get to socialize the most it can be the most difficult part of acclimating to distance learning. Being able to call up a group of friends and chat during lunch makes the day online much more enjoyable and helps us to connect. It allows each of us to make up for the social time we would usually get passing each other in the halls or chatting in the classroom before school starts. As freshmen just getting to connect as a group and class for the first time as High Schoolers we aren't yet familiar with the normal "traditions" that Vis high schoolers have but this fall technology has been a great tool to get to know one another better and socialize safely during Covid. 
Sophomore Class: 
The sophomore class has also found new ways to socialize outside of the regular school day, while still being COVID-conscious. Sophomore, Mary Kate Commers shared about a fun event she and her friends partook in during this year. The girls were pretty disappointed when they were unable to continue the Visitation tradition of Bagel Friday, where each Friday, students got to eat bagels and socialize with their grade in homerooms. It used to be a great time to meet new friends and make fun memories, but it's not a very COVID-safe activity.
So, Mary Kate and her friends decided to find a safer solution to the problem. When talking about her solution Mary Kate says, "This summer a few friends and I met and did our version of Bagel Friday. It looked a little different but we were able to do it. We met in a park and had a little picnic at six feet apart." Even though Bagel Friday and many Visitation traditions are a little different this year, the sophomores at Vis show us that it's possible to adapt and find new ways to carry out important Visitation traditions and a safe way. 
                                                                      Junior Class: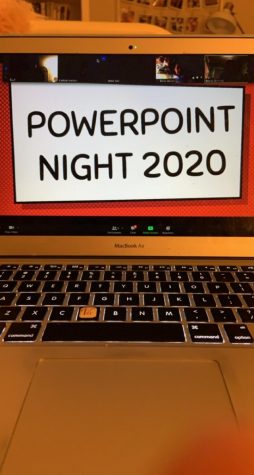 A junior, Emily Wollan, talks about a creative idea she and her friends had during this school year. They decided to make the most of a difficult situation and plan a fun zoom PowerPoint presentation night. Each of her friends created a unique presentation to share with the group over zoom. Each girl had a chance to share their screen and present their creative presentation, and the girls did not disappoint.  "There were some very creative ideas such as "My Friends as Renaissance Paintings" and "The Game of Life: What Our Lives Will Look Like in 15 Years," Emily shared.  Each of these presentations was fun to share and watch with your friends and it can be quite an entertaining time. Meeting over zoom is also the safest option when considering the pandemic and it allows each person in your friend group to participate.
Another activity that Emily and her friends have been doing lately to keep busy is Netflix Parties, a Chrome extension that allows all of the girls to simultaneously stream the same movie, even from different locations. "There's also a chat box so you can make comments as you usually would if you were watching a movie normally!" says Emily. Making the experience feel even closer to watching a movie with your friends in-person.
Senior Class:
Grace Conroy is a senior at Vis who has thought of many ingenious and COVID-safe ways for seniors to get together. Grace and her friends have been able to turn their unconventional senior year into something to remember through all of the fun activities they have planned. As seniors, they have all known each other for a long time and have developed many strong bonds as well as traditions in their friend group, but COVID has jeopardized most of the traditions this year. Amidst these unprecedented times, Grace and her friends have found unique ways to modify these traditions into COVID-safe activities.
A yearly tradition that Grace and her friend group have organized is a Secret Santa gift exchange. Grace says, "We had a Secret Santa exchange (actually, we call it Klassified Kringle) where we all drove to a parking lot and parked in a circular formation. We brought blankets and exchanged gifts while wearing masks, keeping the distance, but still having fun." This lively activity kept the holidays festive even amidst the coronavirus.
Another tradition that Grace and her friends have had for a long time and were luckily able to modify was the tradition of making waffles the day of their Choir final. "Because we usually don't have a final for choir, my friends and I have a tradition of going to someone's house and making waffles," says Grace. As you can assume, making waffles as a large group at someone's home is not the safest COVID activity. So, Grace and her peers from Choir were able to modify their waffle-making party.  "We had made the waffles and prepared fruit/choc chips/other toppings in individual cups, so we could get things safely and without touching a serving spoon. We sat around a bonfire in the backyard and cozied up in blankets, and it was so great to be able to continue this tradition in a COVID-safe way!" says Grace.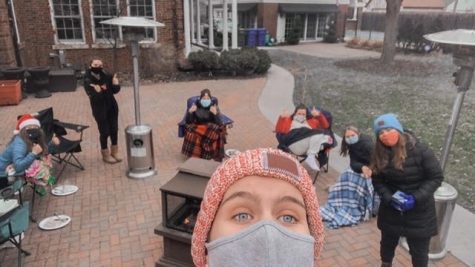 In a way, we never would have imagined, with the help of modern technology, and our own creative thinking, we are able to reimagine old traditions that are important to us and create new traditions that will stay for the years to come. Overall, Visitation students are making the best of a tricky situation, remaining safe, and most importantly making memories and staying connected.