Oprah's Interview with the Duke and Duchess of Sussex
In March, people all around the world waited urgently for the premier of the groundbreaking interview between Oprah Winfrey and Harry and Meghan, Duke and Duchess of Sussex. The interview came out over a year following Meghan and Harry's public announcement on Instagram that they were stepping back as senior members of the royal family. Understandably, the public had many questions and wanted answers. Although it was previously disclosed that the press played a role in their departure, there were still many questions left unanswered. Winfrey's interview was the first glimpse into the Duke and Duchess of Sussex's lives following their departure, and revealed some ugly truths about Meghan's experience with the royal family.
One of the most prominent topics discussed during the two hour segment was Meghan's mental health. Mental health is a sensitive topic for the royal family, especially given Princess Diana's struggles before her death. Meghan revealed feeling extremely lonely and isolated, and stated that she often felt unprotected by the institution. During her pregnancy with Archie, Meghan reported contemplating suicide, and stayed home from events because she felt she could not be left alone. Meghan says she was not allowed to seek outside help because it could potentially hurt the institution's reputation.
Another issue discussed was racism within the royal family itself. Meghan and Harry shared that there were concerns raised about the color of Archie's skin when he was born. In addition to the alleged racist comments made by members of the royal family, Meghan says she faced racism from the press. Meghan particularly struggled with tabloids who spread rumors and defamed her image, often targeting her as a woman of color. Meghan acknowledged that while all members of the family face rude comments, she alone experienced racism on top of them, and the institution failed to protect her from that. Harry was particularly concerned about Meghan's mental health because of social media and prominent racism that she was exposed to consistently. 
In addition, Megan and Harry spoke candidly about their experience of stepping away from the royal family. Harry clarified that he communicated with the Queen before announcing his decision, and that he was transparent throughout. Harry and Meghan stated that they felt unsupported during their departure, both by the institution and family members. The Duke and Duchess were cut off financially in early 2020. Security was revoked, despite the fact that their risk status had not changed. As a result, they decided to move to the United States, and were provided with a home and security by Tyler Perry. Harry spoke highly of the Queen, but admitted that his relationships with his father and brother were strained by the couple's decision.
Although only two hours, Oprah's exclusive interview revealed new information about the royal family behind the scenes. Buckingham Palace did release a response following the premier of the interview: "The whole family is saddened to learn the full extent of how challenging the last few years have been for Harry and Meghan. The issues raised, particularly that of race, are concerning. While some recollections may vary, they are taken very seriously and will be addressed by the family privately. Harry, Meghan and Archie will always be much loved family members." 
About the Contributor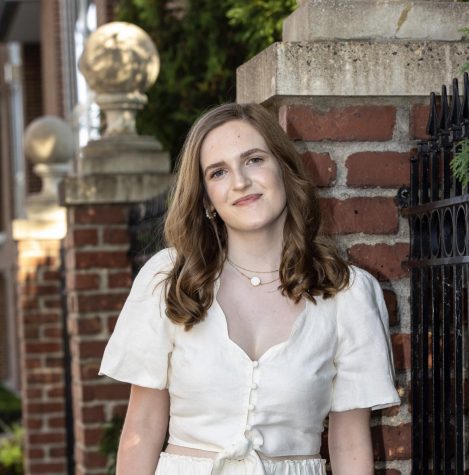 Grace Richardson, Co-Executive Editor
Grace Richardson is a senior and the Co-Executive Editor of The Visitation Voice. This is Grace's fourth year working on the paper and her third year occupying...