Afrolatina Entrepreneurs Changing the Business Landscape
With Black history month approaching in February, it is only fitting to explore an important facet of Black Identity: Afrolatinidad. Specifically Afrolatina leaders and entrepreneurs in the business world. In this article Afrolatina identity, the growing importance of women and people of color in the business world, Afro-Latina entrepreneurs, will be discussed.  
Afrolatinidad
Afrolatinadad is the collective cultural identity of Latinos and Africans. The Afrolatinx identity encompasses a complex history of the encounters of African and Hispanic cultures in the Americas. The term Latino-Latino/a/x encompasses all individuals of Latin American descent who are also of African ancestry. Black and Latino identities are not mutually exclusive but rather those who identify as Afrolatino/a/x often consider their ethnicity to be Latino and race to be Black. Black and Hispanic identities are not as separate as many socio-political forces make them out to be. The intersection of Latinidad and Black identities is often overlooked when in reality there are great historical connections between Hispanics and Africans. The Afrolatino/a/x identity originates from colonial enslavement and the African diaspora. As epicenters for the Atlantic slave trade, the Caribbean Islands became the birthplace of Afrolatinidad. First controlled by Spanish conquistadors, these islands fostered the unique cultural identity of Afrolatinas. The merging of these cultures created a unique and rich cultural identity. Modern Afrolatino individuals are found all over the world and create a diversified identity of many histories, cultures, physical attributes and traditions. 
People of Color, Latinas and Women in Business
The business world is a rapidly changing environment and although fast paced and competitive, it provides promise for the amplification of historically excluded cultures and groups of people. Formerly dominated by Caucasian men, the business world is growing broader and more diverse. In recent years many opportunities have been created for women and people of color, as the public has come to value diversity in perspectives, products, people and services. 
Afrolatina women entrepreneurs are leading the way in entrepreneurship by defying systematic obstacles to self actualize and magnify the needs of their communities while achieving their dreams of running a business. Of women owned businesses around 50% of firms are run by women of color. Of this 50%, 21% are run by Black women and 18% of female operated businesses are run by Latinas/Hispanic women. These minority owned businesses generated around $700 billion in revenue in the year 2020 which has continued to climb in recent years. Additionally, in the past decade Black and Latinx individuals started over one million new companies in the United States, leading to a dramatic increase in available jobs. Studies have shown that Latina women start businesses at five times the rate of their male counterparts. 
Additionally, due to recent events caused by Covid-19 lockdowns there has been a dramatic increase of mother entrepreneurs, as the surge of working from home allows women who desire to work inside the home with their children, to have  both a professional career alongside child raising. The highest percentage of these women identify as Black and/or Hispanic. Another ramification of the pandemic resulted in a magnitude of layoffs, which disproportionately affected women of color, with Black and Hispanic women facing the greatest job losses of any demographic of people in the United States. Because of this entrepreneurship has become a way for Black and Latina women to regain control and freedom in their careers. Evidently, the impact of Afrolatinas in the professional sphere is continuing to grow and substantiate. That being said, it is imperative to learn about Afrolatina entrepreneurs as they use their platform to amplify their identities and to support these businesses. These Black, Hispanic and Afrolatina entrepreneurs create conspicuous contributions to the economy as well as create visibility for historically marginalized  groups in a highly competitive career path.  
Afrolatina Entrepreneurs
Although there are countless Afrolatina entrepreneurs in the United States and world, here is a glimpse into a few Afrolatina pioneers who have created businesses that celebrate and amplify Afrolatina identity. These women are working to create change, not only in their own lives, but for the entire Afrolatina community. Their businesses empower Afrolatina women and people of color to have pride in their identities and claim their position in the business world.
Lisette Scott, Jam + Rico
Lisette Scott identifies as Jamaican and Puerto Rican. After speaking with her grandparents who immigrated to the United States from Jamaica and Puerto Rico, Scott became fascinated with their identity and cultural heritage. Scott took it upon herself to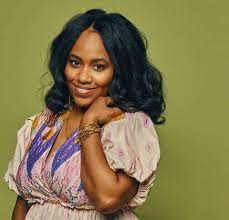 travel to Jamaica and Puerto Rico to experience her culture in its most authentic state. She was so inspired by these experiences that she decided to create her own jewelry company, Jam + Rico, named after her Jamaica and Puerto Rican heritage it, encompasses, supports and gives pride to her culture. 
Jam + Rico was created in 2016 with a mission to create bold and colorful jewelry inspired by the culture, people and art in both Jamaica and Puerto Rico. Each piece and its design has a direct tie to Scott's identity. Jam + Rico sells both everyday and high end pieces, covering a variety of price points.  Since its creation, Jam + Rico has been featured in Vogue, Popsugar, InStyle and more. To shop Jam + Rico visit https://www.jamandrico.com/ 
Kalima DeSuze, Cafe con Libros
Kalima DeSuze is an Afro-Latina social worker, rights activist and the creator of Cafe con Libros. Based out of New York City, DeSuze works to promote and empower young women and people of color. DeSuze started Cafe Con Libros in December of 2017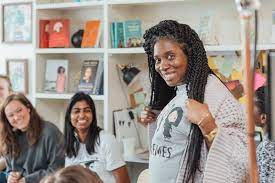 making it the only feminist bookstore in Brooklyn. With 99% of author's sold in Cafe Con Libros being women, DeSuze uses her book store as a place of female empowerment. DeSuze desired for her space to be more than a place to shop but rather a place for conversation and connection. Because of this, DeSuze added a coffee shop to her bookstore concept. For DeSuze, coffee is more than just a morning drink; it connects her to her Latina identity. Not only is coffee a plant present in many Latin American countries but the act of sharing over coffee is something that Kalima DeSuze holds close. 
DeSuze states, "I think that one of the things that I am very, very, very conscious of is the lack or the scarcity of Afrolatina voices in larger storytelling". Through her work DeSuze fills this gap through the amplification of Afro Latino voices that sit on the shelves of her business. Further, DeSuze holds many events and programs that affirm and celebrate Afrolatinx individual's and authors throughout the year to build local community.
For DeSuze, amplifying Afrolatina literature translates to empowering her community. Through Cafe Con Libros, DeSuze created a space where her Afrolatina identity is at the forefront of what she does. She has made a career for herself and more important a source of empowerment for her community. You can visit Cafe Con Libros in Brooklyn, New York or visit the website here, https://www.cafeconlibrosbk.com/ 
Bianca Kea, Yo Soy AfroLatina
Biana Kea, the founder of Yo Soy AfroLatina, grew up in the Midwest and didn't see her own identity represented around her.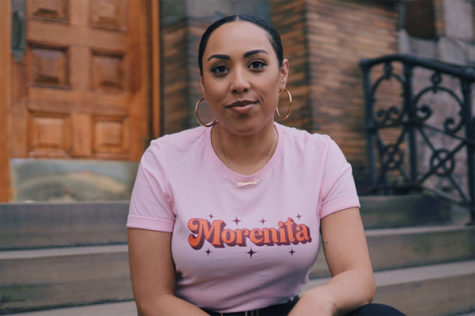 Feeling isolated due to her Afrolatina identity she began to travel to Mexico and educate herself on the African diaspora and the Latinx community. Kea found that she had a passion for her identity and didn't want other young girls to feel the way she had felt about her identity growing up. From this experience and growth Kea created Yo Soy AfroLatina. 
The goal of the company is to amplify the Afrolatina identity and show the magnitude and diversity of Afrolatina individuals. Kea states, "I wanted to take phrases that had a bad connotation attached to them like 'Morena' or 'Pelo Malo' and turn them into phrases that celebrated us and our Blackness." And she has done just that. Kea rewrote the narrative of Afrolatinas by reclaiming labels as celebration. Through the endless designs and products, Yo Soy AfroLatina celebrates the rich history and modern pride of Afrolatinidad. This brand honors the diversity and beauty behind the identity as its customers wear and use her products with pride. Yo Soy AfroLatina products can be bought here, https://yosoyafrolatina.com/ 
Dawn Marie West, La Boticá
Dawn Marie West is a Afro-Dominican entrepreneur who created La Boticá in 2018. La Boticá is a self-care brand providing luxurious and sustainable candles and fragrances as well as clothing capsules. At the time of the company's conception West was working as a photographer and Museum Supervisor in New York City. Dawn states the company was started as a side hustle and creative escape from her daily job. Over time, the company became wildly popular.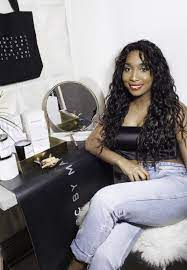 Having a degree in photography, West has always been an artistic individual so the overall aesthetic of her products is extremely important to her. Each scent from La Boticá is curated to perfection and all of the products have a minimalist and uniform appearance. West does all of the photography and marketing for her products in house, which allows her to merge her passion for photography with business ownership. Additionally, West connects the company to her identity as all of the ingredients for thecandles are sourced directly from South America. Some of the scents and names of her products also reflect important places connected to West's identity. La Boticá is also an extremely sustainable company as West works directly with farmers from Ecuador to receive all of her ingredients and creates her candles and final products domestically. La Boticá products can be purchased here, https://www.laboticanyc.com/new-page 
Mabel and Shaira Frias, Luna Magic
Luna Magic is a lifestyle and beauty brand founded in 2019 by sisters Mabel and Shaira Frias. The Dominican-American and Afrolatina sisters saw a gap in the inclusivity of women of color in the beauty industry. By combining their shared passions for the value of identity and the value of beauty, these two women set out to change the industry by creating a beauty brand based on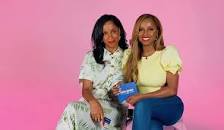 pride in one's cultural identity. Luna Magic is inspired by Latina American and Caribbean culture and embraces the bright colors schemes. The beauty brand founded itself on the three principles of  "Bueno, Bonito y Barato " Bueno, signifying that their products are of good quality. Bonito, meaning they create products that have beautiful vibrant colors and make individuals feel beautiful. Barato indicates that their products are available to all people and are not exclusive to a single economic class.
When creating and running this company each of the Frias sisters brings something unique to the table. Mabel Frias has 13+ years of retail strategy experience and has worked for some of the most notorious brands in the beauty and fashion industry such as Macys, Nordstroms and Fenty. She specializes in digital marketing strategies in fashion and beauty. Shaira is a former journalist, entrepreneur and makeup artist. Sharia is knowledgeable in journalism and has received many awards for her talent in makeup art. 
Luna Magic became most well known due to the Frias sisters appearance on Shark Tank in 2019. When faced against the panel of judges the two women were able to make a deal with notorious shark, Barbra Corcoran. Products from Luna Magic can be purchased at https://lunamagic.com/ 
Importance of Supporting Afrolatina Entrepreneurs
Uplifting and supporting Afrolatina voices and individuals should not just be limited to the month of February but should be sustained throughout the year. This can be achieved through being conscious about the stores that one chooses to support and the products they acquire. By choosing to shop at Afrolatina owned businesses, you take part in supporting individuals and companies that create services for their communities and cultures. 
Afrolatina entrepreneurs use their companies not only as a professional career and way to pursue their passions but as a platform to amplify the Afrolatina identity within a broader community. Afrolatina business women lead by example as they demonstrate to others in the business world as well as younger generations that minority women belong in the business field. Today's Afrolatina business leaders are paving the path for younger generations of minority women of color, empowering them to pursue their passions and careers in business while amplifying their pride in their own cultural identity and rich history.
Works Cited
Alcantara, A. (2018, April 28). Meet the owner of Café Con Libros, a feminist bookstore in Brooklyn. BESE. Retrieved November 8, 2022, from https://www.bese.com/meet-the-owner-of-cafe-con-librosa-feminist-bookstore-in-brooklyn/ 
Arena, Victoria. "Black and Latina Moms Are Becoming Entrepreneurs Now More than Ever ." LatinasinBusiness.us, 6 May 2022, https://latinasinbusiness.us/2022/05/06/black-and-latina-moms-are-becoming-entrepreneurs-now-more-than-ever/.  
Isaad, V. (2021, February 2). 6 Afro-latina leaders elevating and educating about blackness in Latinx culture. HipLatina. Retrieved November 8, 2022, from https://hiplatina.com/afro-latinas-instagram-latinx-culture/ 
"Latinx Studies: Library of Congress Resources: Afro-Latinx Bibliography." Research Guides, Library of Congress,Retrieved November 26, 2022 https://guides.loc.gov/latinx-studies/afro-latinx-bibliography. 
Por Myrtle Peña-Calderon Abril 04, 2022. "How Yo Soy Afro Latina Was Bianca Kea's Chance to Build Community." People En Español, https://peopleenespanol.com/chica/bianca-kea-alicia-menendez-latina-to-latina/.  
Ramirez-Hernandez, A. (2021, February 28). Afro-Latina Business Leaders To Know. Cisneros Institute Retrieved November 8, 2022, from https://medium.com/gw-cisneros-institute/afro-latina-business-leaders-to-know-77e714213925
Reeder, N. (2020, November 24). The outsized impact of black and Latino entrepreneurs. EY. Retrieved November 8, 2022, from https://www.ey.com/en_us/diversity-inclusiveness/the-outsized-impact-of-black-and-latinx-entrepreneurs
"Shark Tank US | Can Make-up Brand Luna Magic Tempt The Sharks?" YouTube, YouTube, 21 June 2021, https://www.youtube.com/watch?v=3Pj_yKCBV6g&t=1s  . Accessed 26 Nov. 2022.
Team, Garmentory. "Meet Dawn Marie West from La Botica." Garmentory, Garmentory, 7 July 2020, https://www.garmentory.com/the-thread/meet-dawn-marie-west-from-la-botica.  
Thompson, S. R. (2021, October 18). 10 Afro-Latina & Black-owned Haircare Brands You Need To Try. HipLatina. Retrieved November 8, 2022, from https://hiplatina.com/afro-latina-haircare-brands/
WorkingWomanReport, director. Kalima DeSuze-Cafe Con Libros. YouTube, YouTube, 9 June 2020, https://www.youtube.com/watch?v=kGyqm3H-Dc0  . Accessed 26 Nov. 2022.
Young, N. (2022, August 24). 10 Afro-latina owned lifestyle brands to treat yourself to. HipLatina. Retrieved November 8, 2022, from https://hiplatina.com/afro-latina-lifestyle-brands/  
Image Citations 
Black Enterprise. "Bianca Kea, Founder of Yo Soy AfroLatina." Medium.com, https://medium.com/gw-cisneros-institute/afro-latina-business-leaders-to-know-77e714213925 . Accessed 8 Nov. 2022. 
"Image of Dawn Marie West." La Botica, https://www.laboticanyc.com/new-page . Accessed 30 Nov. 2022. 
"Image of La Botica Logo." La Botica, https://www.laboticanyc.com/new-page . Accessed 30 Nov. 2022. 
"Image of Cafe Con Libros Logo" Cafe Con Libros, https://www.cafeconlibrosbk.com/ Accessed 18  Nov. 2022. 
"Jam + Rico- Lisette Scott" Jam + Rico https://www.jamandrico.com Accessed 18  Nov. 2022. 
Kobert, Rebecca. "Image of Kalima DeSuze, Founder of Cafe Con Libros." Medium. Com, https://medium.com/gw-cisneros-institute/afro-latina-business-leaders-to-know-77e714213925.  Accessed 8 Nov. 2022. 
Voyage LA. "Image of Mabel and Shaira Frias, Founders of Luna Magic." Medium.com, https://medium.com/gw-cisneros-institute/afro-latina-business-leaders-to-know-77e714213925 . Accessed 8 Nov. 2022.