Moschino: New York Fashion Week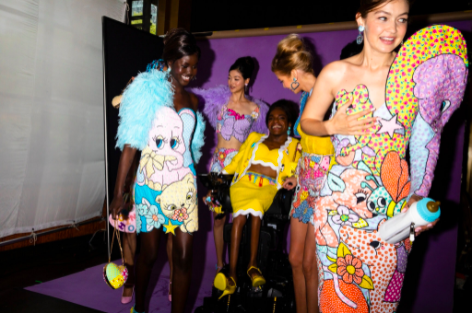 This year's New York fashion week (lasting from Wednesday, September 8 to Sunday, September 12) was chock-full of captivating shows and eclectic styles. One show, in particular, stood out to many and perhaps for the wrong reasons. 
Jeremy Scott, owner of the luxury brand Moschino, debuted the spring/summer 2022 collection nicknamed "Baby Ladies" on a rainy day in Bryant Park. According to Scott, this collection was a mixture of "ladies who lunch" and "nursery rhymes" and the result is a startling blend of the two. 
The clothes themselves are a mixture of 1960's trends and childhood memorabilia. Models sported mini skirts, cropped blazers, and dresses with a plethora of collars, all of which were adorned with bright childlike colors and patterns of stuffed animals and toys.  Many looks were accompanied by oversized earrings and a mini purse (or plastic pal), but the hairstyles reflected a more classic sixties look with french twists and beehive shapes. 
The last look is representative of the show. Gigi Hadid sported a pastel quilted gown complete with cartoon-esque animals and one long sleeve that depicted the trunk of an elephant. This look, in particular, got a lot of attention from people who thought it was downright hideous.  
This entire collection was intended to be camp, but missed the mark for many commentators. Some women feel that this collection is infantilizing, which is pretty much on the nose considering that infants were a literal theme of the show. Others argue that this collection is simply ugly and has pushed the envelope a bit too far.  Either way, Mr. Scott elicited a strong response and many emotions with his clothing, which may have been his primary objective after all. 
Works Cited
Friedman, Vanessa. "From the Cradle to the Grave, What Kind of Comfort Do Women Want?" The New York Times, The New York Times, 10 Sept. 2021, www.nytimes.com/2021/09/10/style/moschino-gabriela-hearst-new-york-fashion-week.html.
"New York Fashion Week: Highlights from the Spring-Summer 2022 Shows." CNN, Cable News Network, 9 Sept. 2021, www.cnn.com/style/article/new-york-fashion-week-photos-ss22/index.html.
Phelps, Nicole. "Moschino Spring 2022 Ready-to-Wear Collection." Vogue, Vogue, 9 Sept. 2021, www.vogue.com/fashion-shows/spring-2022-ready-to-wear/moschino#review.