Met Gala 2021 Recap
The Met Gala,  otherwise known as the "The Super Bowl of Fashion," is renowned for its A-list guest list and unique outfits. The Met Gala is the fashion industry's equivalent to the Oscars, with designers and Hollywood stars jockeying for media attention.  The event raises funds for the Metropolitan Museum of Art Costume Institute.  Originally scheduled for the first Monday of May, this year's event took place on Monday, September 13 due to concerns about Covid-19. 
This year's theme, "In America: A Lexicon of Fashion" invited each designer to be very creative and their creations elicited strong opinions from the loyal followers of the Gala. Some celebs sported looks that were on par with the theme in a literal sense and others were more "out there," but many designs took a more historical route.  Looks based on iconic celebs from the past hundred years graced the Met this year.
Actress and activist Yara Shahidi's gown paid homage to beloved American entertainer Josephine Baker. In 1951, Baker wore a custom beaded Dior gown with matching gloves. Dior, after much research, designed a light brown beaded gown with matching gloves and a tulle cape for Shahidi. Honoring Josephine Baker in this way was a celebration of Black fashion and its contribution to American history. This look was a fan favorite and was described as a "showstopper."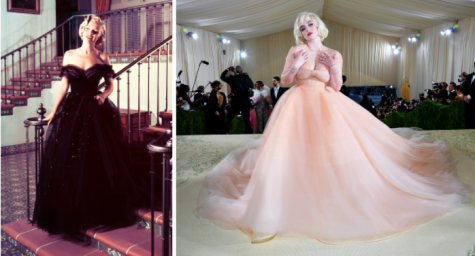 Another look that made a splash was Billie Eilish wearing Oscar de la Renta. Her gown was a tribute to American legend Marilyn Monroe. This look was the pinnacle of Hollywood glamor and was inspired by Monroe's black tulle gown worn to the 1951 Oscars. Even the hair was spot on as Billie sported Monroe's signature blonde coiffed hairstyle. Eilish received positive media attention and made quite a splash in her first-ever Met Gala.
Whether you think that these historical homages were the looks of the year or that they were dated and dreary, we can all admire the underlying research and the attention to detail in both of these gowns. Thank you to these two designers who gave us a history lesson along with a serious dose of glamour.
Works Cited
Harding, Natasha. "Billie Eilish Just Wore the *Ultimate* Princess Dress to the Met Gala." Cosmopolitan, Cosmopolitan, 14 Sept. 2021, www.cosmopolitan.com/uk/fashion/celebrity/a37582077/billie-eilish-met-gala-dress/.
"Https://Www.vogue.fr/Fashion/Galerie/Met-Gala-2021-Best-Dressed-Celebrities-Red-Carpet-Oufits." Metmuseum.org, www.metmuseum.org/blogs/now-at-the-met/2020/met-gala-costume-institute-benefit-brief-history.
Metmuseum.org, www.metmuseum.org/blogs/now-at-the-met/2020/met-gala-costume-institute-benefit-brief-history.
Okwodu, Janelle. "Yara Shahidi's Met Gala Look Honored Josephine Baker's Legacy." Vogue, Vogue, 14 Sept. 2021, www.vogue.com/slideshow/yara-shahidi-met-gala-2021-dior-josephine-baker-tribute.