Saturday Night Live: Social Barometer Through Social Distancing
Why You Should Watch SNL Live, Plus an SNL Journey Through Social Distancing
My family likes Saturday Night Live.  
Actually, that's an understatement—my family is really, really into Saturday Night Live.  
Let me clarify that one more time—we don't really watch that much TV, but Saturday Night Live is a sacred ninety minutes of television that must be set aside from the rest of the week.  We know an alarmingly high number of sketches by heart, and references completely permeate our family's vernacular.  We have special sketches we watch for certain occasions, such as Adam Sandler's "I was Fired" monologue that we break out whenever a family member has a setback to remind us that even seemingly immortal celebrities have setbacks and failures too, but life goes on.  We can name each cast member in the theme song before they are announced.  We love SNL.  And we love to watch it live.
I don't look down on people who only watch SNL on YouTube.  I mean, "live" is in the actual name (it's not called Saturday Night On-YouTube-Sunday-Morning), but I try not to judge other people for their SNL watching habits.  Don't get me wrong, I do love rewatching sketches on YouTube and viewing sketches that aired before I was born or old enough to hold my eyes open until 10:30 pm, but if you don't watch SNL live regularly, here's a few reasons to start.  
First off, sketches are quintessential to the show, but we can't forget that SNL is more than disjointed sketches and digital shorts.  If you watch SNL in its entirety, you get a certain rhythm of the order, snatch peeks of them setting the studio for the next sketch, hear current musicians you might not have otherwise listened to, and get to watch that heart-warming wrap-up right at midnight.  Furthermore, and people don't know this unless they watch religiously, sketches sometimes change from when they air live to when they're posted on YouTube.  I remember an especially touching moment when Keenan Thompson was playing Santa and was holding a child actor on his lap.  The kiddo suddenly got really nervous, and he was having a really hard time getting his words out.  Thompson very gently said, "Go ahead, you're fine," to the child.  It was a really sweet interaction, and a funny joke came a moment later, but when we googled the sketch the next day, the moment had been edited out and was just gone.  There's something pretty cool about knowing you're getting the real, raw, authentic version when you watch it live.  
Another great reason to watch SNL live is that SNL has its finger on the pulse of American culture.  What do John Mulaney, Prince, and Halsey all have in common?  I was first exposed to them while watching SNL, and those are just a few examples of aspects of American culture that I wouldn't have fallen in love with on my own but was introduced to by SNL.  However, perhaps the biggest reason to watch SNL live is that you get to watch it before anyone else and be part of something special.  I can't count the number of times someone has sent me an SNL sketch, saying, "Oh my gosh, have you seen this???" and I quietly think to myself (with no shortage of pride), "Yep, I saw that live, and I was among the Americans who watched it become part of pop culture."  (Although to all my friends out there, don't stop sending me sketches).  Why wouldn't you want to "screen" pop culture before everyone else and be a part of its inception?
Anyway, I'll get off my "watching SNL live" soapbox.  As my family and I watched SNL earlier this spring, we laughed at the Coronavirus jokes like everyone else.  Then, as social distancing claimed more and more of our regular activities, we watched the schedules for the upcoming SNL hosts and musical guests change to notifications of reruns.
We still watched the reruns, but there was a part of me that just felt a little bit lied to.  The band was playing onstage, the studio blazed with light, those beloved comedians cracked jokes to roaring audiences, but I knew that in reality, the whole studio sat, dark and silent, in a changed New York City.
Then, all of a sudden, the official SNL Instagram page announced their new show airing that Saturday, April 11, 2020: Saturday Night Live at Home.  
The excitement built all week until 10:25 pm CST on Saturday finally arrived.  I wasn't sure what to expect, but when that theme song started up with those familiar drums, that wailing sax, and new, clever self-isolation-themed introduction shots of each cast member, we leapt off the couch, cheering and clapping. 
No, it wasn't the same.  But as Tom Hanks delivered his monologue from his kitchen and the sketches began, the cast members making the most of their circumstances, it was as comforting as seeing old friends.  At this point, I've been watching for long enough that I remember when a good number of the cast members joined SNL (except, of course, cast members like Keenan Thompson, the longest-tenured cast member in SNL history at 17 seasons) and they've all made me laugh through good and bad.  Now, during one of the most uncertain eras of my life, it meant the world to see these familiar faces and know that they were all still carrying on.  
The second Saturday Night Live at Home really hit its stride, looping in familiar characters from SNL days past and learning how to make real use of the distance for humor.  The finale that aired this past Saturday, May 9, was less funny but touching in its own way.  As the host, Kristen Wiig, said goodbye until September, I reflected on how much has changed since this season of SNL began, and how much will probably—hopefully—be different in the fall when season 46 of SNL kicks off.  
No, the three episodes of SNL at Home were not the best 270 minutes of television I've ever seen, yet although we maybe didn't laugh as much or as hard as we might normally, it didn't matter at all.  This incarnation of SNL didn't need to be as funny as Kevin Hart's January 18, 2015 raccoon monologue.  That's not what was important.  This was an act of resilience.  It was overcoming obstacles—these performers normally draft energy off an audience and synergy from other SNL company members, yet even without these crucial elements, they forged on.  It was solidarity—my favorite comedians are living at home just like me and doing their best to go about their lives.  They're social distancing, inconveniencing themselves for the greater good, and I can too.  Above all, this was an effort to bring joy to others.
Even if those episodes had really fallen flat on their face and failed to bring me even one giggle, I would still be forever grateful for the comfort and inspiration that came from the efforts of the cast, crew, and producers of SNL to bring us Saturday Night Live at Home.  I hope we can all model their example and do our best to practice resilience, persistence through adversity, solidarity, and bringing joy to others at every opportunity.
About the Writer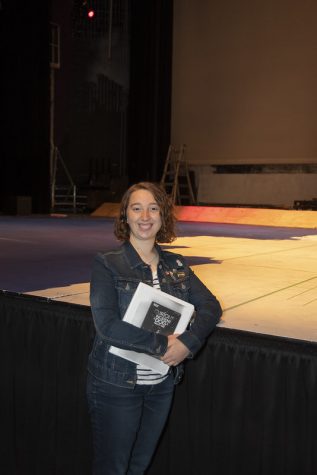 Edie Weinstein, Co-Executive Editor
Edie Weinstein happily occupies the position of co-executive editor of the Visitation Voice school newspaper.  In the past year, Edie acted in CLIMB Theatre's...