9 Books that Every Taylor Swift Fan Should Read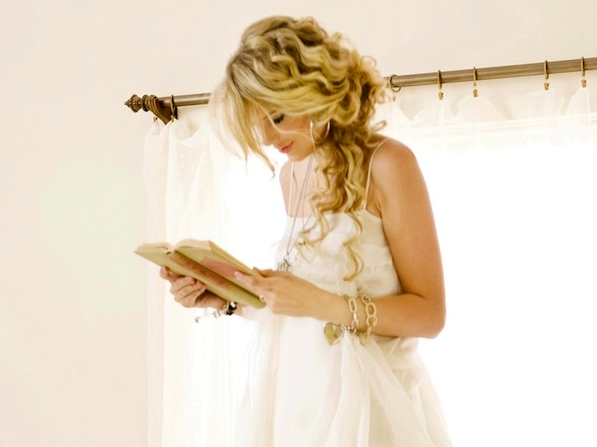 Anybody who knows me well knows that two of my main personality traits are loving books and being a Taylor Swift fan (or Swifty). So, I decided to share both of my passions by compiling a list of the nine books that every Taylor Swift fan should read because of the way they perfectly complement her lyrics. Enjoy!
The Great Gatsby by F. Scott Fitzgerald
Taylor Swift Song:"All Too Well (Taylor's Version) (Ten Minute Version) (from the Vault)- Did the twin flame bruise paint you blue, just between us did the love affair maim you too? … I remember it all too well.
Perhaps I'm biased because this is my favorite book of all time, but everybody needs to read it (and not just the Sparknotes summaries for Junior English 😉 ). This book is for those who love to read stories of unrequited love that, unsurprisingly, ends in tragedy. Though the whole song could be applied to Gatby's love for Daisy, I chose the lyrics above because they perfectly describe Gatsby's struggle with his intense love for Daisy and her inability to love him back. As Taylor writes, the love affair maims him and he will never forget what happened between the two of them. 
Song of Achilles by Madeleine Miller
Taylor Swift Song: "ivy"- My house of stone, your ivy grows and now I'm covered in you.
This is one of the best love stories I have ever read. It retells the myth of Achilles and Patroclus by imagining that they were more than just (for lack of better words) a hero and a sidekick- but true soulmates destined to be together. However, their love for one another is not immediate. Like the house of stone Taylor describes in "Ivy," they are initially cold to each other. Slowly but surely, their lives intertwine until they are both consumed by their love for one another- just as a house is taken over by ivy. Grab some tissues for this one because it will have you sobbing by the end!
The Seven Husbands of Evelyn Hugo by Taylor Jenkins Reid
Taylor Swift Song: "The Lucky One (Taylor's Version)"- And they tell you that you're lucky but you're so confused 'cause you don't feel pretty, you just feel used.
This one is for readers who love complex main characters, stories of the dark side of Hollywood fame, and wild twist-endings. This book tells the story of Evelyn Hugo, a reclusive film idol from the 1960s who finally decides to share her story. While everyone thinks that Evelyn is perfect in every sense of the word, she struggles as she achieves fame and fortune but fails to find happiness. Thus, she is "The Lucky One," but just as Taylor describes in the song, she does not feel lucky or beautiful. When she falls in love with a fellow actress, she is torn between her love for this woman and her public image- truly showing how fame can destroy a person's true chance at happiness. Trust me, listen to "The Lucky One" after you finish and you will have a new appreciation for the book. 
Circe by Madeleine Miller
Taylor Swift Song: "mad woman"- I'm taking my time, taking my time, 'cause you took everything from me… She should be mad, should be scathing like me, but no one like a mad woman
This is a story about a woman who is betrayed by the ones she loves. Another retelling of a classic Greek myth, Circe tells the story of the vastly misunderstood witch who is exiled to the island of Aiaia for using her powers to transform a mortal into a god, among other acts. On the island, she encounters many more "heroes" who come to the island and break her heart over and over again. However, I don't think it is a sad story. Like "mad woman," it is about not fitting into society's image of women and beauty, getting everything taken from you, and taking control of your female power (despite all the men who try to stifle it). At the end, she finds herself, steps into her version of femininity, and finally feels whole- it is awesome. Personally, I think this book will appeal to all the young women out there who have had their extremely valid feelings dismissed as "hysteria" or "craziness."
Ariadne by Jennifer Saint
Taylor Swift Song: "Clean"- You're still all over me, like a wine-stained dress I can't wear anymore. Hung my head as I lost the war and the sky turned black like a perfect storm. The rain came pouring down when I was drowning, that's when I could finally breathe. 
If you haven't noticed by now, I love books that retell Greek myths, and this book is no exception. Ariadne retells the story of Theseus and the Minotaur from Ariadne and her sister Phaedra's point of view. As Taylor describes in "Clean," Theseus uses Ariadne to get what he wants and then throws her away- leaving her for dead on a remote island. Her pain is elevated by Theseus's marriage to her sister, Phaedra. Just as she recovers, her heart is newly broken by another man who uses her to get what he wants and then abandons her. But, this story is unique in the way the author portrays her recovery. Ariadne is forever changed by all that happens to her, but she learns to live in the chaos and finally finds her true self within it- hence the lyrics "when I was drowning, that's when I could finally breathe." While she is forever changed by what happens (like the stained dress mentioned in the song) she learns that "stains" do not ruin her- rather they make her whole. 
Holding Up the Universe by Jennifer Niven
Taylor Swift Song: "this is me trying"- I just wanted you to know that this is me trying. At least I'm trying.
This book is for everyone who is just trying to keep it together. It tells the story of two vastly different high schoolers. One is a popular and beloved athlete with a hidden secret, and the other is a girl who is socially outcast because of her appearance. While their lives are very different, they both have to fight every day of their lives to put up a facade of being okay– just as so many of us do every single day. Even if you do not read the book, I highly recommend "this is me trying." It is one of those songs to remind you that it's okay not to be okay. 
Wuthering Heights by Emily Brontë
Taylor Swift Song: "exile (feat. Bon Iver)"- All this time I never learned to read your mind (never learned to read my mind), I couldn't turn things around (You never turned things around), 'Cause you never gave a warning sign (I gave so many signs) So many signs, so many signs.
Usually I'm not a huge fan of classics, but Wuthering Heights is an exception I am willing to make. The book shows the dysfunctional love between Catherine and Heathcliff- both of whom are incapable of love and just obsess over what they can give each other. Unsurprisingly, their story ends tragically and neither of them are truly satisfied. Like the relationship in "exile," their love may have worked if they had been willing to communicate and be honest with each other- but in both the song and the novel, their selfish ways prevent them from doing so. 
Looking for Alaska by John Green
Taylor Swift Song: "my tears ricochet"- I can go anywhere I want, anywhere I want, just not home… and I still talk to you when I'm screaming at the sky. And when you can't sleep at night, you'll hear my stolen lullaby.
This story is about finding yourself, hope for the future, and recovering from losing someone you love. The book centers around Miles Halter, nicknamed "Pudge," who never truly finds where he belongs- until he meets Alaska, a mysterious girl who shows him that life is about more than he had always thought. Like the person described in "my tears ricochet," Miles finds his home in Alaska. When she dies unexpectedly, he feels lost without her to guide him. In his grief, he replaces his love for her with anger that she left him. But through his sadness, he finds himself, learns to forgive her for leaving him, and lets her go. At first he is haunted by her (like the person in "my tears ricochet" who screams at the sky), but then he realizes that she is not haunting him, she is someone whose life touched him and changed him for the better. 
The Night Circus by Erin Morgenstern
Taylor Swift Song: "Daylight"- I can still see it all in my mind, all of you, all of me intertwined. I once believed love would be black and white, but it's golden.
Let me start off by saying that this book is not for everyone. It has a very unique structure and multiple narrators who often go unnamed. It's confusing at the beginning of the book and takes some getting used to- but trust me it all makes sense at the end. The novel tells the story of a magical circus that appears without warning and only opens during the night. Within the circus, there are two magicians, Marco and Celia, fated to battle each other for superiority in a fight that will not end until one of them cannot continue. Fittingly, the circus had a strict black and white color scheme to reflect the conflict between Marco and Celia. Like the lyrics to "Daylight," their relationship is initially black and white, but becomes more complicated as they grow to know each other, eventually becoming a "golden" love. Definitely one of the most unusual stories I have ever read, but so beautifully written and touching.