Exploring the World Through the Lenses of Vis Students
Ella Sukup, Arts, Culture, and Style Editor
October 4, 2021
Over the summer, some Vis students were able to have once in a lifetime experiences on their adventures around the globe.  Whether it was traversing through the Boundary Waters up north or walking the historic streets of Paris, Vis students made memories in new places.  Elsa Bildtsen (Junior), Kate Kelly (Senior), and Caroline Schlehuber (Senior) shared some of their experiences from their trips over the summer.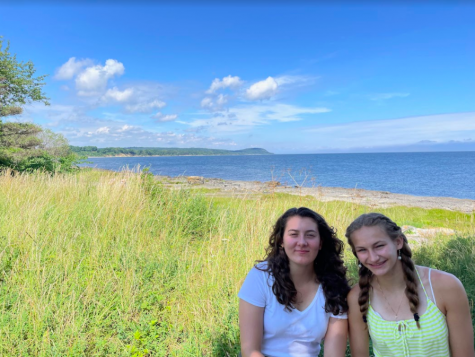 Elsa Bildtsen visited her family in Sweden over the summer.  She enjoyed picturesque sights in and near the small country town where her grandparents live.  One of her favorite memories was biking with her cousin and brother to a beautiful lake which is one of her favorite places to go when she visits.  She also enjoyed eating dinner in her grandparents' barn, playing games in the fields, picking strawberries, spending time with her extended family during fika (afternoon coffee), and eating at a pizzeria surrounded by gardens and a castle.
When asked about her trip to France this summer, Kate Kelly said, "Paris has my heart!"  The Kellys spent some family time in the City of Light, enjoying fun excursions, fashion, food, and, of course, the Eiffel Tower lit up at night.  Kate's favorite memory from her trip was biking with her family to an authentic French restaurant where they ordered and tried all of ten entrees on the small menu.  Following their dinner, they biked to the Eiffel Tower to watch the sunset and the city light up.  Altogether, Kate loved immersing herself in the culture of Paris, and she said that her trip was "everything I would have dreamed of and more".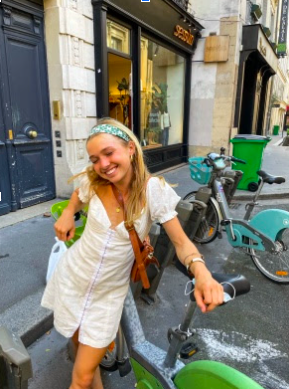 Through her travels, Caroline was able to take time to "go out and embrace nature" as she said herself.  To sum up her trip and her love of nature, Caroline shared this quote from Robin Wall Kimmerer: "Knowing that you love the earth changes you to defend and protect and celebrate.  But when you feel that the earth loves you in return, that feeling transforms the relationship from a one-way street into a sacred bond."  Caroline Schlehuber spent two weeks this summer hiking through the BWCA with YMCA Menogyn.  
Caroline enjoyed many wonderfully peaceful moments in nature while on her trek.  Some of her favorite memories of her trip were paddling through the glass-like waters, listening to the loons late at night, and baking over the bonfire.  She developed strong relationships with the six other girls and two guides who travelled with her through all of the highs and lows of their journey.  Together, Caroline and her comrades enjoyed battling mosquitos and experimenting in their outdoor kitchen.  On her own, Caroline enjoyed sitting in silence with a book and some tea.  There was no clear highlight of this trip for Caroline, rather she enjoyed a collection of small moments which made her trip to the BWCA one to remember.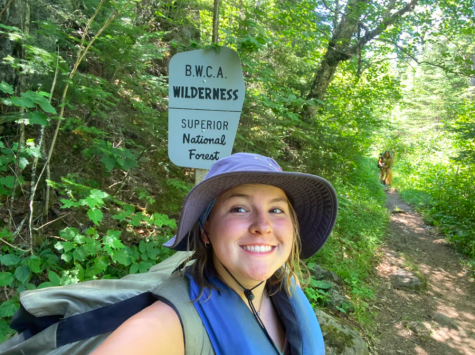 Traveling and exploring new places outside of the radius which we regularly commute has been a greatly missed experience during the pandemic, and having the opportunity to travel again allows for so many memories to be made and things to be learned in new places that we have not yet explored.  Whether it be a few hours north of the Twin Cities or on the other side of the globe, there is always a new place to discover.  In other words, travel provides an opportunity for "No borders, just horizons– only freedom" (Amelia Earheart).