Four Fall Themed Recipes You Should Try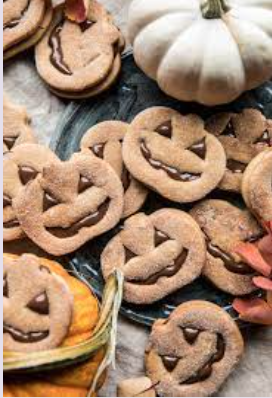 Breakfast
Pumpkin Pie Overnight Oats (1 Serving)
½ cup rolled oats
¾ cup milk
¼ cup canned pumpkin
1 tablespoon maple syrup (to taste, more if you want it sweeter)
2 tablespoons chia seeds
1 tsp pumpkin pie spice (if you don't have that, mix together cinnamon, cloves, and ginger)
This recipe is really simple. Just mix all the ingredients together and put it in an airtight container. Leave it overnight, and you have a great fall-themed breakfast! Now you have no excuse to say that you didn't have time for breakfast because it's already made.
One Person Apple-Cinnamon Pancake (1 Serving)
⅓ cup all purpose flour
2 teaspoons baking powder
1 tablespoon vegetable oil
1 egg
¼ cup milk
1 teaspoon vanilla extract
Cinnamon to taste
Some chopped up apple (the pancake will end up being pretty big, but it's up to you how much apple you want in your pancake)
Mix your dry ingredients together: the flour, baking powder, and cinnamon. Then add in your wet ingredients: the vegetable oil, egg, milk, and vanilla extract.

Pour the entire mixture onto a hot pan. It should be about the size of your face.

Place your chopped up apples on top of the batter.

The pancake will take about 4 minutes to cook on each side.
I love pancakes maybe a little too much, and this recipe is great for before school when that pancake craving really hits (and you don't want to make a batch of twenty pancakes). I make this recipe all the time. It tastes amazing and keeps you full for a while. What's great about this is that you can change it up completely: you could add cocoa powder and chocolate chips to make it a chocolate pancake, or you could add some blueberries or strawberries.
Lunch/Dinner
Squash Soup (Serves 1 Ravenous Medium Sized Family)
For the soup:
1 butternut squash
1 acorn squash
3 tablespoons butter
¼ of a sweet onion
1 quart of vegetable stock
⅓ cup brown sugar
8oz cream cheese
½ teaspoon black pepper
Cinnamon to taste
Cut each squash in half. Place them in a pan cut side up with ¼ inch water in the pan. Dot each squash with butter and sprinkle on the sugar. Cover and bake at 400˚F for 30-40 minutes.

Saute the butter and onion in a pan.

Once everything is ready, place everything in a blender. Blend until smooth.

Cook soup on medium heat until it is hot enough to serve (based on personal preference).
I know that this may sound really gross, but it is actually amazing! My mom always makes soups as the weather turns cold, and this is one of my favorites. The soup has a really creamy texture (luckily you lose the stringy-ness of squash that many people don't really like) as well as a really hearty taste. 
Appetizers/Sides
My Mom's Holy Grail Cranberry Chutney
1 ½ cup fresh cranberries
16 dried apricots, chopped
¾ cup packed brown sugar
⅓ cup raisins
2 tablespoons fresh ginger root, minced
2 tablespoons cranberry juice
¾ teaspoon cinnamon
¼ teaspoon cayenne pepper
Combine all ingredients in a saucepan and bring it to a boil. Boil for three minutes.

Let it cool before serving.
This could be the entirety of my Thanksgiving meal and I wouldn't be mad about it.