Onto the Varsity Courts
Interview with James O'Brien, Head Varsity Basketball Coach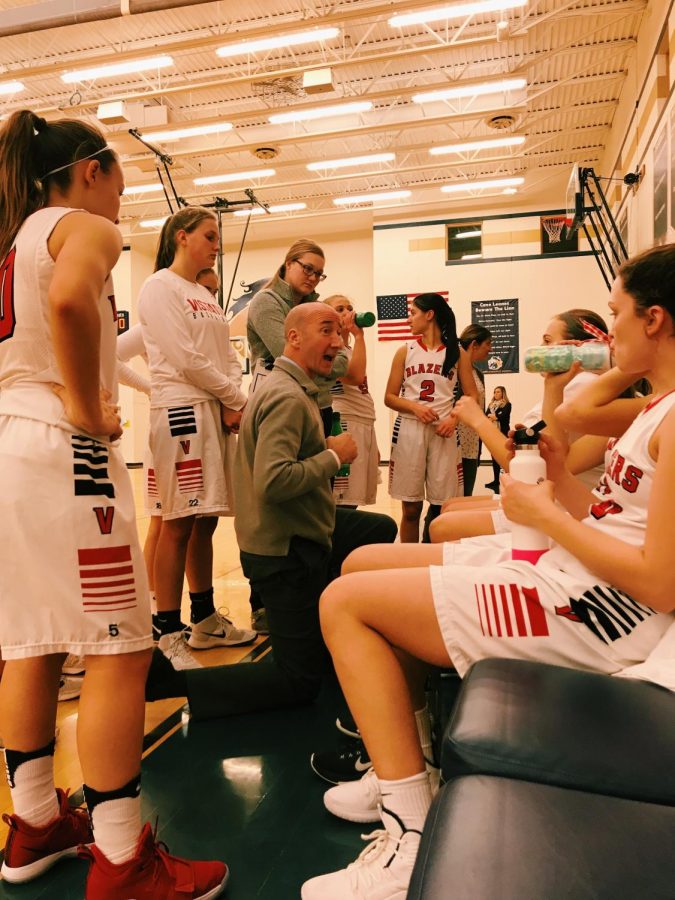 Sadie Grunau, Staff Writer
December 21, 2018
Q: What is your background in coaching? What is your past experience?
A: I played basketball in high school and a little in college as well.  After graduating from college, I worked for several years as a volunteer teacher at a high school for at risk youth in Central America, where I was also the head basketball coach.  I now have more than 15 years of coaching experience and have coached boys and girls' teams from the Varsity level down to 5th grade as well as AAU.
Q: What made you want to fill the role of Head Varsity Basketball Coach at Visitation?
A: I was the JV coach here at Vis for the past two years and really enjoyed my time working with that group.  When the Varsity position opened up, I thought I would be a good fit to help our program reach the next level of development and growth.
Q: What are your goals for the team for this 2018-2019 season?
A: My goals for this season include working to become an excellent defensive team.  I want our players to become excellent individual defenders and utilize a help defense approach that makes it difficult for other teams to score.  I want all our players to improve all of their basketball skills and have fun as they contribute to our overall team success.
Q: What, if anything, do you hope to change about the program in your first year as the coach?
A: One thing I would like to do is put a greater emphasis on becoming better individual defenders and on better overall team defense.
Q: What core values do you hope to institute in the program?
A: The core values of our basketball program are the same as Visitation School: we want to help develop strong, selfless leaders who will impact their families and communities in positive ways.  We believe the right priorities for our coaches and players are their faith, family, school then athletics in that order.