VISTORY: A Week of Service……
This past summer provided an opportunity for me and five other Mendota Heights Visitation Students – Seniors Ceci Baillon and Anna Zauha and Sophomores Erin McQuillan, Caroline Schlehuber, and Catherine Wollan – to travel to Camden, New Jersey to take part in the 21st Annual VISTORY service trip. VISTORY stands for Visitation in service to others through responsive youth. VISTORY is a week-long service trip that allows Vis girls to join students from both Georgetown Visitation and St. Louis Visitation to do service and grow in their faith with their shared values of Salesian Spirituality and the motto of "Live Jesus".
Statistically speaking, Camden, New Jersey is known as one of the United State's most dangerous cities. In particular, the city struggles with gang violence along with a large number of cases of alcohol and drug addictions. However, this was not always the case. Camden was once a very prosperous city due to it being the home to several major industries such as Campbell's Soup, RCA/ Victor, and New York Shipbuilding. That is, until the 1960s when these companies chose to relocate which resulted in the loss of more than 50,000 jobs leaving the citizens of Camden without a way to make a living. This loss left the economy slowly deteriorating.  
In total, there were seventeen Visitation students on the trip. Six of us from the Mendota Heights Visitation, six from the Georgetown Visitation, and five from the St. Louis Visitation. Despite our differing geographic location and our differing pronunciations of the word "bagel" the seventeen of us went from being strangers to one united group committed to the goal of making a difference in the community of Camden through the  motto of "Live Jesus".
Throughout the week, we stayed in the Desales Service Works Center, a house in the heart of Camden providing housing for retreat groups and other Salesian groups. Father Mike McCue is an Oblate of Saint Francis de Sales and has worked as a spiritual director at the Desales Service Works Center along with this beloved dog, Sky whom all of the girls became quite fond of as the week went on. Desales Service Works has partnered with a Camden homeless shelter called Joseph's House that provides housing and other services such as programs for finding jobs. Multiple times during the week, students did various work around the shelter as they worked on their expansion such as painting walls, mopping down floors after construction, picking up litter outside, and helping during the open hours of the shelter by serving meals and interacting with the people there. During the days, the seventeen of us Vis girls went to a Catholic elementary school in Camden called Holy Name where we helped with the after school program and played with the young children during their recess times. 
We also attended several AA/NA meetings at an organization called The Last Stop. The Last Stop provides meals for those who otherwise would not have a meal and provides a safe place for people to share their struggles, specifically with alcohol and drug addictions. These daily meetings, open to anyone regardless of their background or demographic, begin with a former addict sharing his/her story of addiction and how he/she changed his/her life to be clean of drugs and alcohol. 
VISTORY was one of the most eye-opening and transformative experiences of my life. I remember at one of the meetings prior to our leaving, we were told to bring tennis shoes with thicker soles because in Camden, there are syringes left almost all over sidewalks and walkways due to the high rate of drug usage. Hearing that and learning about the crime statistics left us all a bit skeptical of how our experience would go, but after spending a week there, we began to realize that there is so much more to Camden, New Jersey than the statistics. Camden, New Jersey is a city with a vibrant community determined to make a positive change to turn their home back to the place it was. Often times, I catch myself so focused on what's going on in my life, that I don't tend to really see the world around me and the struggles that people are going through every day. The opportunity to go on the VISTORY trip provided me with not only an opportunity to be more aware of the world around me, but also has sparked a passion for service in my life. One poem called "Carrying Christ" by Ruth Mary Fox was particularly striking for me. She writes:
"Into the hillside country Mary went
Carrying Christ.
And all along the road the Christ she carried
Generously bestowed his grace on those she met.
But she had not meant to tell she carried Christ.
She was content to hide his love for her.
But about her glowed such joy that into stony hearts
Love flowed
Christ, in the sacrament of love each day, dwells in my soul
A little space. And then as I walk life's crowded highways
Jostling men who seldom think of God. To these, I pray, that I may carry Christ
For it may be 
Some may not know of him
Except through me."
This poem is an excellent example of how we can "Live Jesus" in our day-to-day interactions with people. The way that we live our lives and carry ourselves are for one purpose and that is to reflect how Jesus would have lived. Hopefully, we all can have that same "glow of joy" that Ruth Mary Fox describes. I am forever grateful for the experience of attending VISTORY. It is truly an experience that has changed the way that I view the world and the way that I try to live my life forever.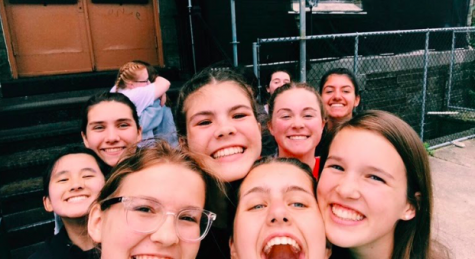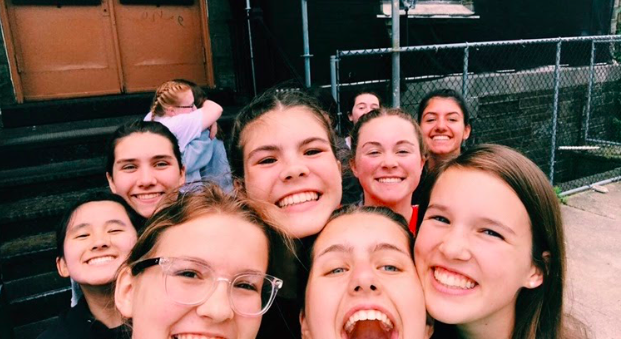 Works Cited
"Mission and Vision." Joseph's House of Camden, www.jhoc.org/mission-and-vision.
"Pyne Poynt." American Documentary, www.amdoc.org/watch/media/970/.
"Radically Living Jesus in the Service of Others." DeSales Service Works, www.desalesservice.org/