A Clue into the Court Room with Vis Mock Trial
One of the most important aspects of a school for many students is the variety of clubs and extracurricular activities it offers. While the majority of students around the United States participate in athletic activities and sports, many participate in academically-focused groups as well. Among those are debate and mock trial. At Visitation, the mock trial team brings students together to discuss, strategize, and learn about the law and the judicial system in America. "I've learned so much about the legal system that I wouldn't have learned otherwise," says Izzy Brandt, a junior and a member of the team. Other members feel similarly, emphasizing the importance of this education they have received outside of a classroom setting through mock trial. "Being a part of mock trial has opened up many interesting career possibilities to me and shown me a glimpse of the behind the scenes of our judicial system," says Maggie Doran. "It has granted me an appreciation for the hardworking lawyers who work to make this country fair."
One of the most crucial elements of this club is the coaches, who teach the team about the law and how to craft concrete arguments. Coaches Olivia Kratzke, a Visitation graduate and practicing attorney, and Judge Francis Connolly have been leading the team for several years, including through two consecutive state appearances in 2018 and 2019. "Having such amazing coaches is such a great opportunity to learn from the best!" says senior Maddie Schlehuber. With the guidance of their coaches, members of the mock trial team can learn more about both criminal and civil proceedings. This year, the case is a criminal matter that revolves around the death of a drug addict who died due to an accidental opioid overdose. The defendant, Sam Soto, faces the charge of third-degree murder if the prosecution can prove that he gave the victim oxycodone beyond a reasonable doubt. Students get the opportunity to either craft a character and serve as a witness, or dive into the legal arguments and case theory as a lawyer. 
An important skill that mock trial teaches is public speaking. Whether acting as a witness or an attorney, students learn how to express themselves verbally and civilly. "It's given me a lot of opportunities to think on my feet and speak in front of others in a professional setting, skills that I know will be important later on," adds Izzy Brandt. "Mock trial has given me a great space to have fun as well as grow in my civic knowledge." Mock trial provides students with the opportunity to improvise, speak confidently, and to learn court etiquette. These skills, which students learn in mock trial, can be helpful both in the classroom and beyond, creating a long-lasting effect on students all around the country.
About the Writer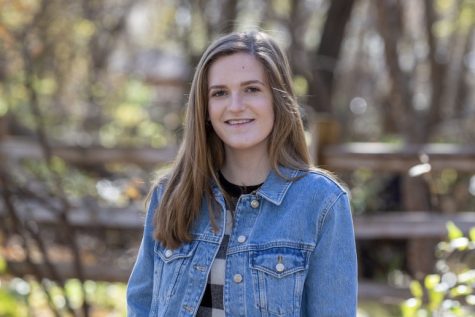 Grace Richardson, News Editor
Grace Richardson is a junior and the News Editor of the Visitation Voice. In her free time, Grace enjoys reading books of many different genres (including...