Of Empty Shelves and Full Hearts: Two Stories from Spring Break 2020
Mrs. Sutton and Colibri Lopez-Munoz '21 share their thoughts about Covid-19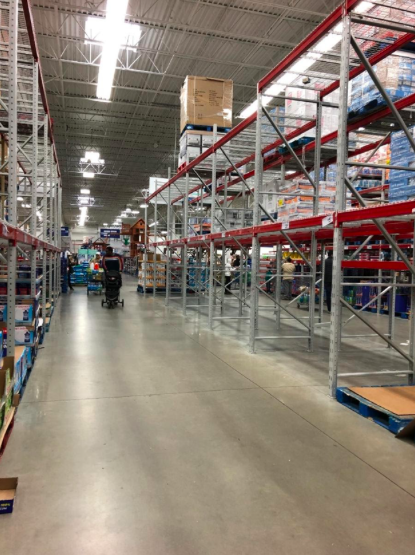 Mrs. Sutton:  Last Thursday, my husband and I took advantage of my early spring break to do some pre-apocalypse shopping.  We started at the Costco Business Center in Saint Paul — our mission: to replenish our toilet paper supply and our supply of rice, both of which had dwindled in the past few days. We love rice in our family — it's practically a staple food for us as it is for most of the world.  And toilet paper — well, let's just say that my bathroom is not set up with a bidet.  Guess what? No surprise, there was not a single grain of rice to be found.  And I had to wait in line and make a dash to the pallet to secure a single package of the magical t.p.  By the time my husband and I went through the check-out line (we had stopped at the restrooms to use up the store's toilet paper), a kind gentleman passed me by and, noting my package stashed at the bottom of my cart, asked, "Got your toilet paper?" "One of the last ones!" I replied.  His eyes squinted slightly and he took a second look at my cart.  I moved defensively in front of the package.  Not on my watch!  
By the third stop, we realized there just wasn't any rice to be found.  Now, I know the coronavirus is deadly and highly contagious, but by Thursday afternoon, I was fed up.  Where were all these rice-eating people all the other weeks of the year?  Did our elbow macaroni-loving nation suddenly decide the fragrance of Jasmine rice, the sweet-stickiness of Sushi rice, and the nutty flavor of a long-grained brown rice were absolutely delicious and they had to have it all right now?  Those were the thoughts floating through my head as I entered spring break.  
—–
Colibri: Initially, I had no idea it would get this bad. I had joked, telling my mom, "Estamos en una depresión! La economía se va ir para bajo." (We are going through a mini-depression! The economy is going to go down.)  I thought at first that everyone was making a huge commotion for something that would pass over us soon enough. The bad thing is, I was wrong. It hasn't, and at the moment it won't. I was so ignorant and naïve to think that it was no big deal, until I read my mentor's email–from the Robettes–hearing that FIRST had canceled both Robotics Championships here in the U.S as well as multiple regional events that were going to take place these coming weeks. That was when reality truly shattered me. I was unaware of the magnitude of ill that this virus was impacting everyone. 
Last Friday, my mom, sister, and I went to Costco, Walmart, and Target. My mom was worried because her friends were telling her that everything was disappearing. It wasn't until we went to the third Target somewhere in the middle of nowhere that we finally found Tylenol and Motrin for my younger brothers. And we got lucky to grab toilet paper and paper towels at the first Costco we stopped by. Others were not so lucky. My mom and sister went to Sam's Club the next day, which was the day that my sister and mom took the photo to show my father how empty the shelves were. There was nothing left: no paper towels, toilet paper, napkins, cleaning supplies, etc. I thought this was insane! 
It was later that Saturday, after that I had gotten back from work that my mom showed me the picture. My father was there, sitting on the stool eating his cereal, as my sister in a very obvious manner–as in she knew something that I did not — asked me, "what else do you see in the photo?" At first, I thought it was some sort of trick question, and I asked, "The man in the back?" But, then I stopped myself because I saw the huge glowing cross on the ceiling of the picture. I was astounded. Then my father chimed in, saying that was the first thing he noticed when my mom showed him the photo. He laughed, saying he thought my mom and sister were at a Church. My mom told me that they had no idea until my father pointed it out; it was merely a coincidence. 
But, was it? I believe in miracles. I know for some people that might seem a bit funny, fictional, or something too small to consider a miracle, but I believe it is one. God has shown Himself in something so simple, as if trying to tell us that we are not alone. Seeing that cross gave me hope. 
—–
Mrs. Sutton: It's Monday of spring break now, but my children, who were supposed to have returned to school today, are instead sitting around my dining table as I conduct my first day of homeschool.  I never pictured myself as a homeschooling-type of mother.  I need a whistle.  And maybe a stopwatch.  A stopwatch would lend more authenticity to my homeschool routine.
My husband ran to the store last night to see if the shelves were restocked with rice yet.  He came back with two measly little bags of some kind of pre-seasoned "cilantro-lime rice" and wide eyes.  "Never in all my life have I seen anything like that," he told me.  "It was empty.  The whole store.  Empty shelves, empty aisles, empty lanes."
For the first time, a trickle of fear entered my heart.  What will our economy look like in a few weeks?  Who would die from this virus?  My sister-in-law sent me a text message: 4-year-old Amelia, with her bright blue eyes and soft blond hair, was running a fever of over 102 and coughing; they were under quarantine.  My aunt sent me another message: my cousin, a labor and delivery nurse at a hospital in New Jersey, was packing a suitcase because she expected to be quarantined for the next few weeks in this hospital which was now housing over 100 patients with Covid-19 in the emergency room alone.  
And now it's Sunday evening and spring break is over; I'm finding it difficult to keep track of the days.  As I watch the sun set outside my front window, I'm feeling a little defeated, a little claustrophobic, and a little sad.  I have family in New York, New Jersey and California — three areas that are currently hard-hit by the pandemic.  My Uncle Charles tested positive.  He's doing well despite the fact that he's also battling cancer.  We're worried.  My grandmother is still safe, but as her 104th birthday approaches, she's really slowing down and doing poorly.  None of my family can visit her and be with her.  This woman, who was a toddler in Brooklyn, New York the last time a flu pandemic swept across the globe, is now living through her second pandemic — will she live long enough for us to be with her if her time approaches before this current pandemic recedes?
I'm trying not to let the sadness creep in and thoughts of what we are missing bother me.  But let's face it: we are missing out.  There's no FOMO — there's literally MO!  Moreover, not only are we missing events and activities, we are missing each other!  I think that's the worst part.  Not seeing one another.  Video conferencing is great, but there's still that screen between us.  As an introverted person, I always imagined I could handle being a hermit on an island no problem.  Now, I'm not so sure.  
My mother sent me an email: "These are extraordinary times! … We still have four weeks of Lent remaining, let us allow the Lord to make them the best four weeks of Lent we have ever lived."  And then Colibri Lopez-Munoz sent me the photo her mother and sister took while scavenge-shopping at the local Sam's Club: the light of the cross shining down on the empty shelves.  God's love shines through: "Darkness as black as night covers all the nations of the earth, but the glory of the LORD rises and appears over you" (Isaiah 60:2).  Let us make these next few weeks count and strengthen us for a life of love and happiness and service to our neighbors (who, after all, might need some toilet paper).  
—–
Colibri: It was last night that I thought, I am going to send this photo to Mrs. Sutton–because I knew she would love seeing the image of God in such an empty, broken place. Then she emailed me today, saying that we should write an article. And, I was like, "okay!" I think reflecting on this situation has been an interesting experience. It is weird for me to know that this is a pivotal moment in history and in my life. 
My spring break won't really be much of a spring break; there is nowhere to go, my plans and activities have been canceled. I had to babysit my younger brothers today because they had no school. I was locked indoors practically all day. To hear that every day there are more and more people infected in Minnesota is still a bit surreal to me. It impresses me that the virus spreads so dang quickly!
I was also shocked to hear that Mass isn't required for Catholics for the time being. I went to Mass yesterday because I needed to feel that sensation of peace– a peace that wraps me in calmness and warmth. Who knows how long until they cancel Mass as well? About an hour ago, my mom was telling me that my cousin and her aunt in California had TO ORDER a package of paper towels because there were none left! All the stores were sold out. "Es una locura." 
All I have done so far is pray to God to help this nation, the world, and our doctors and scientists to overcome this situation. I think that is all we really can do besides doing our best to stay clean and healthy. Just keep on praying.
—–
UPDATES
Mrs. Sutton: Two things happened yesterday.  My Uncle Charles started recovering from the novel coronavirus, and my grandmother passed away.  I type this with tears in my eyes and a heavy feeling sitting on my chest.  My mother called on her way to the nursing home with the news that she and my sister were permitted to visit my grandmother.  I called her back with FaceTime and my mother held the phone up to my grandmother so I could see her and she could see me.  She suffers — suffered — from dementia and couldn't remember much anymore.  But when she looked up at me, she smiled and said, "Nicole! So good to see you!"  She told me about the dream she had of her brother Carmine who came to see her and told her all six of her brothers were coming and she wouldn't be alone anymore.  "And then I died," my grandmother said.  "I died!  And I'll be praying for you, Nicole, and all your loved ones!"  We prayed a Hail Mary together and I said goodbye with my eyes swimming in tears.  I gathered my loved ones together in the living room and we prayed for Great-Grandma and her safe passage.  
I got the call just after midnight.  My mother and sister prayed  the same prayers I had with my children and when Grandma was peacefully resting, she told them to go — "It's time to sleep!" she told them.  "Go now!"  So they left quietly, and she fell asleep.  And then she fell asleep.
The funeral home will live stream her service, which must be brief and only attended by less than ten people.  The few family who are allowed to gather will then make the trek back to Brooklyn, the city where she was born, to bury my grandmother, Carmela Porcaro Carnevale.  My mother said we will gather everyone for a full memorial at the end of July when all of the family can be there.  It's something to look forward to and something to hold on to — knowing I'm not the only one feeling bereft and lost and that though we are separated by miles and miles, we have someone who promised to pray before the throne of God for us in this most trying of times.
—–
Colibri:
April 2nd, 2020 was my 17th birthday. It was okay as any day is. We took take out from one of my favorite restaurants, Teresas, which was a nice treat to have. Although, I couldn't help but feel the gloomy mood within my family, which really made me feel just miserable inside. I tried so hard to smile at the camera, but I really wasn't feeling it. 
Sunday, April 5th is Palm Sunday. Listening to the reading and sitting in the living room watching the mass, it was odd. My family had put some palm tree crosses outside the doors to the house, the bedrooms, etc. That day, if I am honest, felt crummy. I had gotten into an argument with my sister earlier, and I couldn't seem to get over it. Later that day, thankfully, I went to work–I recently started a couple weekends ago at La Michoacana. I was grateful to get out of my house for a little while; I wore my mask and wore gloves as  I worked–trust me I felt a little weird, but I got used to wearing it. 
—–
And what happens now?  What happens to the average American as the Coronavirus spreads across our nation?
Well… in Who-ville they say
That the Grinch's small heart
Grew three sizes that day!
And the minute his heart didn't feel quite so tight,
He whizzed with his load through the bright morning light
And he brought back the toys! And the food and the feast!
And he…
… HE HIMSELF…!
The Grinch carved the roast beast! (170-179)