The Life and Legacy of Justice Ruth Bader Ginsburg
On September 18, 2020, Supreme Court Justice Ruth Bader Ginsburg passed away after a battle with metastatic pancreatic cancer. Across the country, many Americans fell silent. Justice Ginsburg was a legal giant, though only standing about five feet in height. She leaves behind a powerful legacy of persistence and will undoubtedly be remembered by many Americans.
Joan Ruth Bader was born and raised in Brooklyn, New York. She earned her bachelor's degree from Cornell University where she met her future husband, Martin Ginsburg. Martin became one of the most successful tax lawyers in New York and was Ruth's biggest fan. Ruth became a mother and started law school at Harvard University where she was one of nine women in her class of over 500. Ginsburg later transferred to Columbia University where she earned her law degree, graduating first in her class. Although Ginsburg faced many barriers on account of her sex, she was not deterred. She taught at Rutgers and Colombia Law Schools. She went on to serve on the U.S. Court of Appeals for the District of Columbia Circuit under President Jimmy Carter. In 1993, President Bill Clinton nominated Ginsburg as a Justice of the United States Supreme Court. Justice Ginsburg was the second woman to hold the position, and she brought attention to many women's issues. Before Justice Ginsburg, women were not allowed to sign a mortgage without a man, have a bank account without a male co-signer, and were not protected from job discrimination based on sex. 
Justice Ginsburg shattered many barriers and was incredibly strategic in confronting discriminatory statutes. Ginsburg often chose male plaintiffs to demonstrate that discrimination based on sex is harmful to both men and women. Justice Ginsburg, even before her death, was admired by many Americans. She was the subject of six movies and was even portrayed in various Saturday Night Live skits by actress Kate McKinnon. Ginsburg was affectionately dubbed "The Notorious R.B.G" by one of her law students at Colombia, a reference to the Brooklyn rapper The Notorious B.I.G. Although Ginsburg was one of the liberal justices, she was able to find unity and form friendships with more conservative colleagues, most notably with Justice Scalia. Ginsburg and Scalia regularly attended the opera together until he passed away in 2016. 
Justice Ruth Bader Ginsburg lost her fifth battle with cancer at the age of 87 on Rosh Hashanah. Ginsburg deeply identified with her Jewish faith. Although she was not particularly observant, her clerks noted that she did not sit in court on High Holy Days. According to Jewish tradition, one who dies on Rosh Hashanah is a person of great righteousness. Her life and legacy will continue to inspire many Americans for generations to come.
About the Writer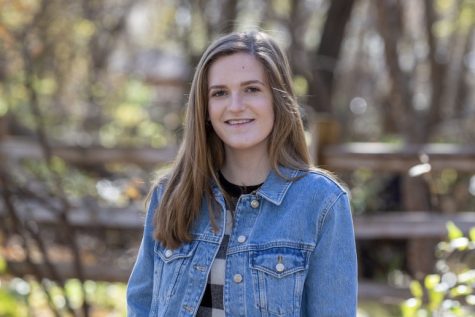 Grace Richardson, News Editor
Grace Richardson is a junior and the News Editor of the Visitation Voice. In her free time, Grace enjoys reading books of many different genres (including...