What You Need to Know About the 2020 Presidential Candidates
With the 2020 presidential election on the horizon, many Americans are rallying behind their candidates. The friction between the Democratic and Republican parties is only becoming more pronounced, as is the division between individual Americans. Key issues including the American response to COVID-19, climate change, and systemic racism divide the two parties. Incumbent President Donald Trump and Vice President Mike Pence face Democratic nominee Vice President Joe Biden and his running mate Senator Kamala Harris. This election is of particular importance due to the very pressing issues in question, and many Americans have voiced strong concerns about the economy, healthcare, and the growing problem of climate change.
The economy is an undeniably vital aspect of any country. The American economy has sustained damage due to the COVID-19 pandemic, so economic plans are essential for many voters. Both Vice President Biden and President Trump have plans about how to improve and strengthen the economy. Biden's economic plan depends heavily on the environment. With his 10-year, $1.3 trillion infrastructure plan, Biden hopes to eliminate greenhouse gas emissions and create new jobs to expand the middle class. Biden would invest in clean energy, modernizing schools, fixing roads, and transit projects that benefit areas with limited public transportation. This would be paid for by reversing President Trump's tax cuts on the rich, ensuring large corporations and the extremely wealthy would pay their share. Unlike Biden, Trump has not provided many details about his $2 trillion "very big and bold plan." According to his Twitter account, the plan could be combined with a congressional coronavirus relief package. President Trump says he will pay for his plan through low borrowing rates. Trump would continue to extend tax cuts on the rich, while Biden would roll these back.
Another key issue dividing the candidates is healthcare. The Affordable Care Act has been a key topic in many conversations, and both President Trump and Vice President Biden have different plans regarding this legislation. President Trump, if reelected, would work to replace the ACA. Many critics have voiced concerns about how this would affect Americans with preexisting conditions. President Trump has supported a lawsuit that would overturn the ACA and expand the availability of short-term insurance plans that can exclude those with preexisting conditions. Vice President Biden has a different approach to healthcare. He hopes to expand upon the Affordable Care Act, adding a public option that would automatically be available to those with lower incomes. The candidates also have different approaches to handling the COVID-19 pandemic. President Trump has sent the American people mixed signals on wearing masks, pushed to reopen schools for in-person learning, and has claimed that cases were going up because the availability of testing was expanding. He believes a vaccine will stop the spread of coronavirus, even though many researchers have warned that we might not be able to return to normal until a few years after it is initially released. Vice President Biden, on the other hand, has been very vocal about his support of masks. He pledges to put "scientists and public health leaders front and center." Biden wants to expand testing, create a system for contact tracing, and re-open in schools after the number of cases has been reduced. President Trump and Vice President Biden also disagree on reproductive health and LGBTQ+ healthcare. President Trump supports overturning Roe v. Wade, and supports the right of employers to exclude the coverage of contraceptives due to religious beliefs. President Trump has also repealed antidiscrimination legislation for LGBTQ+ patients. Vice President Biden promises to uphold the right to abortion and will reverse Trump's actions that allow discrimination against LGBTQ+ patients.
Another issue dividing the candidates is the importance of combating systemic racism. Vice President Joe Biden has emphasized the importance of combating racism throughout his campaign. Biden, however, has drawn criticism for his stance on ending segregation in the 1970s and the 1994 crime bill. His running mate, Kamala Harris, would be the first Black woman to hold the position of Vice President of the United States. President Trump has been heavily criticized for his statements regarding people of color and immigration. Although Trump claims to be "the least racist person," he has been called xenophobic and racist because of many recent comments. Trump was a vocal perpetuator of the debunked "birther" conspiracy theory about President Barack Obama. He advocated for a wall at the border between the United States and Mexico, claiming that many Mexican immigrants were "rapists" and "criminals." He also faced harsh criticism for his actions that separated immigrant families seeking political asylum and the inhumane conditions at immigration detention centers. In 2017, a participant in a white supremacist rally in Virginia intentionally rammed his car into a crowd of counter-protestors, killing a 32-year-old woman. Trump responded to the situation and stated that there were "very fine people on both sides." Trump has also targeted "The Squad," a group of four Congresswomen of color. He has suggested that Representatives Alexandria Ocasio-Cortez, Ilhan Omar, Ayanna Pressley, and Rashida Tlaib "go back to the countries from which they came." Ocasio-Cortez, Pressley, and Tlaib were all born in the United States, while Omar immigrated as a refugee from Somalia as a child. Trump's comments and actions against people of color continue to spark fear across the nation, and the issue of racial equality may be a deciding factor in this election for many Americans.
Although the election might be a source of friction between Americans, many can agree that voicing your opinions through voting is undeniably important. No one is sure of what will happen on November 3, 2020, but the next President of the United States depends on the voices of the American people.
About the Writer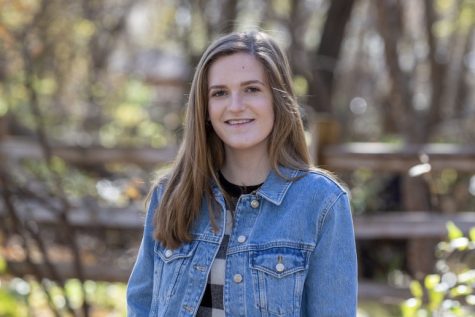 Grace Richardson, News Editor
Grace Richardson is a junior and the News Editor of the Visitation Voice. In her free time, Grace enjoys reading books of many different genres (including...