The 2020 Election Results, Controversies
On the night of November 3, millions of Americans anxiously watched as votes for the 2020 Presidential Election were counted and recorded. For the following days, states continued to count millions of votes. The 2020 Election had the highest voter turnout in history, which alone speaks to its importance to the American people. 
All eyes were on a few states during this election. Florida, which boasts 29 electoral votes, is a crucial state in every election. Florida turned red just as it did in 2016. One of the most significant regions, the "Blue Wall," was the main reason for Hillary Clinton's defeat in 2016. Biden managed to rebuild the blue wall as Michigan, Wisconsin, and Pennsylvania turned blue.
Joe Biden also flipped Georgia blue for the first time since 1992, which many credited to legislators such as Stacey Abrams, who encouraged and helped Georgians vote. Biden also managed to flip Arizona, which was red in 2016. Eventually, The Associated Press called the election with 306 electoral votes for Biden and 232 electoral votes for Trump. These results took days and even weeks to confirm due to the number of votes and complications.
The election came with many controversies and allegations. On election night, President Trump tweeted that he had won the election, although this was far from true as millions of votes remain uncounted. He also called upon the Supreme Court, leaving many Americans confused. Twitter flagged several of his tweets as misinformation. Then, claims of wide-spread voting fraud made their way to front headlines.
Republicans insisted that mail-in voting was rigged and fraudulent, stating that most of those ballots were Democratic. This is likely because President Trump discouraged his supporters from voting by mail before the election. Some Republicans, including legislators, became furious as ballots continued to be counted, demanding that the counting stop.
President Trump's team tried to file several lawsuits against various states, including Pennsylvania, Georgia, and Michigan, which were thrown out by judges due to lack of evidence.
Videos of people burning ballots on social media were investigated and found to be fake. Eventually, the case made its way to the United States Supreme Court, with a conservative majority, who denied Trump's request to overturn election results. Trump later referred to the Court as "totally incompetent."
Attorney General William P. Barr also stated that the Justice Department found no voter fraud that would have altered the results of the election. He was later fired by President Trump, who then accused the F.B.I. and the Justice Department of playing a role in the alleged fraud.
On December 14, the Electoral College officially elected Joe Biden as the 46th President of the United States. The Electoral College officially decides the winner of an election as set out by the Constitution.
Even after confirmation, many Republican legislators continue to fight the clear results. This prompted condemnation from both Republicans and Democrats. Republican Senators Ben Chasse and Lisa Murkowski have voiced their disapproval and disappointment in House Republicans.
House Speaker Nancy Pelosi also condemned G.O.P. legislators for their continued attack on election results. "Republicans are subverting the Constitution by their reckless and fruitless assault on our democracy," Pelosi wrote, "which threatens to seriously erode public trust in our most sacred democratic institutions, and to set back our progress on the urgent challenges ahead." Representative Bill Pascrell of New Jersey, among others, accused Republicans who support Trump's crusade against election results of traitorous behavior. 
On January 6, Trump supporters attacked the United States Capitol building, which delayed the official certification of election results. Earlier that day, Donald Trump had incited the violence which Rudy Giuliani called "trial by combat."
In what can only be described as a scene resembling one from a dystopian novel, Trump supporters climbed fences and forced their way to the U.S. Capitol building. Senators and representatives were forced to evacuate as the terrorists were met with little resistance by law enforcement.
These invaders fired shots into the chambers, defaced and stole from private offices of elected officials, scaled the walls, and paraded around the halls with Confederate flags and Nazi imagery. One man made his way to the dais inside the Senate Chamber and yelled, "Trump won that election!" Others screamed threatening messages. One man said, "We'll be back. Next time, we won't be peaceful."
To be clear, this assault on a government building was not peaceful. Four individuals were killed due to the violence, and many more were injured. Many of the terrorists wore symbols associated with white supremacist groups.
As the violence continued for hours, President Trump did nothing to stop his violent supporters. He eventually addressed the white supremacists: "We love you. You're very special. Go home."
Eventually, Vice President Mike Pence called out the National Guard to address the situation, which is usually done by the President himself.
After the attack, five Republican Senators who originally endorsed Trump's election conspiracy theories denounced their previous stance. Twitter, Facebook, and Instagram locked Trump's social media accounts for breaking community guidelines and inciting violence.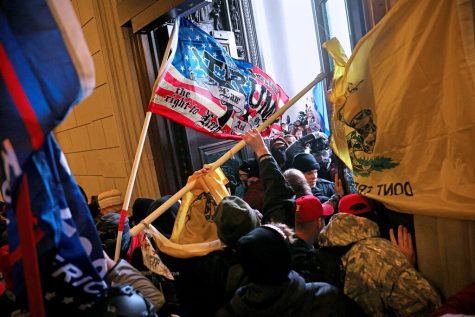 Despite the controversies, President-elect Joseph Biden will be sworn into office on January 20, 2021. Due to President Trump's attack on election results and democracy, the Biden administration received some information later than usual.
Biden and Vice President-elect Kamala Harris have already started forming their administration and are preparing for their first actions as President and Vice President of the United States.