Books to Read in 2021
Reading has always been something that I can depend on to bring color into my life.  In the often repetitive lifestyle that many people are living these days, with increased time spent at home rather than going to restaurants, hanging out with friends and extended family, and playing sports.  Reading is something that is a very easy way to pass time while spicing up your day with new characters, plot twists, or fun facts.  Visitation student readers have contributed some of their favorite books that added a little excitement, or spice, if you will, to their lives this year.  Below are twenty-one unique books that Visitation student readers have recommended, in their own words, that you can read in 2021.
An Absolutely Remarkable Thing
By Hank Green
YA Fiction
Recommended by Noel Wang '21
"This whirlwind story invokes some of what I love best about niche YA novels. Curious information, intriguing puzzles, and quirky characters are all wrapped up in a fascinating narrative about aspects of humanity, fame, and of course, the Internet. This is totally a modern novel for Gen-Z, and despite the occasionally slow pacing and some mildly irritating characters, the riveting narrative and twist ending leave many questions that I'm excited to answer in the sequel."
All the Bad Apples
By Moira Fowley-Doyle
Magical Realism
Recommended by Mairin O'Shaughnessy '23
"Everyone thinks Deena's wild older sister Mandy is dead. Everyone except Deena. Following notes left by Mandy, Deena travels across Ireland to unravel her family's past, break the curse of the bad apples, and find Mandy."
All These Wonders
Catherine Burns and others
Collection of Personal Narratives
Recommended by Caroline Schlehuber '22
"All These Wonders is produced by The Moth, which is a non-profit group that holds events to celebrate the art and craft of storytelling. The book is a compilation of some of the best stories, and each is meant to teach you something or change your perspective on something. There is a variety of stories from perspectives of all different walks of life, and each story really does leave an impact on the reader. What I like about this book is that if you aren't an avid reader, you can pick up this book and read just a few pages and enjoy a wonderful story. Every detail down to the cover art is created beautifully as well. I really have learned a lot from this book, and it is something that anyone would enjoy."
American Royals
By Katharine McGee
Fiction
Recommended by Cady Pagel '22
"American Royals is about what America would be like if it was a monarchy instead of a democracy. It follows the royal family and all the people in their lives with a good amount of drama! I liked this book because the characters were likeable and the plot kept me reading."
The Ballad of Songbirds and Snakes (prequel to The Hunger Games)
By Suzanne Collins
Dystopian Fiction
Recommended by Maura McMahon '24
"Coriolanus Snow is a student at the academy in the capital. This year they are celebrating the tenth hunger games with something new: the students at the academy will be mentoring the tributes. Coriolanus' family is one of the most respected families in the entire capital. But what other people don't know is that Coriolanus' family is barely hanging on. If Coriolanus' tribute wins the hunger games, he will be rewarded a spot in university, which is his only opportunity to have a future. Because of this issue, Coriolanus is hoping for the strongest tribute. Ideally from district 1 or 2. But instead he is landed with a tribute from the weakest, poorest district… the girl from district 12."
Circe
By Madeline Miller
Historical Fiction/Fantasy
Recommended by Ava Kirr '23
"It is a book based on the goddess Circe from Greek Mythology, with a little spice and extra detail added. It follows her life as an immortal goddess exiled from her home and her family after she angers the other gods. She experiences many loves and a lot of loss, and she resents her immortality as each person she cares about lives, grows old, and dies, while she stays the same. Super fun read!"
The Fountains of Silence
By Ruta Sepetys
Historical Fiction
Recommended by Caroline Schlehuber '22
"If you love historical fiction, then you will love anything written by Ruta Sepetys. The Fountains of Silence is her most recent book, and it takes place in Madrid during the 1950's. During this time, Spain had just gotten out of a major civil war and was under the oppressive dictatorship of Francisco Franko. The story centers around Daniel, who is a young American photographer visiting Madrid with his family. Through his photographs, he begins discovering a dark secret the government is keeping, which puts him and his family in great danger. At the same time, he meets Ana, a charming local girl, but she has her own secrets too. This is a story of love, danger, mystery, and will be impossible to put down once you start."
The Moment of Lift: How Empowering Women Changes the World
By Melinda Gates
Biography
Recommended by Emily Wollan '22
"The well-known businesswoman and international advocate shares personal stories about her life and ties in global issues of workplace inequity, child marriage, and several other societal issues on the role of women. Gates references her experience in humanitarian work to highlight the lessons she took away from her encounters with women all around the world, formulating one key takeaway; 'When we lift up women, we lift up humanity.'  Gate's message is one of empowering women and promotes the importance of gender equality and ways to accomplish it."
The Rosie Project
By Graeme Simsion
Fiction
Recommended by Ella Sukup '22
"If you are looking for a heartwarming, funny, and, overall, well-written story that keeps you turning the pages, The Rosie Project is the book for you.  This story follows Don Tillman, a man searching for the love of his life, and his unconventional journey towards finding his true love.  Many parts of this story had me laughing while other parts had me on the verge of tears.  Simsion does an incredible job of writing the character of Don Tillman, because readers Don Tillman's life transparently.  All of his thoughts and ideas, good and bad, are displayed on the pages.  I loved this book so much that I quickly picked up the rest of the trilogy and took to reading those as well.  I would highly recommend the whole series to you, as they are all quick light-hearted reads, perfect for passing the time during quarantine."
The Rules of Magic (prequel to Practical Magic)
By Alice Hoffman
Historical Fiction and Fantasy
Recommended by Ella Sukup '22
"This book is one of the best I have ever read.  To be honest, I was unsure about whether I would like the novel when I first pulled it off the shelf, because I usually am not a big fan of fantasy.  However, this book surprised me on nearly every page.  The novel is set in the 1960s, and it is about the Owens family, a family that has had magin in their blood since before the time of the Salem witch trials in the 1600s.  The story reveals the difficulties that come with love and loss, and the effects of the power of magic."
The Storied Life of A.J. Fikry
Gabrielle Zevine
Psychological Fiction
Recommended by Emily Wollan '22
"The Storied Life of A.J. Fikry is a light-read with a heartfelt message. The novel follows A.J. Fikry, a recent widower and bookstore owner who finds himself in an existential crisis after his bookstore is struggling with sales. However, a package arrives which changes the pessimist's life around, presenting a heartwarming message of the true purpose of life- to form relationships."
This is How You Lose the Time War
By Amal El-Mohtar
Speculative Fiction
Recommended by Noelle Wang '21
"This book is absolutely gorgeous. The epistolary format is beautifully heart-wrenching, and in the anachronistic chaos of the narrative structure, these "letters" pin down the complicated map of this world and the character's emotions. Each sentence is a work of art, and the adjective-adverb-phrasing-syntax-pacing combines in a kind of masterful dessert that only a true chef could bake. I want to re-devour this book and identify each ingredient individually, but a masterpiece like this is best consumed in a few, glorious bites, isn't it? Suffice to say, if you write me letters like this, my heart is yours. Too bad the book already did." 
A Wild Love For the World
By Joanna Mac, Stephanie Kaza, and others
Collection of Essays 
Recommended by Caroline Schlehuber '22
"I would say that A Wild Love For the World is one of my favorite books of all time, and it also has greatly influenced me as a person as well. It is a collection of essays written by Joanna Macy, and many other activists, spiritual teachers, writers, and leaders in the environmental justice movement. The book ties in elements of Buddhist teaching, deep ecology, and general system theory to teach about the interconnectedness of all things, and about how to strive for justice through compassion, peace, and love. I am still currently reading this book, and I have found that taking my time with it and just going essay by essay is the best way to understand it all. There is a lot of  beautiful, poetic writing, along with just great pieces of advice, so when I read this I like to highlight what resonates with me most so I don't miss anything." 
World of Wonders
By Aimee Nezhukumatathil
Nonfiction
Recommended by Grace Conroy '21
"This delightful book is a collection of essays reflecting on nature, and the roles it has played in shaping the life of Nezhukumatathil. It reminded me somewhat of Lab Girl, another good read from this year, in that the author interweaves science and nature with stories of her own life. The essays vary in how they connect the plant or animal to the author's life; for example, she uses the perpetual smile of the axolotl as a symbol of how she has learned to smile even in the face of adversity, while the song of the cactus wren reminds her of years spent living in Arizona, where almost every yard had a saguaro cactus. Combined with the gorgeous illustrations interspersed throughout the book, the essays each offer a different look at the author's life, and the book teaches readers all that nature has to offer when we allow ourselves to fully take in its beauty."
About the Contributor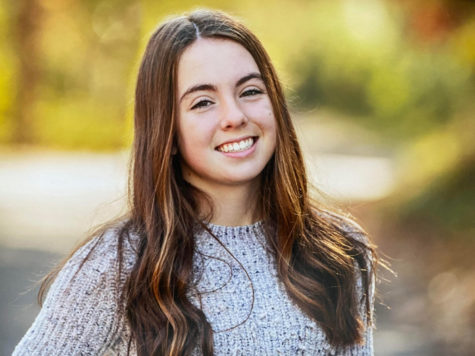 Ella Sukup, Arts, Culture, and Style Editor
Ella Sukup is the Arts, Culture, and Style Editor for The Visitation Voice.  This is her second year writing for The Visitation Voice and her first year...