My Favorite Feminists
Feminism is one of the many topics that is close to my heart, especially since I've attended an all-girls school my entire life. It is so important that other women and young girls learn that we are all in this together and that we need to start lifting each other up to achieve equality in this world. Listed below are my personal favorite feminists who are celebrities both living and deceased. I think that everyone faces struggles in their lifetime, and sometimes having older women whom you can look up can be comforting in a sense, but the bottom line is that these women deserve to be celebrated! These women are incredible, and they personally mean a lot to me. They all have unique stories, and hopefully, you can learn something new about them.
Audrey Hepburn: She is my absolute favorite feminist and woman ever, besides my mom of course. My room is always filled with decor that gives a nod to either her or my favorite movie Breakfast At Tiffany's (which she stars in, playing Holly Golightly.) Audrey was an actress, model, humanitarian, and she would have been considered a feminist for her time. She was always well dressed, and she was a very classy woman. She participated as a humanitarian when she volunteered for UNICEF. She also revolutionized the fashion industry as Givenchy's muse and was never seen in anything but the best. A lesser-known fact about Audrey Hepburn is that she was alive during World War Two, where she lived in Holland. She always had a slender figure, but this was due to the fact that she was malnourished as a child growing up during a war. Audrey faced many hardships including a miscarriage, her father left her family when she was young, and she struggled to love herself and find people who truly loved her. No matter what she faced in life, she always handled it with grace, kindness, and with both a beautiful heart and smile and this is perhaps, why she is my favorite feminist. There is currently a documentary on Netflix titled Audrey and it gives a glimpse into her life if you are interested. "For beautiful eyes, look for the good in others; for beautiful lips, speak only words of kindness; and for poise, walk with the knowledge that you are never alone."
Eleanor Roosevelt: She was the longest-serving first lady for the United States and was married to former president Franklin Delano Roosevelt. She had a difficult childhood, her brother and parents died before she was ten. She was raised by her harsh grandmother, but nevertheless became a kind, soft-spoken advocate for women. During World War One she volunteered at several relief agencies, and she is most commonly known for the fact that she was a strong advocate for women gaining the right to vote. Aside from being an advocate, feminist, wife, mother, and first lady, she wrote nearly 3,000 articles for newspapers and magazines. "A woman is like a tea bag, you never know how strong she is until you put her in boiling water."
Jameela Jamil: Though she is known for playing Tahani on the NBC show, The Good Place, she is one of the most outspoken feminists in the media. She makes women feel good about themselves, and she also makes it fun! She has struggled with eating disorders, hearing loss, disabilities, body image issues, mental health issues, and yet she is still standing and continuing to help other women. She's relatable, and she calls herself a feminist in progress, which I love. She strives to continue to educate herself and others and encourages women to do the same. She also hosts a podcast called I Weigh. Her episodes are amazing, and always leave me feeling empowered along with the feeling of gaining a new perspective, meaning, I always learn something new. "Surround yourself with people and things that inspire you. Learn everything you can."
Kamala Harris: Aside from being the first female vice president of the United States, she is such an inspiration to girls everywhere no matter their political stance. She's brave and admirable, and she served as the first female district attorney in San Francisco. She is a lawyer, and she serves as a current example for women that anything is possible if you put your mind to it. "My mother had a saying: Kamala, you may be the first to do many things, but make sure you are not the last."
Reese Witherspoon- You probably know her for playing Elle Woods in the movie Legally Blonde, but there is so much more to her! She runs a book club (which I highly recommend participating in), has written and published two books, she's a mom, a feminist, an actress, and a producer. She is a wonderful role model for women to follow their dreams, believe in themselves, achieve success, work hard, and look good while doing it. She is also a firm believer in lifting other women up, which is something I admire greatly. "What would happen if we encouraged all women to be a little more ambitious? I think the world would change."
Malala Yousafzai: She is the youngest recipient of the Nobel Peace Prize at the young age of 17. She works tirelessly for the other women and girls in the world, ensuring that they too receive an education and that their voices are heard. She has also written a book, I am Malala. It shares more of her story, and it's one that deserves to be read. If we all work harder to help the women and girls around us, our world would be a much better place. "We must tell girls their voices are important."
Michelle Obama: Personally, she's my favorite first lady, but she's also a mother, activist, and author. Her book, Becoming, changed my perspective on life. It taught me to be grateful for the things I have in life and to make the most of them, but it also taught me that life is a journey and we are all still growing. She has raised two strong women, and she has worked so hard to achieve all the success that she has in her life. Not only is she a former first lady, but she is also a lawyer. She is the definition of the saying that behind every great man, there is a woman, but perhaps she is more so right beside her husband, making the perfect team. "There is no limit to what we, as women, can accomplish."
Alicia Keys: She is a talented musician and pianist, earning her the title of Alicia Keys. She is also a mother, and a strong advocate for women feeling beautiful without makeup. This is such a rarity in today's society. Women are constantly pushed to wear makeup so that they look pretty, but Alicia believes that beauty comes from within. She has won 15 Grammys (and counting), she encourages women all around the world through her music, and she never fails to work hard and achieve her goals. "I don't want to cover up anymore. Not my face, not my mind, not my soul, not my thoughts, not my dreams, not my struggles, not my emotional growth. Nothing."
About the Writer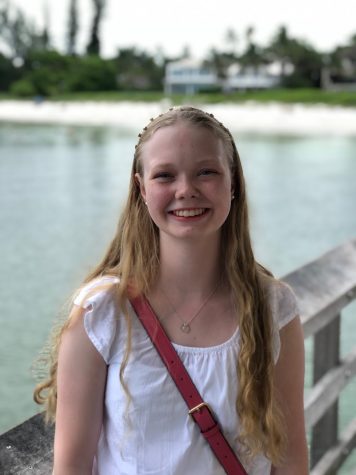 Astrid Kieser Kisting, Opinion Editor
Astrid Kieser Kisting is currently a junior at Visitation. She has been at Vis since Montessori, making this her fourteenth year. This is her second year...