Mock Trial Season Recap
Courtroom? Nope. Try "courtzoom." For the past two years, the Vis mock trial team has been adapting to a new style of competition. Due to COVID-19 protocols, all mock trial tournaments and rounds have been held virtually via zoom instead of in a courthouse, causing lawyers and witnesses alike to face unique challenges, such as microphone issues and being placed in the wrong breakout room. Although it seems strange to have to say, "Your Honor, I think you're on mute," half of the team (sophomores and freshmen) has only experienced virtual competition, and many enjoy getting to wear sweatpants to a "trial." Overall, the team has adapted very well to this alternative way of competing, as proven by the success of their most recent season.
This year, the high school mock trial case was "The State vs. Taylor Blair." In this criminal case, the defendant, Taylor Blair, owns Minnesota Nice Pet Rescue (MNPR), a charity organization that helps dogs with disabilities get the care they need. Blair has been accused of committing the crime of theft by swindle. The state/prosecution has reason to believe that Blair used the donations acquired by MNPR for his/her personal expenses (a pool, a new truck, a cabana, etc) while being dishonest to donors about where their money was going. The defense maintains that Blair always sought to do as much as he could to help disabled dogs, and that all of the purchases he/she made were only intended to further his/her mission of caring for the dogs and attracting donors to fund the dogs' needs.
The prosecution theme that Vis used was "Taylor Blair put the profit in nonprofit," and the Vis defense theme was "Compassion for canines is not a crime." Judge, one of the team's coaches (who is an active judge for Ramsey County), does love his alliteration and wordplay.
Visitation has three different mock trial teams: Varsity, JV, and C-Team. Each of these teams has a prosecution side and a defense side, each with three lawyers and three witnesses. This year, all three teams had excellent seasons. The JV team made it to the fifth round (the state-qualifying round) where they did well but lost to Eastview High School, a good team who had made it to the state tournament last year. After this loss, the season was over for all of the Vis teams.
However, about a week after JV competed in the fifth round, one of the coaches, Mrs. Rawson-Haeg, sent an email to the JV team, telling them they had made it to the state tournament. According to the tournament coordinator, one of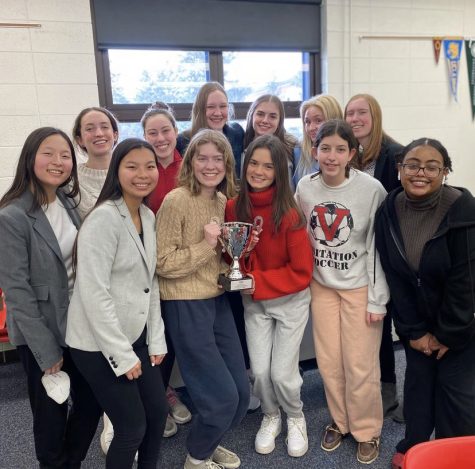 the other teams had dropped out, and Visitation Gold (JV) had the next highest season ranking. Suddenly, JV's season wasn't over. On March 3rd and 4th, the entire JV team (both prosecution and defense) got to compete in the state tournament, which was held virtually this year. It was a long, exhausting two days in which the team competed in a total of three rounds (two on Thursday and one on Friday). Ultimately, JV did well, placing 15th out of 16 teams. A panel of judges also determined an All-State Attorney and an All-State Witness for each team in the tournament. Grace Nilsson was named the All-State Attorney for Vis, and Mary Harrington was named our All-State Witness.
Any members of this year's Vis mock trial team should be proud of the hard work they put in this season. Hopefully, next year, we'll be back in the courtroom.