Sexual Assault Allegations Against Kavanaugh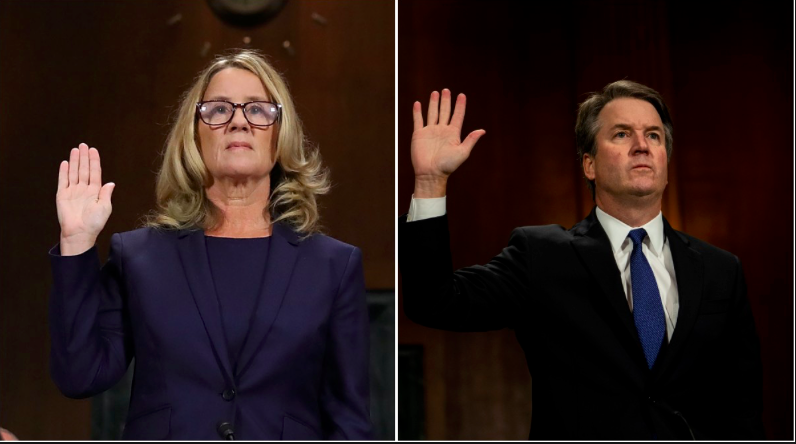 On July 9, 2018, President Donald Trump announced Brett Kavanaugh as his Supreme Court nominee to replace Justice Anthony Kennedy. Kavanaugh, a Republican, served as a judge for the U.S. District of Columbia Circuit court.
On July 30, 2018, Dr. Christine Blasey Ford, a psychology professor at Palo Alto University, sent a letter to California Senator Dianne Feinstein alleging that Brett Kavanaugh had sexually assaulted her at a high school party in Bethesda, Maryland. Feinstein, honoring Ford's request, did not release the letter to the public. In the letter, Ford stated that she was going to use the bathroom when she was pushed into a bedroom, allegedly by Brett Kavanaugh and his friend Mark Judge who locked the bedroom door and turned on loud music. In her testimony Dr. Ford said, "I was pushed onto the bed and Brett got on top of me. He began running his hands over my body and grinding his hips into me." Ford continued by saying that Brett attempted to take her clothes off but had a difficult time because she was wearing a one-piece swimsuit underneath her clothing. Ford said that she believed Kavanaugh was going to rape her and inadvertently kill her because his hand was over her mouth (CNN).
On August 10, Senate Judiciary Chairman Chuck Grassley, Republican from Iowa, announced that Kavanaugh's confirmation hearings would begin on September 4. After some delay, Senator Feinstein, whom Republicans have criticized for keeping Dr. Ford's letter a secret, sent Dr. Ford's letter to the FBI, where it would be placed in Kavanaugh's file. A few weeks ago, The New Yorker released an article about Ford's allegation; however, they did not use her name. One week after the publication of the New Yorker article, The Washington Post published an interview with Ford, releasing her name publicly for the first time.
On September 17, Senator Grassley announced that both Kavanaugh and Dr. Ford would testify in front of the Senate Judiciary Committee on September 24. Dr. Ford, however, indicated that she would not be ready to testify on the 24th and would need more time to prepare. At her request, the hearing was moved to September 27 (CNN).
On September 23, The New Yorker released a second article that detailed another accusation of sexual misconduct. Deborah Ramirez, who attended Yale University with Kavanaugh, said that Kavanaugh exposed himself to her while heavily intoxicated at a party in the 80s. Kavanaugh vehemently denied both Dr. Ford and Ramirez's claims of sexual assault. President Trump, who has also been accused of sexual assault, defended Kavanaugh's nomination (CNN).
On September 26, a third woman Julie Swetnick, who also grew up in the Washington area, said that she observed Kavanaugh drink to excess and abuse teenage girls at parties. In a sworn statement, Julie Swetnick stated that she "witnessed Kavanaugh and Mark Judge 'fondling and grabbing' girls without their consent" (NBC). Swetnick also stated that both Judge and Kavanaugh were present at a party where she was gang raped in the 1980s (NBC); Swetnick did not accuse Judge or Kavanaugh of raping her.
On September 27, both Dr. Ford and Brett Kavanaugh testified in front of the Senate Judiciary committee. Dr. Ford testified that she was "100 percent" (NBC) certain that Brett Kavanaugh had assaulted her. Kavanaugh followed Dr. Ford's testimony. Kavanaugh denied all claims of sexual misconduct, displayed anger at times, deflected questions by asking questions, and interrupted senators. Prior to her testimony, Ford had taken and passed a polygraph test. Kavanaugh, to date, has not taken a polygraph test.
Kavanaugh's nomination and allegations of misconduct have divided republicans and democrats.  Democratic Senator Chris Coons of Delaware said that Kavanaugh's exchanges with Senators Feinstein and Klobuchar crossed a line, and he worried if Kavanaugh was truly suited for a position on the Supreme Court (CBS). Republicans criticized democrats for bringing the allegations forward so late in the confirmation process and accused democrats of trying to derail the confirmation process.
On September 28, the Senate Judiciary Committee was scheduled to vote on Kavanaugh's confirmation. However, the full Senate vote was delayed because Republican Senator Flake requested an FBI investigation into the sexual assault allegations. With the senate divided so narrowly, the Republicans could not afford to lose the vote of Flake; therefore, both parties agreed to a one-week long investigation (CNN).
In an interview with Scott Pelley, Senator Flake stated,
"
I just knew that we couldn't move forward without hitting the pause button…this is ripping our country apart."
— Senator Jeff Flake
Some have described the decision to confirm Kavanaugh as "the me-too movement vs. hyper partisan politics" (CBS). During Dr. Ford's testimony, Senator Coons received texts from multiple long-time friends who shared their own stories of sexual assault with him (CBS). Senator Flake also had conversations with survivors of sexual assault after he announced his decision to vote in favor of Kavanaugh's confirmation. According to Flake, the two activists and sexual assault survivors he met on an elevator prompted him to push for further investigation into the allegations against Kavanaugh. Flake stated, "they were passionate that I hear them" (CBS). Senator Coons said that the he hoped the FBI investigation would allow sexual assault survivors to "feel that Dr. Ford's story was heard, respected, and further investigated" (CBS).
Most recently, Liz Swisher, a former Yale classmate of Kavanaugh's has come forward, stating that Kavanaugh had misrepresented his college drinking habits. Swisher, a Seattle medical doctor, described Kavanaugh as a "sloppy drunk" (Business Insider). Swisher, who was a friend to Kavanaugh during their college years, affirmed in multiple interviews that Kavanaugh drank quite heavily during college although she never perceived him to be sexually aggressive towards women. If Kavanaugh was dishonest about his drinking habits, that means he would have lied to senators while under oath during his testimony (The New York Times).
The Senate Judiciary Committee passed Kavanaugh's nomination to the full Senate, and a week later, all senators looked at the findings of the FBI investigation. On October 6, it was announced that the senate voted to confirm Brett Kavanaugh as a Supreme Court Justice.
About the Contributor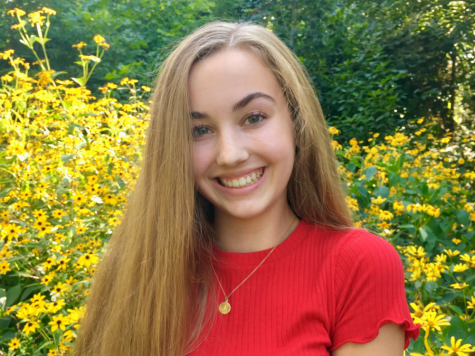 Jane Gustafson, News Editor
Jane is a senior and the news editor of The Visitation Voice. She believes that writing is a valuable tool that can be used to express thoughts, inform...