2018-2019 Government Shutdown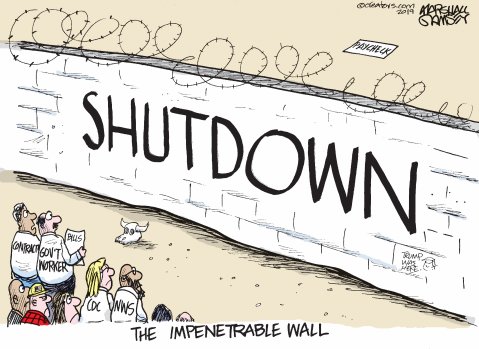 Rory Jones-White, Staff Writer
May 14, 2019
On December 22, 2018, the United States began its third government shutdown under President Donald Trump which is now the most extended government shutdown in U.S. history. The shutdown began when President Trump demanded $5 billion to help build a border wall. The Democrats refused to approve this demand but offered to spend $1.6 billion on border security. Neither party liked what the other had to offer and came to a stalemate; thus, began the shutdown.  For 35 days while Democrats and Republicans negotiated, all non-essential employees were furloughed and 420,000 "essential" government employees worked for no pay, leaving roughly 800,000 government employees without paying jobs. 
A prominent example of the effects of the shutdown is the Immigration Courts. The shutdown caused all immigration courts to shut down until the government reopened. That being said, all judges had to postpone hearings until after the shutdown. Halfway through the shutdown, there was already a backlog of over 800,000 cases.
Eventually, the parties finally agreed to reopen the government, easing the minds of hundreds of thousands of government workers. Many people viewed the shutdown as an unsettling time in our history while others – including President Trump –  deemed it a necessary occurrence.