Mid- Season Winter Sports Recap
Hockey: The St. Paul United hockey team has started out strong despite only having one team. The girl's Vis and St. Paul Academy (SPA) combined hockey team has faced several tough teams such as Blake and Breck, but has held their own with the team's top scorers being SPA sophomore, Lucie Bond and Visitation seniors, Sammie Sabin, Sophia Hoppe, and Jenna Hoops. Leading in assists, senior Meredith Killian and sophomore Hannah Allen, both have an impressive six assists so far. The team is led by coaches Mark Johnson, Allison Linde, and Donnie Williams as well as captains Jenna Hoops, Sammie Sabin, and Meredith Killian.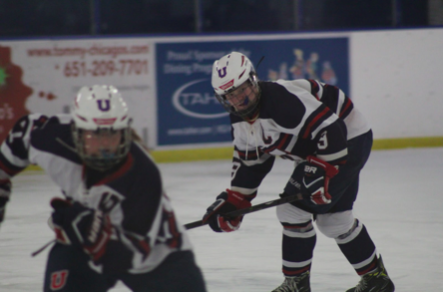 Basketball: The Varsity basketball team has a record of 3-5. Last year, the team was comprised of only juniors, sophomores, and freshmen so all Varsity players are returning since last years season. The team's close relationship with one another has benefitted them greatly as they are working together as a team. The Varsity team is led by coaches James O'Brien, Claire Kranz, Sarah Patterson, and Paul Breyen as well as captains Adrienne Miller, Lauren Kern, and Ella Hinkemeyer. Top scorers include senior Ella Hinkemeyer and sophomores Caroline Fenlon and Olivia Johanns. Leading in rebounds are sophomore Olivia Johanns and seniors Adrienne Miller and Ella Hinkemeyer. The JV basketball team is having an excellent start to this season with a record of 7 wins and a single loss under the coaching of college counselor Mrs. Patterson and new C-squad coach Paul Breyen. This year the C-Squad basketball welcomed Coach Breyen as the new C-Squad Head Coach. Coach Breyen expressed his goals for the season saying, "My goal is for the girls to learn the game of basketball and the importance of teamwork, and I want them to learn to be brave as they get better." The C-squad team has been working very hard to improve this season and it can be seen in the large amount of very close games against some extremely difficult teams.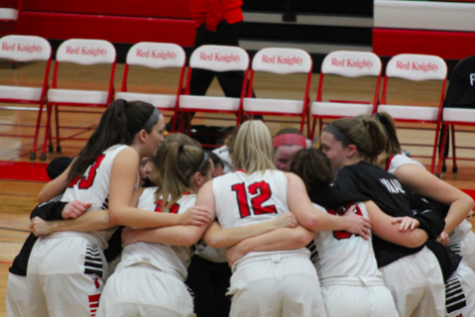 Alpine: The alpine team has also struggled with difficult weather conditions that have unfortunately caused a late start to the competition season. The alpine team had their first race this season on January 6th and had great success! The Alpine team is led by coaches Jason Nickelson, Claire Hoffman, and Laura Zahr as well as captains Katie Bastiaens, Katie Barry, and Ellie Nickelson.
Nordic: Although having a lack of meets due to less than favorable weather conditions, the Nordic team has been training hard and looking forward to the upcoming competition season. The team placed third in their first meet this season with Margaret Dalseth placing 7th overall, Erin McQuillan placing 17th overall, and Ela Paske placing 23rd overall. The team is led by coaches Anita Burg, Julie Anderson, and Garry Loufek. And captains Norah Grimes, Elizabeth Weber, Clare Pryor, Ela Paske, and Claire Aaomdt.