Mike Max: How a Sports Producer Helped Heal a Hurting City
The last drops of sun-cast retreated from the city as thinning wisps of daylight smoke contorted in the dusky rays. Darkness began to fall, and citizens went rushing to their homes to be hidden until the sun returned. The only sounds that broke through the tension-fueled air were distant pops and explosions coupled with the low hum of steel boots. Two sides lined up to oppose each other in the ashes of a broken world. And among it all, the jester in the flames, unaware that the chaos would become his greatest stage and his shining moment.
Mike Max was born and raised in the small town of Gaylord, Minnesota. In high school, Max was a three-sport athlete and continued his basketball and baseball careers at Hamline University. After graduating from college, Maxy (as his coworkers have affectionately dubbed him) began working with WCCO, first as a radio producer and now as a TV personality covering our local (and often unfortunate) sports franchises.
In May of 2020, the murder of an unarmed black man in the streets of South Minneapolis shook the nation. Many questioned the nature of America's policing system while others sought to mourn the loss of community member, George Floyd. The most visible response to the inhumane killing was to organize and mobilize large protests across the Twin Cities.
Always quick to cover breaking news, local station WCCO rushed to assemble a field crew as protests grew. Weekend anchor Jeff Wagner and reporters David Schuman and Erin Hassanzadeh were pulled to become field operatives in the effort to cover the widespread events around Minneapolis.
However, this crew wasn't sufficient. One more staff member was still needed to allow WCCO to cover every corner of the growing tensions in the city. Mike Max was called in, and though the situation was largely unfamiliar to Max, he knew what to do. An athlete doesn't run away when a play gets heated. On the contrary, he sees an opportunity to become a star.
Though they were a group of reporters and specialists called in to cover an unfamiliar situation, the WCCO staff was dispersed throughout Minneapolis to report on any and all developments of the protests. Mike Max was assigned to I-35 where a group of protesters had shut down the freeway.
Max seemed unsteady at first and tried to call the events like he would a Vikings game: slowly and with little of note to report. He struggled while trying to describe a tent being set up or an Amazon truck being looted. Mike Max was batting .000 in his first hour of coverage, but his MVP moment was soon to come.
The evening had seen much unrest, and violence grew more prominent as night set in. While the WCCO team had been observing cautiously, they delivered informative coverage to Minnesotans throughout the evening. Mike Max left the freeway and ventured toward Minneapolis Police Department's Fifth Precinct building.
As he turned the corner, hundreds of Minnesota National Guard soldiers faced the camera in grotesque riot gear. Strands of blue lights scanned the area as headlamps lit the air. Thousands of combat boots slapped the residential street as they filed past Max who was alone with only his cameraman and smattering of other journalists on the corner. Armored vehicles without headlights jammed camera signals as they passed, and the macabre parade stretched for several minutes before reaching its end.
In the middle of this disturbingly serene moment, Max began coughing violently and choking for air. Then, the shot panned slowly down the street as Tom Aviles, the man holding the camera, was overtaken by gags and shivers. The WCCO team had been tear gassed.
At this moment, Mike Max could have cut back to the anchors. He could have headed for a safer part of town. He could have simply gone back to his transport vehicle. There were limitless actions Mike Max could have taken, and yet, he chose to collect himself and continue his coverage. If Max was going to play the game, he was going to see it to its bitter end.
The next night, Max's ambition grew, as did the protests. Beginning before dark, blockades were set and law enforcement was mobilized to enforce curfew. Within the first hours of coverage, Mike Max had once more been victim to tear gas, this time simply clearing his throat and brushing it off to continue commentating. As darkness drew over the city, increasingly absurd problems faced the ground crew.
Ultimately, Mike Max was cornered at an intersection where one direction yielded a man with a crowbar attempting to smash news cameras, another touted a man with a cane indiscriminately striking passersby, while the last remaining channel was blocked by a towering fire guarded by soldiers.
Max was stuck in the corridor for the foreseeable future, so he took advantage of his sports reporting skills and got to work interviewing protesters. Every segment began with the same question: "Where did you go to high school?" Inevitably, Max would know some fun fact, sports team, or acquaintance who had attended each school, and he'd commence his interview with a chuckle and a nod.
This strategy proved to be the most effective reporting of the night. Mike Max, the humble "sports guy" from a local news station, conducted compelling interviews with protestors ranging from community activists to field medics to concerned residents with the same easy congeniality as an old friend catching up with their childhood companion. And as the night grew on, "Where did you go to high school" seemed to be the best introductory line there had ever been. Because after all, we've all been to high school, and there isn't a single Minnesota school that Mike Max won't root for.
Finally, the last night of protests had brought with them dwindling numbers of participants and a city in ruins. Mike Max was once again stationed at I-35 to cover a standoff between protesters and law enforcement in front of Bobby and Steve's Auto World. As the soldiers closed the gap between opposing sides, Max was tear gassed for the third and final time without flinching. As the police drove protesters up the exit ramp and toward the gas station above, Max followed suit and ended up stuffed between a herd of people and a small dumpster.
When the anchors cut back to him, he had escaped the small garage he was trapped in and found himself witnessing the final round of arrests. People were strategically zip-tied and lined up for processing by law enforcement. 150 protesters stood in makeshift handcuffs, each escorted by a National Guard member.
Finally, Mike Max approached the hoard of protestors and began chatting with one of the detainees. Max inquired about the apparent friendliness between those who had been arrested and the State Patrol who had arrested them. He observed that many were laughing and smiling, almost like they were unaware that they were being detained. The man expressed how in reality, there was little difference between himself and the officer next to him: they both had families, friends, and loved ones, and at the end of the day, they just want to make them proud. With that, Mike Max's mission was ended, and returned to the sports desk.
Mike Max never signed on to cover the violent results of an innocent man's death. He never believed he would develop an immunity to tear gas. And he certainly did not imagine he would have to evade a man with a crowbar to do his job. But he did all of those things, and he did them with integrity and humanity. When Minnesotans needed him the most, Mike Max got off the bench and stepped up to the plate in the figurative ninth inning of Minneapolis' civil unrest. In undoubtedly one of the most unpredictable and unnerving times to live in Minnesota, Maxy brought a spark of energy to his work that calmed the masses and extended a helping hand to navigate a very difficult situation.
The handful of nights that Max went out into the streets to help keep Minnesotans informed about the developing events will go down as one of the greatest pieces of journalism this state has ever witnessed. It taught us to get up after being knocked down. It taught us to seize every opportunity to hear others' voices. But above all, Mike Max taught us that no matter where you went to high school, Minnesotans are always on the same team.
---
To view a sample of Mike Max's coverage of the Minneapolis protests, see the following page: https://www.youtube.com/watch?v=LyezyOrBEXk
About the Contributor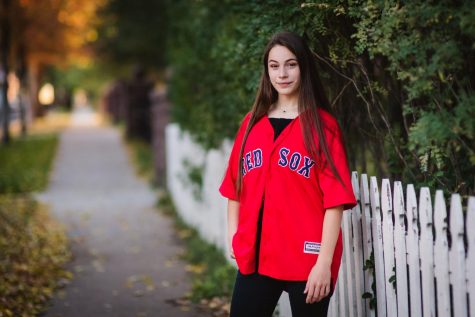 Maisie Mische, Sports Editor
Maisie Mische is excited to join the Voice as a staff writer covering sports. She can often be found catching a Twins game, cheering on the Red Sox, or...