Thank You, Carli: Carli Lloyd's Farewell Game
Ella Sukup, Arts, Culture, and Style Editor
January 4, 2022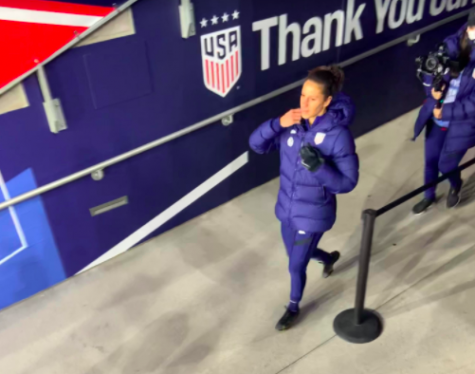 This October, the Twin Cities and Allianz Field were blessed with the opportunity to host the USWNT in a very important match against South Korea.  This game really was not all that important from a points perspective or a competitive perspective.  It was just one of a handful of friendly matches between the USWNT and other international opponents throughout the fall of 2021.  These friendlies typically allow new players to get playing time to showcase their abilities and serve as a great way for the fanbase to see the team play.  What made this match so incredibly special was that it was the last game for a legend of women's soccer, Carli Lloyd.
Some notable statistics and moments from Carli Lloyd's career include:
All time points and goals leader at Rutgers University
All-Big East all 4 years of college
Played professionally for 14 years
Played in four World Cups for the USWNT (3rd in 2007, 2nd in 2011, 1st in 2015, and 1st in 2019)
Scored a hat trick in the championship match of the 2015 World Cup including a goal from half-field to lead them to a 5-2 victory
Received the Golden Ball award for goal-scoring in the 2015 World Cup
Played in four Olympics (1st in 2008, 1st in 2012, did not place in 2016, 3rd in 2021)
Scored the game-winning goal in the 2008 Olympic final
Scored both goals for the win in the 2012 Olympic final
Scored 134 international goals (4th most goals ever scored by a woman)
The energy at this game was like no other.  Thousands of young girls were watching their idol play her last game.  There were countless signs speckled throughout the crowd saying, "We Love You Carli" or "Thank You Carli" as well as many signs with drawings and paintings of goats, claiming that Carli Lloyd is the Greatest Of All Time.
Before the game, there was a special ceremony with her teammates and family where she waved to the crowd, and it was announced that this was her 316th and final match.  During the game, the USWNT came out and crushed the opponent with a 6-0 victory.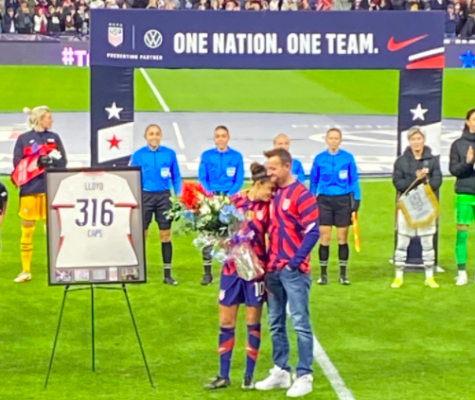 Unfortunately, Carli Lloyd did not score in her final match, but she did play until late in the second half.  When it came time for Alex Morgan to sub off Carli Lloyd, Carli took off her cleats, removed her jersey to reveal a jersey with her husband's last name on the back, and handed off her captain band to Megan Rapinoe.  Her last moment on the field was a shared hug with Alex Morgan.

After the game, the fans did not disperse as usual.  Everyone stuck around for a special ceremony commemorating the phenom.  The team gathered in the center of the field around Carli.   A video played including some of Carli's greatest moments on the field and a message from her husband.  The crowd chanted "Thank you Carli" repeatedly.  It was an atmosphere like no other.  The highlight of the evening was Carli Lloyd's speech to her teammates, friends, family, and fans.  She said, "I want to thank all of you fans for the support.  It really means the world to me, everybody–doubters, critics, everybody–, I love you all.  You've pushed me to greater and greater heights throughout my career, and I'm extremely thankful for that."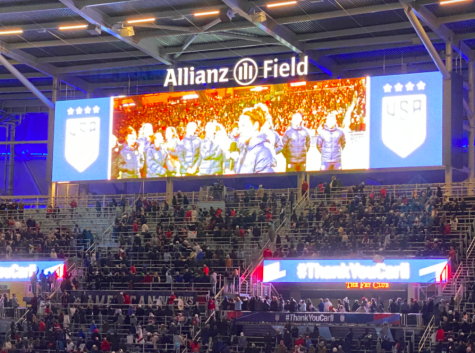 Carli Lloyd will forever be remembered as a hard worker on and off the field and a force to be reckoned with in the game of soccer.  Thank you, Carli.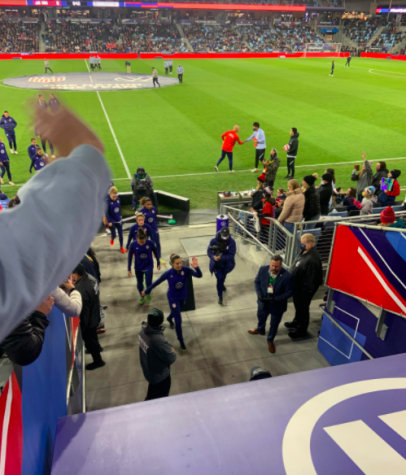 Sources:
https://www.britannica.com/biography/Carli-Lloyd
https://en.wikipedia.org/wiki/List_of_women%27s_footballers_with_100_or_more_international_goals