A Winter Sports Check-In
Earlier this month, on February 3rd, we celebrated National Girls and Women in sports day. It is a fitting time to check in on your favorite Visitation Winter Sports teams. Even in this unprecedented year, the Vis Winter Sports teams have been able to practice and compete this season. Just like all other years in the past, the Blazers are here to bring the heat. With their competitive drive and good sportsmanship, the Lady Blazers are exceptional athletes. For winter athletes at Vis, we offer Alpine Skiing, Basketball, Hockey and Nordic Skiing. This wide variety of athletic team offerings give girls at Vis great options to choose, depending on your athletic ability and interest.   
The Vis Alpine team has started off their "ski-son" strong with a large number of girls from the upper school and even some middle school students participating this season. With 27 participants, the team is skiing full Varsity and JV teams, and both teams have already competed in 4 races this season. They are coached by Jason Nickelson and assisted by Vis Grads Laura Zahr and Claire Hoffman. The team practices at Buck Hill each day, but travel to a variety of ski hills across Minnesota to compete. The alpine ski team had their last race at Wild Mountain versus the Hill Murray and Hastings girls ski teams this past week. Since then, they have been practicing daily for their upcoming sections race. The girls love participating this season and being outside on the slopes every practice, even amidst subzero temperatures. The Visitation alpine skiers have completed the majority of their regular season races but will be having their sections meet at Wild Mountain on March 3rd. Due to COVID, only two family members are allowed to accompany skiers to spectate, and there is no live stream because of the cold temperatures and how far away they will be skiing from Vis. Nonetheless, make sure to wish your favorite skiers luck at their next race and to think of these racers the week of sections. For these skiers, there's "snow" place like the slopes. If you are looking for more updates on what these alpine racers are up to make sure to follow the team on Instagram: @vis.alpine
The Blazer's Basketball team is coming out strong this season. With a large number of girls participating this season, the basketball program is equipped with a Varsity, JV and C-Squad team. The athletes are playing basketball six days a week, and have around 1-2 games per week. You can find these ladies practicing in the Commers Gym and chatting about upcoming competitions in the athletic foyer after school. From the tip off, these ladies are ready to bring their "A" game because of their team chemistry and sportsmanship. The Varsity girl's team is coached by Visitation's newest coach, Faith Johnson Patterson, who has accumulated a number of state titles for her coaching; she brings an enhanced perspective and coaching style to the team. She is assisted by Bob Wiley. The JV team is coached by Ed Overall, and C-Squad is coached by Jordan Hove. These coaches have assisted the Visitation Basketball teams to the success that they have had this season. The Vis girls C-Squad, JV, and Varsity all have their next game coming up on March 4th:away versus. Henry Sibley. The players next home game will be Tuesday, March 9th versus South Saint Paul. This game, as well as all home Varsity basketball games will be live streamed on the Visitation YouTube channel (here!). If you want to cheer on your fellow lady Blazers who are playing on the C-Squad and JV teams during their home games, you can find the link to those team's live streams on the Visitation Athletic Schedule (here!) and select the live button next to the game you want to watch. This season, fans can bring the Vis spirit by tuning in to watch their favorite Vis basketball teams, even if they're not sitting in the bleachers as the live streams are a great way to cheer on your friends and classmates playing basketball from a distance! If you're invested in these girls' basketball seasons, make sure to follow their Instagram account for all their team updates:  @visbasketball
This is a transitional year for Visitation hockey as these Blazers are no longer playing in a co-op with United but have a wholly Visitation rostered team, and these players are having a blast. With participants from the upper and middle school, the Blazer hockey team is here to work hard and have a good time. These players practice every day before school and play 1-2 games a week. You can find these rink rats spending the majority of their time at their home rink, Saint Thomas Ice Area. These lady Blazers are coached by Ellie Tabaka, and their assistant coaches are Mackenzie Johnson and Casey Rooney. These ladies are all playing on one Varsity team this year and are ready to make Vis hockey the best it's ever been. The Visitation Hockey team will have their next game away versus Tartan Senior at Tartan Arena. Their next home game on March 13 versus Waseca Public at Saint Thomas Ice Arena will be livestreamed. Visit the Visitation Athletics Schedule to find the live streams for all of their home games. (here!) Make sure to wish your friends and classmates on the hockey team luck at their coming games. If you want more inside information on what the girls hockey team is up to, follow their Instagram: @visitationhockey
The Vis Nordic Team has had a great season this year. They are practicing every day and racing 1-2 times a week. The team is coached by Claire Prescott and assistant coached by Anita Burg. The Nordic ladies have loved getting outside and racing these past couple weeks, and they are excited for the rest of their season. They ski at many different golf courses in the area as well as ski courses around Minnesota, truly a winter sport that allows the ladies to enjoy the beauty of nature. This season,the ladies are ready to hit the trails every chance they get. The Blazer Nordic skiers have finished the majority of their regular season for this year and will be skiing in their sections race on March 1st at Theodore Wirth Park. They are not allowing spectators at this race, and there will not be a livestream for this event. Nonetheless, make sure to think of these Nordic Skiers and wish them luck before they hit the trails again. If you are interested in more information and updates on our Vis Nordic team, make sure to follow their Instagram account: @visnordic
If any of these winter teams interest you, make sure to sign up for the coming 2021-2022 season by reaching out to any of the players, coaches or Athletic Director at Visitation. In the meantime, remember to show your school spirit by cheering on these teams in their competitions during the coming weeks and stay tuned for the fast-approaching start of our spring season sports, including Golf, Lacrosse, Softball and Track and Field. Go Blazers!
About the Contributor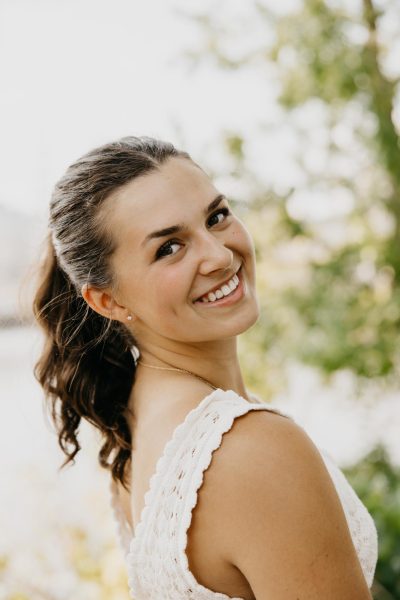 Grace Keeley, Co-Executive Editor
Grace Keeley is a Senior and has been a Vis girl for eight years. She has been writing for the Visitation Voice for four years , as a Staff Writer, Freelance...