Gratitude Towards Faculty and Staff
The pandemic has not been easy on anyone. school lives have been flipped upside down. It has been difficult for the entire Visitation community to navigate through the past year. As students, we have had to find a whole new way to learn and live. That being said, we couldn't have done anything without the support of our Faculty and Staff. From my perspective as a student, I feel so blessed to have such amazing adults to help us this past year.
For starters, our teachers have done amazing things in the past year. They have shown so much strength through their efforts to help us learn in a new way. They are the perfect examples of our Salesian Virtue of the year, Inner Peace. Our teachers are the best role models for this virtue because they have shown us how to roll with the punches. We have had many changes occur and they still make it their mission to teach and care for us. From the bottom of our hearts, thank you, teachers. 
Another huge support for us students this year has been the tech team. They have been there to help us navigate the craziness of distance learning. They are always eager to help us with our technology. Though as students we do not see all that the tech team does for us, we do appreciate the work that goes into helping us. From the bottom of our hearts, thank you Tech Team. 
The administration has played a huge role in our safety this past year. They have made many plans and had to come up with many ideas on how to keep us safe during Covid-19. As far as I know, there has been no spread of COVID cases during school hours because of the safety measures they have put in place for us. They have gone above and beyond in order to help us.  From the bottom of our hearts, thank you administration. 
The counseling team has been here to help us navigate the pandemic and our well-being. They have truly shown they care for us and our mental health. They created the Visitation Calming Room to help us relieve the stress and anxiety that comes with school. They are here for us and everything we need. From the bottom of our hearts, thank you, counseling team.
Last but not least, the maintenance and cafeteria staff have been a large part of our safety at school. The cafeteria staff has had to find new ways to get us our food in a COVID safe way. They greet us with a smile every day when we come to pick out our lunches. The maintenance staff keeps the school clean and safe for all the students. From the bottom of our hearts, thank you, maintenance and cafeteria staff.  
This past year has not been easy for anyone, but the staff and faculty at Visitation have made it possible to attend safely school in person. They show us how to live the virtue of the year, Inner Peace, throughout the day. They truly are a blessing.  
About the Writer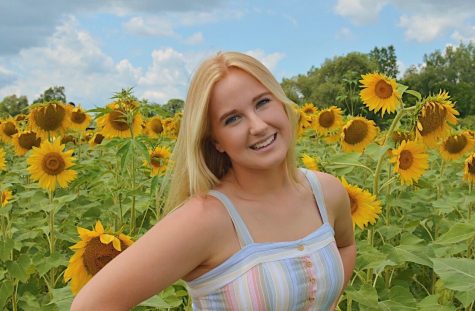 Elle Klein, Freelance Editor
Elle Klein is a sophomore at Visitation and is a Freelance Writer for the Visitation Voice. In Elle's free time she enjoys sewing and crafting anything...