Christmas Stocking Tradition at Vis
Thirty years ago, Sister Mary Francis, the previous campus minister at Visitation, moved to Minneapolis in a house with other Visitation sisters. While moving, Sister Mary Francis wanted to make and continue a connection between the school and the sisters in Minneapolis. Sister Mary Francis and Mrs. Daniewicz, our current campus minister, thought the best way to do this was through service. 
With the sisters in Minneapolis, they were able to identify things that Visitation students can help with. The Christmas Stocking Project was one of these things. When asked "why do you continue to do the stocking project at Vis?" Mrs. D responded, "We have big projects, but as the sisters are aging, they look at the future of ministry. We asked the sisters' surrounding communities through a survey which projects impacted the community most, the Christmas stocking project was the overwhelming response." 
From this positive response to the Stocking Project in the sisters' community, it is clear that the community wants to continue to do something for their children and grandchildren, and make Christmas special. Even during COVID, the Visitation Sisters and Mrs. D were committed to doing what they can to help provide for the community. "I also just love Advent and Christmas!" Mrs. D exclaims.
With over 400 stockings donated every year does not happen overnight. The seniors in Mrs. D's religion class have been eager to help every year with a lively and long process, shown with steps below.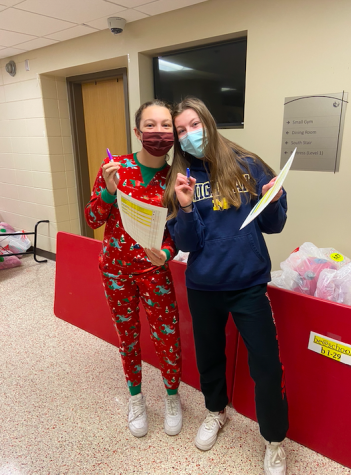 Step 1: Families are able to sign up for stockings to make, and seniors package each order with the proper amount of stockings and the names of children who will be receiving them. Families then return their stockings to bings outside of Mrs. D's office. 
Step 2: Seniors organize the stockings by color according to agencies where the stockings, with corresponding colored stickers, are headed. Each child's name is checked off on a master list to ensure that no child is missing a stocking. The pictures show stockings belonging to one of six agencies that Visitation delivers to.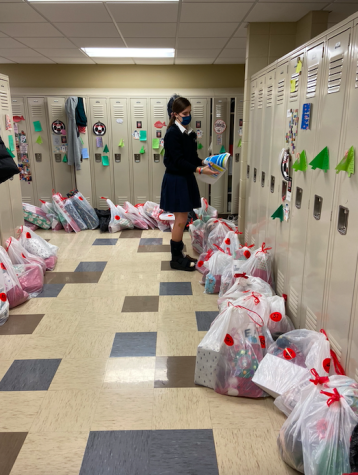 Step 3: All the stockings, one agency at a time, are laid out in number order and triple-checked before being packaged to leave the school. This year, bags were untied and stuffed animals were added to each stocking thanks to a generous stuffed animal donation.
Step 4: Although each stocking has a different path to each child, children coming to the sister's house in Minneapolis were able to pick up their stockings from a special guest, Santa. This year Santa was played by the sister's friend, Cedric, joined by Mrs. Santa (his wife) and his two grandchildren