Winter Activities Recap: Blazers In-Action!
The Blazers had yet another successful season of activities & athletics which showcased the many strengths and abilities of students outside of the classroom. Let's take a look back at just how well-represented Vis was during the Winter of 2021-2022!
Alpine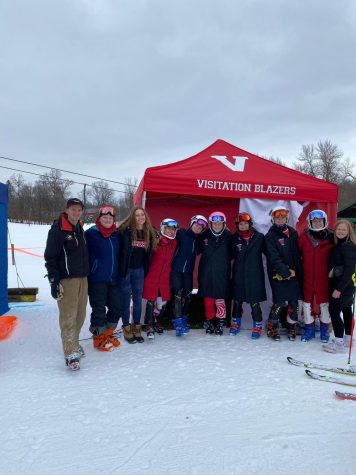 The Alpine team was led by captains Meghan Bushlack, Nola Tennessen, and Kathleen Eldredge alongside coaches John Frischmon and Ellie Frischmon. The top 6 skiers on the team qualified for Sections and competed on February 9th. At that meet, top skiers for Visitation included senior Kendall Oliver who placed 23rd, junior Elle Klein who placed 40th, freshman Gabi Leon who placed 44th, senior Meghan Bushlack who placed 48th, followed by freshman Grace Keeley placing 80th, and Kathleen Eldredge placing 85th. These six skiers competed against over 100 other skiers, an impressive accomplishment. Overall, the team placed 8th out of 14 teams at the Section meet
Robotics
The Robettes had their first competition of the season, Northern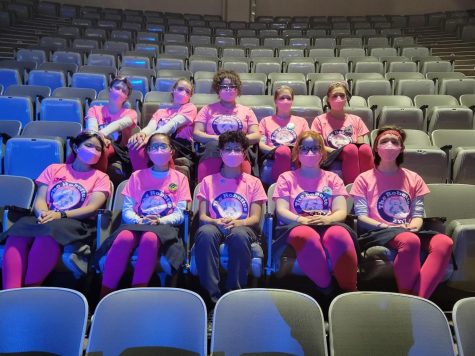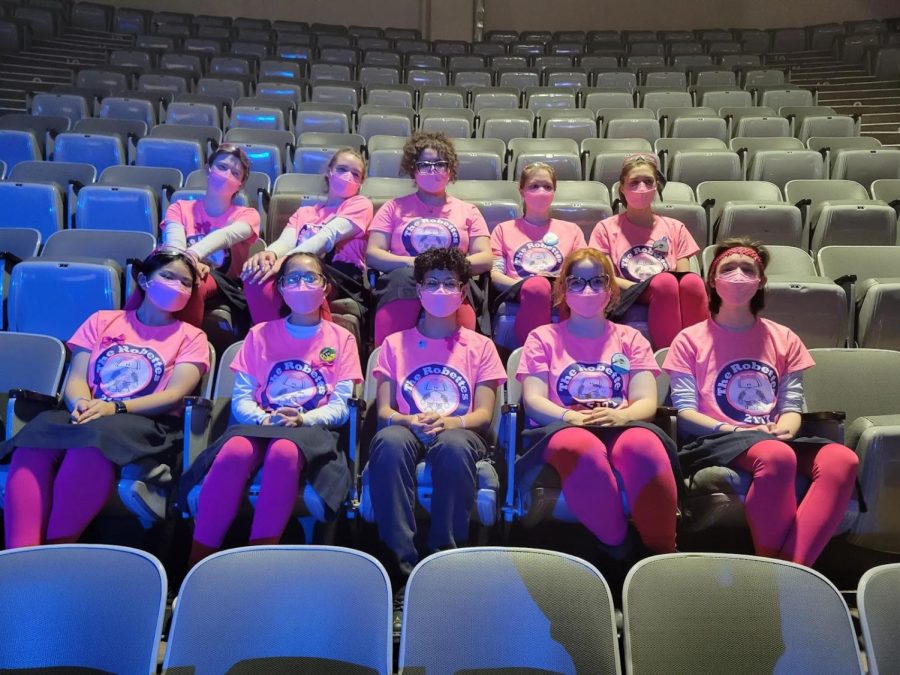 Lights Regional, in Duluth on March 2nd- March 5th. The team is led by captains Mairin O'Shaughnessy alongside coach Sydney Benz-Herzog.  Their alliance finished 5-4 over the competition and received the award of Industrial Design Award sponsored by General Motors. A more thorough overview of the competition is featured in the article entitled "Robette's Northern Lights Regional Competition Recap" featured in the VisLife Section. 
Basketball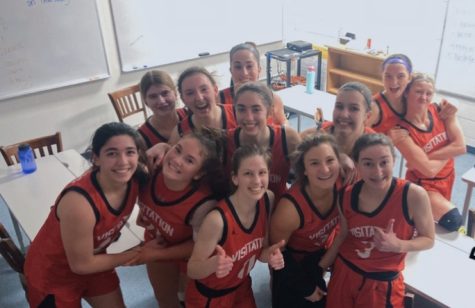 The Varsity Basketball team recently completed their season with a winning record of 16-7. The team advanced to the Section Semi-Final, beating South St. Paul 79-55 in the Section Quarter-Finals, an incredible accomplishment for the basketball program. The Varsity team was led by captains Olivia Johanns, Ellen Slawin, and Caroline Fenlon alongside coaches Faith Johnson Patterson, John Patterson, and Bob Willey. Top scorers included freshman Sam Wills and senior Olivia Johanns. Leading in rebounds was senior Olivia Johanns followed by freshman Sam Wills and junior Catherine Breyen. A highlight of the season was when senior Olivia Johanns scored her 1000th point, a very impressive accomplishment! The JV basketball team also had a strong finish to their season with a record of under the coaching of Ed Overell and Jordan Hove ending with a winning record of 15-4. 
Nordic
The Nordic team finished off their season with their section meet on February 8th placing 7th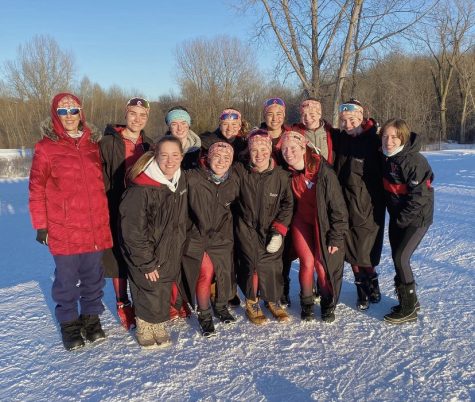 overall. The team was led by captains Catherine Wollan, Erin McQuillan, Rachel Schmidt, and Ava Kirr alongside coaches Katie George and Anita Burg. At sections, 5 Visitation skiers raced the pursuit race which consists of a 5k Classic race in the morning followed by a 5k Skate race in the afternoon. In the pursuit race, top skiers for Visitation included senior Erin McQuillan, senior Catherine Wollan, and junior Ava Kirr finishing 23rd, 24th, and 25th respectively followed by sophomore Grace Loonan placing 34th and junior Tess Cavanaugh 43rd. The team sprinters junior Kazi Hankee and freshman Lucia Lazarus qualified for the final heat and placed sixth overall in the sprint relay event.  With ______ members of the team, the nordic program had a fantastic season.
Mock Trial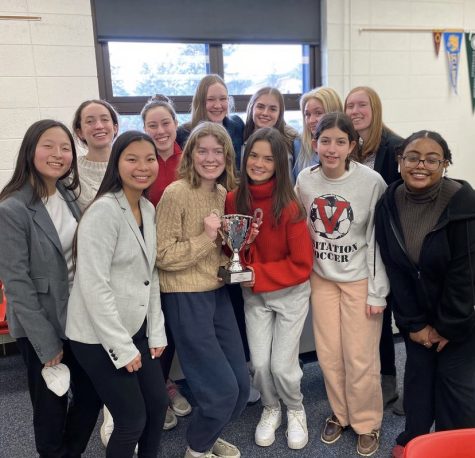 The three Mock Trial teams recently completed a successful season ending with a record of 5-1. The team was led by captains Grace Richardson, Lindsay Iverson, Kate Heinsch, Susie Swanholm, and Mamie O'Leary alongside coaches Brittany Rawson-Haeg, Judge Connolly, and Olivia Kratzke. The JV/ Gold mock trial team recently competed in the State Tournament on March 3rd and 4th. The team placed 15th overall and received two individual awards. Sophomore Grace Nilsson was named as an all-state attorney alongside senior Mary Harrington who was named an all-state witness. A more thorough overview of the season can be found in the article entitled "Mock Trial Season Recap", also featured in the VisLife section. 
"Mock trial is so fun because it changes so much every year! We were super lucky to have three fantastic teams, and I'm really proud of our season. Doing trial on Zoom really changes the game- you can't communicate with the judge and jury through body language, and a lot of the traditional formalities go out the window. It was a fun season with an interesting case!" – Grace Richardson
Hockey
The Varsity Hockey team finished their season strong ending with a record of 12-13. The team was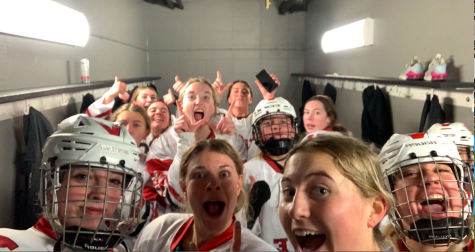 led by captains Cady Pagel, Hannah Allen, Clare Olson, and Lauren Reppenhagen alongside coaches Billy Bellmore, Katelyn Vrieze, and Tony Hoops. Leading in goals was freshman Gracia Munoz followed by eighth-grader Abigail Hemauer and senior Hannah Allen. Players with the most assists include freshman Gracia Munoz, senior Hannah Allen, and eighth-grader Abigail Hemauer. Freshman Gracia Munoz was voted as MN Girls' Hockey Hub's Top Performer of the week of December 6th-11th, receiving a total of 921 votes in her favor. A month later during the week of January 3rd-8th, eighth-grader Abigail Hemauer was also voted as MN Girls' Hockey Hub's Top Performer receiving 840 votes to clinch the spot. 
Overall, Vis Activities & Athletics had a fantastic Winter Season, and as the snow melts and temperatures begin to rise, we look forward to more success as Spring awaits!