Science Meets Culture in Costa Rica
Immersed in learning and exploring, Visitation and St. Thomas Academy students journeyed to Costa Rica for ten days this summer.
This past July, eleven Visitation students and six Saint Thomas Academy students travelled across the continent to Costa Rica. Students enjoyed this ten-day culture-meets-science experience at the Finca La Anita Rainforest Ranch and Horizontes Beach.
During the school year, seventeen students spent Saturdays and days after-school researching leaf-cutter ants and their importance to the biological world. Leaf-cutter ants are known for the bacteria on their body, bacteria which is part of a critical discovery for understanding and researching antibacterial resistance. In Costa Rica, students got first-hand experience working with these ants in their natural habitat and in the research lab. Splitting off into four different groups, students created and conducted experiments; some focused on the ants' attraction to certain substances such as fruit, and others focused on the ants' cultivation and use of fungus gardens.
The first eight days in Costa Rica spent at Finca La Anita were filled with science and cultural exploration. Students toured a cacao farm, learning about the types of chocolate beans, the history of chocolate, the chocolate making process, and how the leaf-cutter ants affect cacao plants. Students tasted 70% and 80% dark chocolates, some paired with flavor enhancers such as orange peels and sea salt.
Other days near Finca la Anita were spent horseback riding to a volcano lookout, hiking through the rainforest at night looking for wildlife, zip-lining along the forest canopy, swimming in a hot spring and waterfall, and taking an evening cooking class on Caribbean-style cuisine followed by a dance party. Students immersed themselves in Costa Rican culture, talking to van drivers in Spanish, listening to stories about wildlife in the cloud forest, interacting with the college research students from the University of Costa Rica, and walking to the tienda to buy Chikis and Yipys, two types of Costa Rican candy.
Science filled many days as well. Days were dedicated to conducting lab experiments, collecting data out on the paths with mature leaf-cutter ant trails (which allowed us to witness howler monkeys barking), and creating PowerPoints with our groups. On those science-filled days, there were designated coffee breaks with Costa Rican pastries to reenergize in between lunch and dinner. The eight days at Finca La Anita allowed students to gain experience in the research field while also gaining new perspectives about Costa Rican culture.
The final two days were spent a few hours away at Horizontes Beach on the west side of the country. At the hotel, students learned about the biodiversity of the dry forest and the breeding patterns of sea turtles. The first night was spent walking up and down the beach searching for turtles using red-lighted head lamps. Although it was not breeding season and we did not see any sea turtles, we ended that night thankful for the opportunity to nap under the stars while listening to the waves. The next day was dedicated to the beach, and we spent the day jumping into waves and snacking on candy until sunset. Horizontes was a beautiful way to wrap up a busy and action-packed eight days of working with the ants.
Students expressed gratitude for this trip. Not only did they get the opportunity to study leaf-cutter ants, but they cemented friendships and made lasting memories. For those interested, take this trip — experience the rainforest, the science, and the culture of Costa Rica!
About the Contributor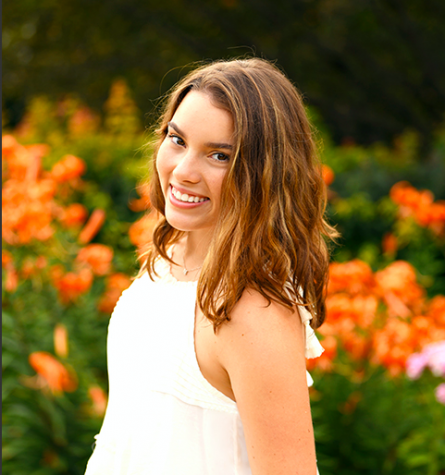 Meghan Quinlan, Co-Executive Editor
Meghan Quinlan is an executive editor for The Visitation Voice. As a senior at Visitation, she takes part in the tennis team, the alpine skiing team, Spanish...