Fall Sports: Our Silver Lining
I likely speak for the entire Visitation student body when I say that this school year has been neither normal nor easy. We've had to face isolation, cancellation, and the constant fear of contracting or spreading COVID-19 to our friends and family. Seniors are forced to spend their last year behind a screen or a mask, while ninth graders try to navigate the unexpected struggles of starting high school amidst a pandemic. With separated grade levels, assigned seats, and most clubs switching to virtual meetings, ways to truly connect with classmates and upperclassmen have become as rare as toilet paper. Indeed, socially-distanced school is a bleak prospect, but every cloud has its silver lining. As promised, our silver lining came in early August in the form of fall sports.
It was a joyous day when fall sports were finally approved by the Minnesota State High School League (MSHSL). Despite all of the uncertainty stirring up our world, we knew we could count on sports like cross country, soccer, swimming, or tennis (and later, volleyball) to brighten our moods. In a regular year, activities such as these would give us the opportunities to have fun with friends, meet new people, and enjoy the beautiful fall weather, while also improving our physical health and decreasing stress. Add these benefits to our desperate 2020 craving for any in-person social interaction (the product of five months of Zoom calls and binge-watching Netflix), and fall sports became our escape to paradise island. Of course, there were precautions that needed to be taken to prevent the spread of the virus through sports teams, such as temperature checks, hand sanitizer, and social distancing. However, many would surely agree that it's nice to be able to take a break from school and hang out in-person with classmates you've only waved at from across the hall or have seen on Zoom.
Perhaps the summer quarantine even caused fall sports to be more popular this year than in past years, with more students viewing the program as a way to have fun and build community, rather than as a competition ("Who cares about my mile time, I just want to SEE PEOPLE!!!"). The statewide lockdown also gave people a lot more free time to train and get into shape for the coming season. Recently, I talked to a friend who just started ninth grade at another high school and hasn't been at school in-person all year. Even though her main sport is ballet, she decided to join the cross country team, and she was extremely glad she did. She was able to meet a few of her classmates that she had only seen virtually, and the practices and meets became something to look forward to which made distance learning more bearable. Her positive experience is just one account in what has become a common theme of students turning to fall sports to foster connections and build relationships during a time when the world is trying so hard to keep people apart.
As I've mentioned before, pandemic or not, fall sports are a great opportunity to meet new people. This is especially true if you are just starting high school, like I was. By participating in a sport, you are introduced to others who share your same interests, creating close friendships as you bond with the team and cheer each other on. Nobody I've talked to this year has regretted playing a fall sport, no matter if they joined a team as small as 3 or as large as 40-50 people. A team depends on one another and braves challenges together, and that in itself can be a relief when we've had to bear so much alone over these past several months. I know that cross country practices were always the highlight of my day, even when I wasn't able to run.
It may seem odd that I'm writing this article, considering I was injured halfway through my cross country season. It may seem like all I gained from fall sports was a boot and crutches. After all, one can't physically see all the laughs, inside jokes, and memories I now share with a team that's become my family. It's difficult to measure the friendships I've made, the excitement I've felt knowing there was practice after school, and the determination I've cultivated as a result of an incomplete season and a paused high school running career.
Yet, these things have made a huge difference, and despite the struggles, I wouldn't trade anything for my shortened cross country season. I cherish the moments I got to spend getting to know my teammates and taking a vacation from the stresses of daily life, especially daily life in quarantine, and I'm eager to return to the sport next season. My team has greatly impacted me, as a runner and as a person in general, and I begin to wonder if this bond has something to do with the isolation we experienced this past spring. Perhaps our craving for social activities and connections ultimately brought us closer together, through the only non-virtual, extracurricular, almost-normal forum which the state allowed: fall sports.
About the Writer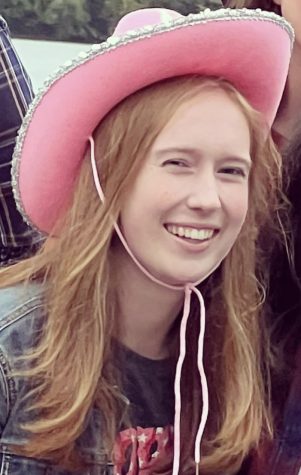 Grace Loonan, Freelance Editor
This is Grace's third year writing for the Visitation Voice and her second year as an editor. She has written about topics ranging from Winter Week court...