Why We Should All Say No to Mazepin
Formula racing is a genre of motorsport that encompasses three levels of competition culminating in the world-famous Formula 1 (F1) league. Ten teams comprise the F1 leaderboard with only 20 drivers able to compete in each race. Thus, a spot on the Formula 1 roster is highly elusive. The sport is known for its high-speed races and thrilling maneuvers that are broadcast to its millions of fans on television and online. And while the drivers are generally well respected for their talent and charisma, one competitor threatens to send the league into a tailspin.
Nikita Mazepin is an increasingly controversial figure in the Formula 1 community; now more than ever, he's under scrutiny after being brought up from Formula 2 to race with the Haas F1 Team in 2021. His offenses are many and grave; Mazepin physically assaulted a fellow driver, attempted to run other cars off the track, made homophobic comments toward Williams driver George Russell, supported racist remarks about competitor Yuki Tsunoda, and most recently, posted a video of himself sexually assaulting a woman last month. These offensive actions have inspired a movement of Formula 1 fans calling for Mazepin's removal from racing, using the hashtag #WeSayNoToMazepin to show their solidarity for the effort. But Nikita Mazepin is not simply a villain within motorsport; he is a poison. If the FIA (Fédération Internationale de l'Automobile), Formula 1, and the general population do not condemn his reprehensible actions and set a precedent by ejecting him from Haas and banning him from Formula 1 racing, the aftermath will become even worse than the present.
For context, Nikita Mazepin is a Russian racer from Moscow. His father, Dmitry, is a billionaire shareholder in the company Uralchem; Dmitry's money plays a large part in Nikita's career, and is one of the most contentious aspects of Haas' response to the slew of documented offenses. Mazepin has been through every level of the Formula racing hierarchy, causing mayhem all the way to the top. This year, he will race with Mick Schumacher under team principal, Guenther Steiner.
As mentioned before, Mazepin was recently criticized for the sexual assault of a women in Dubai. He chose to post a video to his Instagram story in which he touched the woman without her consent even after she attempted to remove his hand. While the woman posted a statement excusing Mazepin's behavior, she previously alluded to the incident by expressing her regret that she partied with him; the two also unfollowed one another before the woman posted her statement. This case is extremely disturbing; due to the clear documentation of the incident, there is no denying Mazepin's culpability. While Haas has issued a statement rebuking the behavior displayed in the video, Mazepin has suffered no consequences for the assault.
Mazepin's misconduct extends to his colleagues as well. During a free practice session in 2016, Mazepin displayed aggressive behavior toward fellow driver, Callum Ilott. Mazepin became enraged after Ilott slowed him down during a hot lap; as a result, Mazepin attacked Ilott and punched him twice in the face. Ilott left the paddock with a black eye and bruises. Mazepin was banned from competing that race weekend. This assault took place in Formula 3, which is the lowest levels of Formula racing. While the journey to Formula 1 is stressful and highly competitive, there is no excuse for physically attacking another competitor.
Aside from Mazepin's abhorrent behavior off the track, he is a consistent danger to other drivers on race day. In 2019, Mazepin broke circuit rules in Sochi by rejoining the track without taking the correct path to reentry. This illegal maneuver caused another car to reenter the track and make contact with Mazepin's rear wheel, launching his car across the road into Nobuhara Matsushita. Both Mazepin and Matsushita were hospitalized, and Mazepin was unanimously determined to be at fault. Once again, during a 2020 race in Sakhir, Mazepin was struck with two penalties; the first as a consequence for pushing Yuki Tsunoda into the pit lane and off the track, and the second for blocking an overtake from Felipe Drugovich. Not only are these actions against the rules of the race, they also pose a very real risk to Mazepin and the drivers around him. Formula cars are dangerous to operate, even when done correctly; at speeds exceeding 200 mph, a major and (and potentially fatal) crash could result from a wheel catch, wing touch, or a slight contact. It's vitally important to be mindful of other drivers on the track during overtake maneuvers to ensure that collisions and track obstacles are minimized, and by maliciously ignoring safety considerations, Mazepin has labelled himself as a high-risk competitor. For the wellbeing of all race staff, Mazepin can't be allowed to continue his harmful behavior on the track.
Even with his concerning history, Mazepin's case is not unique. We've seen it time and time again within American professional sports: a star player commits an atrocious crime and is swiftly taken off the hook. Addison Russell, the Chicago Cubs second baseman, was suspended 40 games for repeated incidents of domestic assault. NBA player Derrick Rose admitted to misinterpreting a text message as written consent in a sexual assault case. And as many Minnesotans remember, Vikings player Adrian Peterson was criticized for hitting his child with a tree branch. These cases (and dozens of other criminal offenses) have become so routine that they are merely asterisks at the bottom of a Wikipedia page. Americans have largely agreed to overlook these kinds of transgressions with excuses such as "but they're talented" or "it's what happens when you're famous." However, the current Formula 1 line up is rather tame in comparison to Mazepin. Though one or two drivers have run into small infractions over the years*, Mazepin is clearly the most shocking addition to the grid. Thus, in a relatively mild market of athletes, introducing somebody with so many serious charges becomes dangerous. If Mazepin is allowed to continue in his career, the metaphorical Pandora's Box opens for a range of atrocious behaviors to be tolerated and goodness-knows how many drivers with outrageous pasts to take the track. Simply, if Nikita Mazepin is allowed to become a mainstay in Formula 1, the sport will cease to uphold its current reputation as a respectable league, and it will become just another group of rich guys who can skirt consequences the same way they do track corners: quickly and without thought.
Do not become desensitized to violence, injustice, and ignorance. Nikita Mazepin has proved himself to be predatory, reckless, and unfit to represent Haas and Formula 1 at large. To preserve the sport's standard of behavior and reputation worldwide, Mazepin cannot race this season nor any season hereafter. No matter how much or little you care about motorsport, we should all hold a vested interest in Mazepin's removal; if we continue to allow sexual misconduct and dangerous behavior in any sport, it will become an irreversible standard in every sport. Please show your support for Mazepin's removal by signing the petition linked below. Together, let's say no to Mazepin and everything he represents while we still have the chance.
*Several former Formula 1 drivers have been charged with serious crimes. For the purposes of this article, the author is focusing on drivers currently racing in Formula 1.
About the Contributor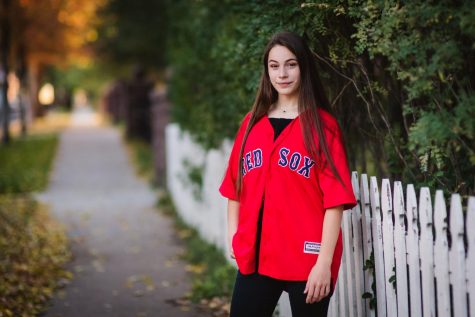 Maisie Mische, Sports Editor
Maisie Mische is excited to join the Voice as a staff writer covering sports. She can often be found catching a Twins game, cheering on the Red Sox, or...