Vis Club Spotlight: Garden Club!
One of the many prides of the Visitation Upper School is a great many student-run clubs reflecting the interests and passions of the student body.  Clubs at Vis range from activism to enrichment, to community growth.
This year, two Visitation Juniors have collaborated with their science teacher to create a club that focuses on community growth within the Vis community while enriching students' understanding of ecology and environmental sustainability.  Garden Club, led by Caroline Schlehuber and Catherine Wollan and advised by Mrs. Piehl has blossomed into a Vis community project to create a beautiful and sustainable garden on campus.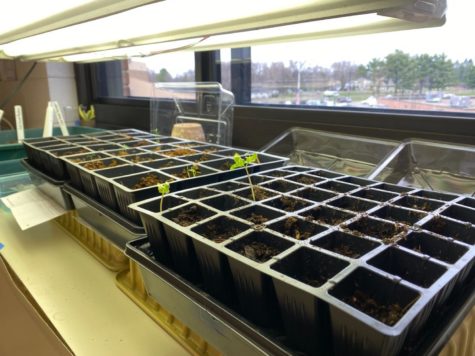 With meetings that started in late February of 2021, the club has already grown tremendously with membership across all grade levels.  Upon my first visit to Garden Club, I saw students flock to Mrs. Piehl's classroom and an additional overflow classroom in excitement for painting pots and planting seeds.  The leaders of Garden Club recognize that they are starting out on a smaller scale, but they are hoping that they can expand to the broader Vis community year-round as the club gains attention and establishes itself.  Right now, as part of their plan for creating the new Vis garden, the club has started by planting seeds inside in Mrs. Piehl's classroom.  The hope is that Garden Club can get outside soon, and, in the future, Garden Club hopes to utilize the greenhouse attached to the monastery with aid from the maintenance and administration teams.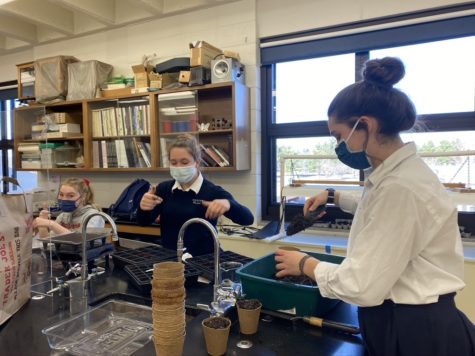 Caroline Schlehuber and Catherine Wollan are grateful for all of the girls who have invested their time in Garden Club.  Catherine Wollan said, "I was delighted to see how many people responded to our interest form and continue to stay engaged in the club. I definitely want the club to be as member-run as possible, so I am ecstatic when ideas and energy are shared by members."  Their recent meeting regarding composting will hopefully help to commit the broader Vis community to compost to help reduce waste as well as provide nutrients for the future Vis garden. 
Caroline Schlehuber and Catherine Wollan both seem to agree that the future appears bright for Garden Club, and they are excited to share their passion with the Vis community.  Caroline Schlehuber said, "Gardening is such a love of mine and I am honored to get to share that love with my Vis community as well."  
Garden Club is definitely making great strides in the Vis community to promote a love of nature and gardening.  They are working to plan out the best layout for their garden right now, and they are planning to have a Mother's Day Flower Sale soon!