Girl Power at the Olympics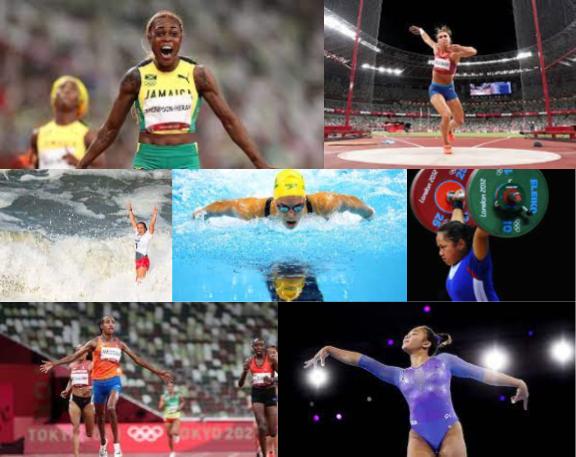 Ella Sukup, Arts, Culture, and Style Editor
October 4, 2021
The Tokyo Olympics this past summer had the most even ratio ever of women to men competing, 49% women to 51% men.  In comparison, the Rio Olympics in 2016 had 45% women and 55% men competing, and the London Olympics in 2012 had 44% women and 56% men.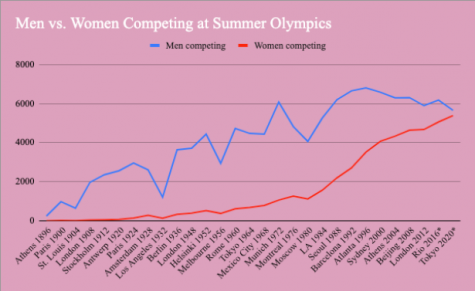 Highlighted below are just seven of the 5,386 impressive female athletes who competed in the Olympics this summer.
First up is Valarie Allman, the Olympic discus champion.  Allman grew up in Colorado as a competitive dancer, and she did not start throwing the discus until high school.  Her impeccable form is influenced by her dance background.  Allman has an impressive profile beyond athletics, as she attended Stanford University and was her class valedictorian with a 4.4 GPA in high school.  Since graduating college, she has trained with Coach Zebulon Sion of University of Texas track and field, and has a professional contract with Asics.  The discus competition at the Olympics was extremely competitive, but Allman excelled under pressure, throwing the gold medal throw which ended up winning by a whopping two meters on her first attempt in the final.  Since the Olympics, Allman has continued to excel and throw an American Record.
Hidilyn Diaz is small and mighty.  The Filipino weightlifter might be short, standing at 4'11", but her size does not hold her back.  This summer, she scored an Olympic Record of 224 points, earning 97 points in the snatch and 127 points in the clean and jerk.  The competition was tight, but Diaz pulled through, earning the first ever gold medal for the Philippines by a single point margin.  Diaz began weightlifting when she was eleven years old, and she has competed in five world championships and qualified for four Olympics since then.  Diaz, however, is more than just a weightlifter.  She also serves in the air force in the Philippines, and she owns her own gym with the philosophy of teaching children from her hometown how to weight-lift.
Sifan Hassan is a powerhouse of distance running.  She is currently ranked second overall by World Athletics of all female track and field athletes, and she is ranked first in the women's 10,000m, second in the women's 1,500m, and third in the women's 5,000m globally.  Even more impressive, Hassan competed in all three of these events in the Olympics, running 24,500m (15.3 miles) total in nine days.  In prelims of the 1,500, Hassan took a fall at the start of the final lap and recovered from far behind the pack to win her heat. Hassan went home to the Netherlands with two gold medals and a bronze medal.  Post-Olympics, Hassan did not stop; she continued to run in the 1,500m, 1,600m, and 5,000m races.  Hassan competes for the Netherlands where she came as a refugee from Ethiopia at fifteen-years-old.
Sunisa Lee is a hometown hero who represented the Twin Cities and the USA in gymnastics this summer in Tokyo.  Lee is the first ever Hmong American to compete at the Olympics. Not only did she compete, but she won three medals including a gold in the women's all-around competition.  In the all-around competition, Lee scored the highest in the bars, beam, and floor competitions, and, after four rotations, she placed first by less than two tenths of a point.  She is only eighteen years old, and she graduated from South St. Paul high school this past spring.  She is now a student-athlete at Auburn University.
Emma McKeon won seven medals at the Tokyo 2020 Olympics.  This was more medals than any other athlete male or female won in Tokyo.  McKeon, representing Australia on the swim team, was the champion of the 50m freestyle, 100m freestyle, 4x100m freestyle relay, and 4x100m medley relay.  This was only her second Olympics, and she already has won eleven medals.  She has been swimming since she was a baby, and she now carries on this legacy to younger children in the swim clinics she teaches at McKeon's Swim School.
In Hawaii, Carissa Moore Day is celebrated on January 4th.  Mark your calendar.  Carissa Moore is the first ever Olympic surfing gold medalist. She is the number one ranked female surfer in the world, and she proved that the moment she hit the waves in July.  Throughout the first round, semifinal, and championship, Moore crushed her competition with ease, almost doubling her competitor's score in the championship.  Moore started surfing when she was five, and she was the youngest ever surfing world champion by age eighteen.  
Elaine Thompson-Herah is the fastest woman in the world.  Representing the ridiculously fast Jamaican sprints team, Thompson-Herah won gold in the 100m, 200m, and 4x100m in Tokyo.  And, to be clear, she also won gold in the 100m and 200m in Rio in 2016.  She is the only woman ever to achieve this double-double.  In the 100m, the Jamaican sprints team had a clean sweep, claiming all three spots on the podium with Thompson-Herah leading the way with an Olympic Record of 10.61 into a headwind.  After the Olympics, Thompson-Herah promptly improved her personal best, running the second fastest time ever in the women's 100m with a time of 10.54.  Her inspiration is her grandmother, and she enjoys cooking in her spare time.
These are just a few of the incredible women who competed at the Olympics this summer.  Their hard work, determination, and success is unmatched, and, more importantly, they serve as fantastic role models for young women around the globe.
Works Cited
"Olympic Games, Medals, Results & Latest News." Olympics, olympics.com/en/. 
O'Neill, Aaron. "Summer Olympics: Number of Athletes by Gender 1896-2020." Statista, 3 Aug. 2021, www.statista.com/statistics/1090581/olympics-number-athletes-by-gender-since-1896/. 
Service, Tribune News. "Top 10 Individual Medal Winners at the Tokyo Olympics." Tribuneindia News Service, www.tribuneindia.com/news/sports/top-10-individual-medal-winners-at-the-tokyo-olympics-294860. 
"TeamUSA: Home." Team USA, www.teamusa.org/. 
"World Athletics Home Page: World Athletics." Worldathletics.org, www.worldathletics.org/.