Fall Sports Recap- 2020
This fall, Blazer sports have been like no other, and the Blazers have been crushing it across the board!  2020 Fall sports include cross country, soccer, swimming, and tennis and practices for Spring sports teams.  Additionally, the Blazer volleyball team was able to have a late start to their season!  
The tennis team at Visitation has been doing very well.  When senior captain Shea Dolan was asked about the season, she said, "It has been a great season for Vis Tennis so far!! We finished undefeated in the regular season, and reclaimed the title of conference champs! We are still going strong and practicing hard for sections coming up in the next weeks."
Recently, the cross country team ran in their conference meet on October 6th, where three members of their team finished in the top four with Margaret Dalseth (senior) in first, Ava Kirr (sophomore) in third, and Erin McQuillan (junior) in fourth.  The top seven runners on the team will move on to race in the section meet.  
The Blazer soccer team has also seen success this fall season.  They finished second in their conference with a record of 6-2-1.  Senior captain Andrea Barth is tied for seventh place in Minnesota for most goals scored this fall at an impressive eighteen goals. Junior goalkeeper Kate Norman sports six shutouts and 86 saves on the season.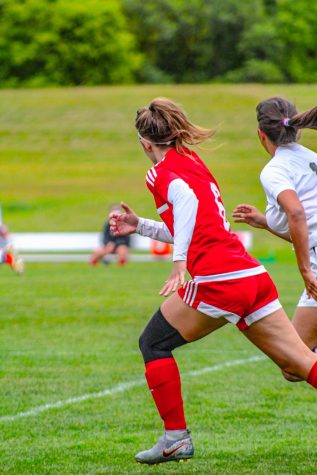 Blazer swim has been finding success in the pool.  When asked about the season, junior captain Olivia Johanns said, "The swim team is still having a very successful season despite the challenges of COVID-19. Coming up we have senior night on Oct. 8 and we are excited for Sections at the end of October."  The swim team would be fighting to maintain their seven-year class A state winning streak, but state tournaments and meets were canceled this fall in Minnesota, so Sections will be the final meet for the team. 
Blazer volleyball had a late start to their season, but they were able to get a game in against Delasalle this past week.  Senior captain Brooke Foley said, "As of now, the volleyball season is very different, but that does not stop us from giving it our best. Everyone is adapting to the changes and we are learning to play as one big team and program." 
Additionally, golf, lacrosse, and softball are all having fall practices.  Senior captain Molly Shoen said, "Golf has kicked off with Fall practices to get some extra practice in! We plan to practice once a week and a round of golf once a week as well. The captains and I are most looking forward to going back to compete against other teams again, and meeting new golfers!"  The lacrosse team began their practices at the beginning of October, and junior captain Camden Wright said, "Due to a canceled season last spring for the Vis lacrosse team, fall practices are being held this year! These informal practices in October are a great way to pick a lacrosse stick back up if you haven't and to see some of your teammates. Not everyone can make it due to other fall sports conflicts, but I am very excited for whoever can so we can get together and have some fun with lacrosse!"  The softball team also started practices at the beginning of October, and senior captain Alex Golz said, "This fall, I hope to get to know everybody in the program so we can bond as a team which will make us stronger on the field in the spring!"  So many Blazer teams have been training hard in hopes of section titles and wins or successful spring seasons!  Go Blazers!!!